Belgian Tripel Recipe - DTR Tripel Karmeliet Clone 1
Belgian Tripel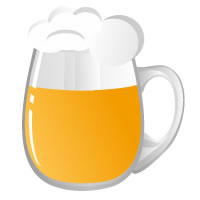 https://brewgr.com/Media/img/mug/5_d.jpg
https://brewgr.com/Media/img/mug/5_t.jpg
DTR Tripel Karmeliet Clone 1
by DaleTheRail on

12/28/2015
Based on Tripel Karmeliet clone recipe from Candi Syrup, Inc. Google "Tripel Karmeliet clone" to find the pdf file.
10%
-
Blanc - Soft Candi Sugar
WLP500 Monastery Ale Yeast
No other stuff in this recipe
Add soft sugar at boil initiation or add candi sugar at hot break.
Chill to 64F. Pitch yeast.
Pure O2 via 0.5 micron diffusion for 60 seconds.
Ramp primary up to 76F over 6 days.
At 1.013 dump primary yeast and chill to 50F for 4 weeks.
At 1.012 bottle prime in heavy bottles with Simplicity Candi Syrup at 34g/gallon and a fresh re-pitch 400ml starter.
Hold bottles at 72F for 2 weeks for initial carbonation. Cellar for 3 months.
Tasting Notes (
0

)
There aren't any tasting notes logged yet
DTR Tripel Karmeliet Clone 1
Belgian Tripel
5.00

Gallons

Liters

Batch Size

6.50

Gallons

Liters

Boil Size

90

min

Boil Time

1.071

OG

1.016

FG

18.0

IBU (tinseth)

Bitterness

0.25

BG:GU

4.7

° SRM

Color

75%

Efficiency

7.1

% ABV

Alcohol

242

per 12oz

Calories
Clone This Recipe
Similar Homebrew Recipes
Help support Brewgr and buy your ingredients from MoreBeer
Or consider a donation via PayPal
{"RecipeId":17791,"RecipeTypeId":10,"OriginalRecipeId":null,"UnitType":"s","IbuFormula":"t","CreatedBy":106972,"Name":"DTR Tripel Karmeliet Clone 1","Description":"Based on Tripel Karmeliet clone recipe from Candi Syrup, Inc. Google \"Tripel Karmeliet clone\" to find the pdf file.","ImageUrlRoot":null,"StyleId":"26C","StyleName":"Belgian Tripel","BatchSize":5,"BoilSize":6.5,"BoilTime":90,"Efficiency":0.75,"DateCreated":"\/Date(1451319794257)\/","BrewSessionCount":0,"MostRecentBrewSession":null,"Og":1.0710250000000001,"Fg":1.01633575,"Srm":4.7090859630193558,"Ibu":18.013519578414545,"BgGu":0.25362223975240428,"Abv":7.05491325,"Calories":242,"AverageRating":0,"TastingNoteCount":0,"Fermentables":[{"Per":"53","Amt":"8","Ppg":"36","L":"2","Use":"Mash","Id":"83168","IngId":"5","Name":"Pilsner - BE","CustomName":"","Rank":"1"},{"Per":"13","Amt":"2","Ppg":"37","L":"2","Use":"Mash","Id":"83169","IngId":"590","Name":"Wheat Malt - DE","CustomName":"","Rank":"2"},{"Per":"10","Amt":"1.5","Ppg":"28","L":"2","Use":"Mash","Id":"83170","IngId":"561","Name":"Oat Malt - UK","CustomName":"","Rank":"3"},{"Per":"7","Amt":"1","Ppg":"32","L":"2","Use":"Mash","Id":"83171","IngId":"78","Name":"Flaked Barley - US","CustomName":"","Rank":"4"},{"Per":"3","Amt":"0.5","Ppg":"35","L":"2","Use":"Mash","Id":"83172","IngId":"96","Name":"Flaked Wheat - US","CustomName":"","Rank":"5"},{"Per":"3","Amt":"0.5","Ppg":"37","L":"1","Use":"Mash","Id":"83173","IngId":"152","Name":"Flaked Oats - US","CustomName":"","Rank":"6"},{"Per":"10","Amt":"1.5","Ppg":"1","L":"0","Use":"Mash","Id":"83174","IngId":"2498","Name":"Blanc - Soft Candi Sugar","CustomName":"","Rank":"7"}],"Hops":[{"Amt":"1","Type":"Pellet","Use":"Boil","Min":"50","Day":"0","AA":"3.8","Ibu":"11.369849444878","Id":"81800","IngId":"27","Name":"Saaz ","CustomName":"","Rank":"1"},{"Amt":"0.5","Type":"Pellet","Use":"Boil","Min":"20","Day":"0","AA":"3.8","Ibu":"3.62050552674252","Id":"81801","IngId":"27","Name":"Saaz ","CustomName":"","Rank":"2"},{"Amt":"0.5","Type":"Pellet","Use":"Boil","Min":"10","Day":"0","AA":"5.3","Ibu":"3.02316460679403","Id":"81802","IngId":"35","Name":"Styrian Goldings","CustomName":"","Rank":"3"}],"Yeasts":[{"Atten":"0.77","Id":"23861","IngId":"1011","Name":"WLP500 Monastery Ale Yeast","CustomName":"","Rank":"1"}],"Others":[],"MashSteps":[{"Heat":"Direct Heat","Temp":"122","Time":"45","Id":"9910","IngId":"8","Name":"Protein Rest","CustomName":"","Rank":"1"},{"Heat":"Direct Heat","Temp":"147","Time":"60","Id":"9911","IngId":"9","Name":"Saccharification Rest","CustomName":"","Rank":"2"},{"Heat":"Direct Heat","Temp":"162","Time":"20","Id":"9912","IngId":"9","Name":"Saccharification Rest","CustomName":"","Rank":"3"},{"Heat":"Direct Heat","Temp":"170","Time":"15","Id":"9913","IngId":"7","Name":"Mash-Out","CustomName":"","Rank":"4"}],"Steps":[{"Id":"26641","Rank":"1","Text":"90 minute boil."},{"Id":"26642","Rank":"2","Text":"Add soft sugar at boil initiation or add candi sugar at hot break."},{"Id":"26643","Rank":"3","Text":"Chill to 64F. Pitch yeast."},{"Id":"26644","Rank":"4","Text":"Pure O2 via 0.5 micron diffusion for 60 seconds."},{"Id":"26645","Rank":"5","Text":"Ramp primary up to 76F over 6 days."},{"Id":"26646","Rank":"6","Text":"At 1.013 dump primary yeast and chill to 50F for 4 weeks."},{"Id":"26647","Rank":"7","Text":"At 1.012 bottle prime in heavy bottles with Simplicity Candi Syrup at 34g/gallon and a fresh re-pitch 400ml starter."},{"Id":"26648","Rank":"8","Text":"Hold bottles at 72F for 2 weeks for initial carbonation. Cellar for 3 months."}]}