Strong Bitter Recipe - reginald bixby ESB
Strong Bitter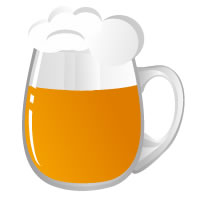 https://brewgr.com/Media/img/mug/8_d.jpg
https://brewgr.com/Media/img/mug/8_t.jpg
reginald bixby ESB
by christopherjams on

9/2/2019

Invert is #2 Process water is 75% RO H2O, and 25% A2 H2O. Strike with 2.7 gal, target 153F, add 4g gypsum and 11mL (10%) phos to mash. Acidify 5.75 gal sparge water to 5.20 pH. Copper up to 7 gal, add 4g gypsum, 1g CaCl to kettle, boil for 60 minutes. Add Invert #2 in last 5 minutes of boil. Cool to 66F, pitch yeast.


This recipe was cloned from babys first cask ale.
85%
-
Maris Otter Pale - UK
3%
-
Torrified Wheat - US
Wyeast London Ale III 1318
No other stuff in this recipe
No mash steps in this recipe
No special instructions in this recipe
Tasting Notes (
1

)
Notes:
This has been on tap for maybe 3 weeks. Color is a hair shy of caclulated. Right in between gold and orange. Sugar and sweet malt in the aroma, fruity yeast esters and hops dance about. As 1318 is wont to do, lots of complexity of the palate--malt, sugar, hops, yeast, and water minerality all hold hands and sing. The kind of beer for drinking and sharing, and never drawing too much focus to itself as to undermine its service.
reginald bixby ESB
Strong Bitter
5.50

Gallons

Liters

Batch Size

7.00

Gallons

Liters

Boil Size

60

min

Boil Time

1.052

OG

1.012

FG

42.9

IBU (tinseth)

Bitterness

0.83

BG:GU

7.6

° SRM

Color

79%

Efficiency

5.2

% ABV

Alcohol

173

per 12oz

Calories
Clone This Recipe
Similar Homebrew Recipes
{"RecipeId":74066,"RecipeTypeId":10,"OriginalRecipeId":72874,"UnitType":"s","IbuFormula":"t","CreatedBy":118929,"Name":"reginald bixby ESB","Description":"Invert is #2\n\nProcess water is 75% RO H2O, and 25% A2 H2O. Strike with 2.7 gal, target 153F, add 4g gypsum and 11mL (10%) phos to mash. Acidify 5.75 gal sparge water to 5.20 pH. Copper up to 7 gal, add 4g gypsum, 1g CaCl to kettle, boil for 60 minutes. Add Invert #2 in last 5 minutes of boil. Cool to 66F, pitch yeast.","ImageUrlRoot":null,"StyleId":"11C","StyleName":"Strong Bitter","BatchSize":5.5,"BoilSize":7,"BoilTime":60,"Efficiency":0.79,"DateCreated":"\/Date(1567459729860)\/","BrewSessionCount":1,"MostRecentBrewSession":15081,"Og":1.0519981818181818,"Fg":1.0119595818181819,"Srm":7.5925944677079622,"Ibu":42.904918829624151,"BgGu":0.82512344334743437,"Abv":5.1649794000000009,"Calories":173,"AverageRating":4,"TastingNoteCount":2,"Fermentables":[{"Per":"85","Amt":"8","Ppg":"38","L":"3","Use":"Mash","Id":"393660","IngId":"15","Name":"Maris Otter Pale - UK","CustomName":"","Rank":"1"},{"Per":"10","Amt":"0.9","Ppg":"36","L":"30","Use":"Late","Id":"393661","IngId":"543","Name":"Invert Sugar - US","CustomName":"","Rank":"2"},{"Per":"3","Amt":"0.25","Ppg":"36","L":"2","Use":"Mash","Id":"393662","IngId":"586","Name":"Torrified Wheat - US","CustomName":"","Rank":"3"},{"Per":"3","Amt":"0.25","Ppg":"32","L":"27","Use":"Mash","Id":"393663","IngId":"29","Name":"Amber - UK","CustomName":"","Rank":"4"}],"Hops":[{"Amt":"1","Type":"Leaf","Use":"Boil","Min":"15","Day":"0","AA":"3.9","Ibu":"5.97068130555918","Id":"419756","IngId":"64","Name":"Willamette ","CustomName":"","Rank":"1"},{"Amt":"0.5","Type":"Leaf","Use":"Boil","Min":"5","Day":"0","AA":"3.9","Ibu":"1.19938920243922","Id":"419757","IngId":"64","Name":"Willamette ","CustomName":"","Rank":"2"},{"Amt":"0.75","Type":"Leaf","Use":"DryHop","Min":"0","Day":"0","AA":"5","Ibu":"0","Id":"419758","IngId":"64","Name":"Willamette ","CustomName":"","Rank":"3"},{"Amt":"1","Type":"Leaf","Use":"Boil","Min":"5","Day":"0","AA":"4.3","Ibu":"2.64480695922495","Id":"419759","IngId":"39","Name":"East Kent Goldings","CustomName":"","Rank":"4"},{"Amt":"0.75","Type":"Leaf","Use":"DryHop","Min":"0","Day":"0","AA":"4.3","Ibu":"0","Id":"419760","IngId":"39","Name":"East Kent Goldings","CustomName":"","Rank":"5"},{"Amt":"2.75","Type":"Leaf","Use":"Boil","Min":"60","Day":"0","AA":"3.9","Ibu":"33.0900413624008","Id":"419761","IngId":"64","Name":"Willamette ","CustomName":"","Rank":"6"}],"Yeasts":[{"Atten":"0.77","Id":"109963","IngId":"233","Name":"Wyeast London Ale III 1318","CustomName":"","Rank":"1"}],"Others":[],"MashSteps":[],"Steps":[]}