Strong Bitter Recipe - babys first cask ale
Strong Bitter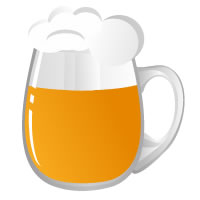 https://brewgr.com/Media/img/mug/7_d.jpg
https://brewgr.com/Media/img/mug/7_t.jpg
babys first cask ale
by christopherjams on

8/3/2019

Process water is 75% Det H2O, and 25% H2O. Strike with 2.6 gal, target 153F, add 2g gypsum and 11mL (10%) phos to mash. Acidify 5.5 gal sparge water to 5.20 pH. Copper up to 7 gal, add 2g gypsum, 1g CaCl to kettle, boil for 60 minutes. Add Invert #2 in last 5 minutes of boil. Cool to 66F, pitch yeast.


This recipe was cloned from eekayjeezus bitter.
87%
-
Maris Otter Pale - UK
3%
-
Torrified Wheat - US
Wyeast London Ale III 1318
No other stuff in this recipe
No mash steps in this recipe
No special instructions in this recipe
Tasting Notes (
0

)
There aren't any tasting notes logged yet
babys first cask ale
Strong Bitter
5.50

Gallons

Liters

Batch Size

7.00

Gallons

Liters

Boil Size

60

min

Boil Time

1.047

OG

1.011

FG

41.7

IBU (tinseth)

Bitterness

0.89

BG:GU

7.0

° SRM

Color

72%

Efficiency

4.7

% ABV

Alcohol

155

per 12oz

Calories
Clone This Recipe
Similar Homebrew Recipes
{"RecipeId":72874,"RecipeTypeId":10,"OriginalRecipeId":70894,"UnitType":"s","IbuFormula":"t","CreatedBy":118929,"Name":"babys first cask ale","Description":"Process water is 75% Det H2O, and 25% H2O. Strike with 2.6 gal, target 153F, add 2g gypsum and 11mL (10%) phos to mash. Acidify 5.5 gal sparge water to 5.20 pH. Copper up to 7 gal, add 2g gypsum, 1g CaCl to kettle, boil for 60 minutes. Add Invert #2 in last 5 minutes of boil. Cool to 66F, pitch yeast.","ImageUrlRoot":null,"StyleId":"11C","StyleName":"Strong Bitter","BatchSize":5.5,"BoilSize":7,"BoilTime":60,"Efficiency":0.72,"DateCreated":"\/Date(1564881807387)\/","BrewSessionCount":1,"MostRecentBrewSession":14956,"Og":1.0468654545454545,"Fg":1.0107790545454545,"Srm":6.9740169841619126,"Ibu":41.660157208328627,"BgGu":0.88893103912867577,"Abv":4.6551456000000009,"Calories":155,"AverageRating":0,"TastingNoteCount":0,"Fermentables":[{"Per":"87","Amt":"8","Ppg":"38","L":"3","Use":"Mash","Id":"387385","IngId":"15","Name":"Maris Otter Pale - UK","CustomName":"","Rank":"1"},{"Per":"10","Amt":"0.9","Ppg":"36","L":"30","Use":"Late","Id":"387386","IngId":"543","Name":"Invert Sugar - US","CustomName":"","Rank":"2"},{"Per":"3","Amt":"0.25","Ppg":"36","L":"2","Use":"Mash","Id":"387387","IngId":"586","Name":"Torrified Wheat - US","CustomName":"","Rank":"3"}],"Hops":[{"Amt":"1","Type":"Leaf","Use":"Boil","Min":"15","Day":"0","AA":"3.9","Ibu":"6.25255307697554","Id":"413851","IngId":"64","Name":"Willamette ","CustomName":"","Rank":"1"},{"Amt":"0.5","Type":"Leaf","Use":"Boil","Min":"5","Day":"0","AA":"3.9","Ibu":"1.25601154448156","Id":"413852","IngId":"64","Name":"Willamette ","CustomName":"","Rank":"2"},{"Amt":"0.35","Type":"Leaf","Use":"DryHop","Min":"0","Day":"0","AA":"5","Ibu":"0","Id":"413853","IngId":"64","Name":"Willamette ","CustomName":"","Rank":"3"},{"Amt":"1.35","Type":"Leaf","Use":"Boil","Min":"60","Day":"0","AA":"6.7","Ibu":"29.2241626815977","Id":"416591","IngId":"23","Name":"Northern Brewer ","CustomName":"","Rank":"4"},{"Amt":"0.5","Type":"Leaf","Use":"Boil","Min":"5","Day":"0","AA":"6.7","Ibu":"2.15776342257089","Id":"416592","IngId":"23","Name":"Northern Brewer ","CustomName":"","Rank":"5"},{"Amt":"1","Type":"Leaf","Use":"Boil","Min":"5","Day":"0","AA":"4.3","Ibu":"2.76966648270294","Id":"416593","IngId":"39","Name":"East Kent Goldings","CustomName":"","Rank":"6"},{"Amt":"0.75","Type":"Leaf","Use":"DryHop","Min":"0","Day":"0","AA":"4.3","Ibu":"0","Id":"416594","IngId":"39","Name":"East Kent Goldings","CustomName":"","Rank":"7"},{"Amt":"0.35","Type":"Leaf","Use":"DryHop","Min":"0","Day":"0","AA":"6.7","Ibu":"0","Id":"416595","IngId":"23","Name":"Northern Brewer ","CustomName":"","Rank":"8"}],"Yeasts":[{"Atten":"0.77","Id":"108257","IngId":"233","Name":"Wyeast London Ale III 1318","CustomName":"","Rank":"1"}],"Others":[],"MashSteps":[],"Steps":[]}