Oatmeal Stout Recipe - First Stout
Oatmeal Stout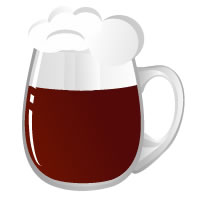 https://brewgr.com/Media/img/mug/30_d.jpg
https://brewgr.com/Media/img/mug/30_t.jpg
First Stout
by Brewer 128519 on

6/16/2022

7.6417 Gallon(s)

60 min

56%

Starting gravity 1.055 OG 6/17 1.052 FG 6/23 1.011 (5.44% ABV) Added Safale S-04 6 hours into fermentation because there was no CO2 in the blowoff tube.


This recipe was cloned from Clone Of Chocolate Oatmeal Stout.
Wyeast London ESB Ale 1968
No other stuff in this recipe
No mash steps in this recipe
Note: Cane sugar used for priming, but added as a fermentable to approximate the ABV
Note: Mash at 68C for 60 minutes (16L added at 76C)
Heat 4.5 gal water dump into cooler 163 degrees
Check temp (150-155 degrees)
Test with iodine techire (should be brown, not blue/purple)
Vorlaf: run liquid out of mash tun to pitcher (1.5 L), run until liquid is clear, gently pour cloudy liquid back into tun, let rest of liquid drain into kettle (should get 2.5 gal)
Drain wort into kettle (around 2.5 gal)
Pour 4.5 gal sparge water in sparge tun (170 degrees)
Sparge the sparge water through grain tun and into kettle
Check starting gravity (1.055 on 6/17/22)
Cool wart with chiller to 80 degrees or less
Transfer to fermenter with strainer
Check original gravity (ex 1.056)
Mix 3.43oz corn sugar with 2 cups boiling water in 5gallon kettle
Pump beer into priming sugar kettle
Tasting Notes (
1

)
Notes:
Tastes slightly watered down before bottling (carbonation may help).
First Stout
Oatmeal Stout
5.00

Gallons

Liters

Batch Size

7.64

Gallons

Liters

Boil Size

60

min

Boil Time

1.055

OG

1.017

FG

22.9

IBU (tinseth)

Bitterness

0.42

BG:GU

30.5

° SRM

Color

56%

Efficiency

4.9

% ABV

Alcohol

186

per 12oz

Calories
Clone This Recipe
Similar Homebrew Recipes
{"RecipeId":103768,"RecipeTypeId":10,"OriginalRecipeId":103210,"UnitType":"s","IbuFormula":"t","CreatedBy":128519,"Name":"First Stout","Description":"Starting gravity 1.055\nOG 6/17 1.052\nFG 6/23 1.011 (5.44% ABV)\nAdded Safale S-04 6 hours into fermentation because there was no CO2 in the blowoff tube.","ImageUrlRoot":null,"StyleId":"16B","StyleName":"Oatmeal Stout","BatchSize":5,"BoilSize":7.6417,"BoilTime":60,"Efficiency":0.56,"DateCreated":"\/Date(1655409274460)\/","BrewSessionCount":0,"MostRecentBrewSession":null,"Og":1.055108,"Fg":1.01708348,"Srm":30.470083956261455,"Ibu":22.871151396505947,"BgGu":0.41502415976820017,"Abv":4.9051630799999995,"Calories":186,"AverageRating":3,"TastingNoteCount":1,"Fermentables":[{"Per":"75","Amt":"10","Ppg":"37","L":"1","Use":"Mash","Id":"556615","IngId":"3","Name":"2-Row - US","CustomName":"","Rank":"1"},{"Per":"4","Amt":"0.5","Ppg":"34","L":"350","Use":"Mash","Id":"556616","IngId":"53","Name":"Chocolate Malt - US","CustomName":"","Rank":"2"},{"Per":"4","Amt":"0.5","Ppg":"33","L":"120","Use":"Mash","Id":"556617","IngId":"509","Name":"Crystal 120L - CA","CustomName":"","Rank":"3"},{"Per":"4","Amt":"0.5","Ppg":"25","L":"300","Use":"Mash","Id":"556618","IngId":"51","Name":"Roasted Barley - US","CustomName":"","Rank":"4"},{"Per":"11","Amt":"1.5","Ppg":"37","L":"1","Use":"Mash","Id":"556619","IngId":"152","Name":"Flaked Oats - US","CustomName":"","Rank":"5"},{"Per":"2","Amt":"0.25","Ppg":"46","L":"1","Use":"Late","Id":"556620","IngId":"488","Name":"Cane Sugar\r\n - US","CustomName":"","Rank":"6"}],"Hops":[{"Amt":"1","Type":"Pellet","Use":"Boil","Min":"60","Day":"0","AA":"6.3","Ibu":"22.8711513965059","Id":"577788","IngId":"39","Name":"East Kent Goldings","CustomName":"","Rank":"2"}],"Yeasts":[{"Atten":"0.69","Id":"154405","IngId":"234","Name":"Wyeast London ESB Ale 1968","CustomName":"","Rank":"1"}],"Others":[],"MashSteps":[],"Steps":[{"Id":"174212","Rank":"1","Text":"Note: Cane sugar used for priming, but added as a fermentable to approximate the ABV"},{"Id":"174213","Rank":"2","Text":"Note: Mash at 68C for 60 minutes (16L added at 76C)"},{"Id":"174214","Rank":"3","Text":"Note: Sparge with 19L of"},{"Id":"174215","Rank":"4","Text":"Heat 4.5 gal water dump into cooler 163 degrees"},{"Id":"174216","Rank":"5","Text":"Add grains (half) stir"},{"Id":"174217","Rank":"6","Text":"Add rest of grains"},{"Id":"174218","Rank":"7","Text":"Check temp (150-155 degrees)"},{"Id":"174219","Rank":"8","Text":"Let sit for 40 mins"},{"Id":"174220","Rank":"9","Text":"Stir"},{"Id":"174221","Rank":"10","Text":"Let sit for 20 mins"},{"Id":"174222","Rank":"11","Text":"Test with iodine techire (should be brown, not blue/purple)"},{"Id":"174223","Rank":"12","Text":"Vorlaf: run liquid out of mash tun to pitcher (1.5 L), run until liquid is clear, gently pour cloudy liquid back into tun, let rest of liquid drain into kettle (should get 2.5 gal)"},{"Id":"174507","Rank":"13","Text":"Drain wort into kettle (around 2.5 gal)"},{"Id":"174224","Rank":"14","Text":"Pour 4.5 gal sparge water in sparge tun (170 degrees)"},{"Id":"174227","Rank":"15","Text":"Sparge the sparge water through grain tun and into kettle"},{"Id":"174228","Rank":"16","Text":"Check starting gravity (1.055 on 6/17/22)"},{"Id":"174229","Rank":"17","Text":"Heat to 170-180 degrees"},{"Id":"174231","Rank":"18","Text":"Sanitize fermenters"},{"Id":"174233","Rank":"19","Text":"Add 1oz hops 60 mins"},{"Id":"174238","Rank":"20","Text":"Sanitize wort chiller"},{"Id":"174239","Rank":"21","Text":"Cool wart with chiller to 80 degrees or less"},{"Id":"174240","Rank":"22","Text":"Transfer to fermenter with strainer"},{"Id":"174241","Rank":"23","Text":"Check original gravity (ex 1.056)"},{"Id":"174242","Rank":"24","Text":"Pitch yeast"},{"Id":"174243","Rank":"25","Text":"Add cover air lock"},{"Id":"174244","Rank":"26","Text":"Wait 1 week"},{"Id":"174508","Rank":"27","Text":"Mix 3.43oz corn sugar with 2 cups boiling water in 5gallon kettle"},{"Id":"174509","Rank":"28","Text":"Pump beer into priming sugar kettle"},{"Id":"174510","Rank":"29","Text":"Bottle and cap"},{"Id":"174511","Rank":"30","Text":"Wait 2 weeks"}]}