Weissbier Recipe - Coconut Curry Bavarian Hefeweizen
Weissbier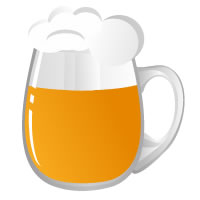 https://brewgr.com/Media/img/mug/7_d.jpg
https://brewgr.com/Media/img/mug/7_t.jpg
Coconut Curry Bavarian Hefeweizen
by Beerserked on

1/21/2021
All Grain Weissbier homebrew recipe. This homebrew recipe uses the following ingredients: Wheat Malt - DE, Munich Light - DE, Victory Malt - US, Honey, Hallertau Hops, Saaz Hops, Lalbrew Munich Classic Homebrew Yeast, Ginger, Cayenne pepper, Coriander, Ground Fenugreek, Cinnamon, Toasted Coconut Flakes, Curry Leaves.
Mash with 6 row for 1.5hrs
Add crushed malts and rice hulls to 5.4Litres 76C water.
The mash will stabilize at 67–68 C Hold this temperature for 60minutes
Sparge with about 9 liters of 77C water Add more water (do not oversparge) to brewpot if necessary to make an initial extract volume of about 9 liters
Add all of the boiling hops and honey, bring to a full and vigorous boil, and boil for 60 minutes.
For the last 30 minutes of the boil, add the cayenne, coriander, cinnamon, curry leaves and fenugreek, 19g of the grated ginger, and 213ml of the coconut.
Add the remaining 213ml coconut and the Irish moss for the final 10 minutes.
After a total wort boil of 60 minutes, turn off the heat, add the remaining ginger 19g
and place the pot (with cover on) in a running cold-water bath for 45 minutes. Continue to chill in the immersion or use other methods to chill your wort.
Then strain and sparge the wort into a sanitized fermenter. Bring the total volume to 9 litres with additional cold water if necessary. Aerate the wort very well.
Pitch the yeast when temperature of wort is about 21C. Ferment at about 21 C for about 1 week to 10 days or until fermentation shows signs of calm and stopping.
Rack from your primary to a secondary and "cellar" the beer at about 12.5 C for about 1 week.
Tasting Notes (
0

)
There aren't any tasting notes logged yet
Coconut Curry Bavarian Hefeweizen
Weissbier
20.00

Gallons

Liters

Batch Size

25.00

Gallons

Liters

Boil Size

60

 min

Boil Time

1.052

OG

1.011

FG

14.2

 IBU (tinseth)

Bitterness

0.27

BG:GU

6.8

° SRM

Color

75%

Efficiency

5.2

% ABV

Alcohol

172

 per 12oz

Calories
Clone This Recipe
Similar Homebrew Recipes
{"RecipeId":92355,"RecipeTypeId":10,"OriginalRecipeId":null,"UnitType":"m","IbuFormula":"t","CreatedBy":110694,"Name":"Coconut Curry Bavarian Hefeweizen","Description":"","ImageUrlRoot":null,"StyleId":"10A","StyleName":"Weissbier","BatchSize":20,"BoilSize":25,"BoilTime":60,"Efficiency":0.75,"DateCreated":"\/Date(1611242431130)\/","BrewSessionCount":0,"MostRecentBrewSession":null,"Og":1.0517664505918491,"Fg":1.0113886191302068,"Srm":6.7746220351786777,"Ibu":14.180923149859041,"BgGu":0.27394041870222197,"Abv":5.2087402585518721,"Calories":172,"AverageRating":0,"TastingNoteCount":0,"Fermentables":[{"Per":"55","Amt":"2.2395","Ppg":"37","L":"2","Use":"Mash","Id":"492855","IngId":"590","Name":"Wheat Malt - DE","CustomName":"","Rank":"2"},{"Per":"12","Amt":"0.4666","Ppg":"37","L":"6","Use":"Mash","Id":"492856","IngId":"560","Name":"Munich Light - DE","CustomName":"","Rank":"4"},{"Per":"11","Amt":"0.4445","Ppg":"34","L":"28","Use":"Mash","Id":"492857","IngId":"35","Name":"Victory Malt - US","CustomName":"","Rank":"6"},{"Per":"22","Amt":"0.896","Ppg":"42","L":"2","Use":"Late","Id":"492858","IngId":"5174","Name":"Honey","CustomName":"","Rank":"8"}],"Hops":[{"Amt":"15.5555","Type":"Pellet","Use":"Boil","Min":"60","Day":"0","AA":"4.5","Ibu":"8.74166495539256","Id":"516812","IngId":"15","Name":"Hallertau ","CustomName":"","Rank":"1"},{"Amt":"15.5555","Type":"Pellet","Use":"Boil","Min":"60","Day":"0","AA":"2.8","Ibu":"5.43925819446648","Id":"516813","IngId":"27","Name":"Saaz ","CustomName":"","Rank":"2"}],"Yeasts":[{"Atten":"0.78","Id":"165541","IngId":"7750","Name":"Lalbrew Munich Classic","CustomName":"","Rank":"1"}],"Others":[{"Amt":"85.0008","Unit":"g","Use":"Mash","Id":"91316","IngId":"11","Name":"Ginger","CustomName":"","Rank":"1"},{"Amt":"8","Unit":"g","Use":"Boil","Id":"91317","IngId":"13915","Name":"Cayenne pepper","CustomName":"","Rank":"2"},{"Amt":"8","Unit":"g","Use":"Boil","Id":"91318","IngId":"8","Name":"Coriander","CustomName":"","Rank":"3"},{"Amt":"8","Unit":"g","Use":"Boil","Id":"91319","IngId":"13916","Name":"Ground Fenugreek","CustomName":"","Rank":"4"},{"Amt":"1","Unit":"each","Use":"Boil","Id":"91320","IngId":"6","Name":"Cinnamon","CustomName":"","Rank":"5"},{"Amt":"0.946","Unit":"l","Use":"Boil","Id":"91321","IngId":"8707","Name":"Toasted Coconut Flakes","CustomName":"","Rank":"6"},{"Amt":"17","Unit":"g","Use":"Boil","Id":"91322","IngId":"13917","Name":"Curry Leaves","CustomName":"","Rank":"7"}],"MashSteps":[{"Heat":"Decoction","Temp":"66","Time":"60","Id":"75059","IngId":"2897","Name":"Mash with 6 row for 1.5hrs","CustomName":"","Rank":"1"}],"Steps":[{"Id":"154297","Rank":"1","Text":"Add crushed malts and rice hulls to 5.4Litres 76C water."},{"Id":"154298","Rank":"2","Text":"The mash will stabilize at 67–68 C Hold this temperature for 60minutes"},{"Id":"154299","Rank":"3","Text":"Sparge with about 9 liters of 77C water Add more water (do not oversparge) to brewpot if necessary to make an initial extract volume of about 9 liters"},{"Id":"154300","Rank":"4","Text":"Add all of the boiling hops and honey, bring to a full and vigorous boil, and boil for 60 minutes."},{"Id":"154301","Rank":"5","Text":"For the last 30 minutes of the boil, add the cayenne, coriander, cinnamon, curry leaves and fenugreek, 19g of the grated ginger, and 213ml of the coconut."},{"Id":"154302","Rank":"6","Text":"Add the remaining 213ml coconut and the Irish moss for the final 10 minutes."},{"Id":"154303","Rank":"7","Text":"After a total wort boil of 60 minutes, turn off the heat, add the remaining ginger 19g"},{"Id":"154304","Rank":"8","Text":"and place the pot (with cover on) in a running cold-water bath for 45 minutes. Continue to chill in the immersion or use other methods to chill your wort."},{"Id":"154305","Rank":"9","Text":"Then strain and sparge the wort into a sanitized fermenter. Bring the total volume to 9 litres with additional cold water if necessary. Aerate the wort very well."},{"Id":"154306","Rank":"10","Text":"Pitch the yeast when temperature of wort is about 21C. Ferment at about 21 C for about 1 week to 10 days or until fermentation shows signs of calm and stopping."},{"Id":"154307","Rank":"11","Text":"Rack from your primary to a secondary and "cellar" the beer at about 12.5 C for about 1 week."}]}