Cream Ale Recipe - Framily Light No.4
Cream Ale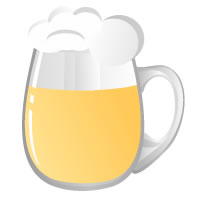 https://brewgr.com/Media/img/mug/2_d.jpg
https://brewgr.com/Media/img/mug/2_t.jpg
Framily Light No.4
by PourHouseBrewing on

3/17/2020
My 4th iteration of this beer. Trying to work on mash efficiency with this one, testing different sparging techniques. Keeping this set at the default 75% and hoping to break 80%. Going to pressure ferment. Thinking about closed transferring after cold crash, half this batch into a purged 2.5 gal keg on top of (4 lbs frozen & thawed strawberries & 8 minced fresh basil leaves) in a hop bag, & 5 small lemons juiced. Just going to start here and see what happens.
3%
-
Corn Sugar (Dextrose) - US
8%
-
Table Sugar - Sucrose - US
White Labs American Lager WLP840
Wyeast Yeast Nutrient Blend
Ferment @ 55F under 12 psi until SG of 1.025.
Raise to room temp until FG stable for 7 days. The drier, the better. Hoping for FG 1.004.
Cold crash to 33F for 4 days.
Closed transfer to serving keg on top of gelatin. Dump trub after 3 days.
Lager for minimum 2 weeks and then serve. Enjoy!
Tasting Notes (
0

)
There aren't any tasting notes logged yet
Framily Light No.4
Cream Ale
4.00

Gallons

Liters

Batch Size

4.50

Gallons

Liters

Boil Size

60

 min

Boil Time

1.048

OG

1.009

FG

17.0

 IBU (tinseth)

Bitterness

0.35

BG:GU

1.8

° SRM

Color

85%

Efficiency

5.0

% ABV

Alcohol

159

 per 12oz

Calories
Clone This Recipe
Similar Homebrew Recipes
{"RecipeId":81090,"RecipeTypeId":10,"OriginalRecipeId":null,"UnitType":"s","IbuFormula":"t","CreatedBy":108989,"Name":"Framily Light No.4","Description":"My 4th iteration of this beer. Trying to work on mash efficiency with this one, testing different sparging techniques. Keeping this set at the default 75% and hoping to break 80%.\nGoing to pressure ferment.\nThinking about closed transferring after cold crash, half this batch into a purged 2.5 gal keg on top of (4 lbs frozen \u0026 thawed strawberries \u0026 8 minced fresh basil leaves) in a hop bag, \u0026 5 small lemons juiced. Just going to start here and see what happens.","ImageUrlRoot":null,"StyleId":"1C","StyleName":"Cream Ale","BatchSize":4,"BoilSize":4.5,"BoilTime":60,"Efficiency":0.85,"DateCreated":"\/Date(1584432011200)\/","BrewSessionCount":0,"MostRecentBrewSession":null,"Og":1.0482046875,"Fg":1.009158890625,"Srm":1.7678835082601148,"Ibu":16.976966386677525,"BgGu":0.35218496928701259,"Abv":5.036907796875,"Calories":159,"AverageRating":0,"TastingNoteCount":0,"Fermentables":[{"Per":"83","Amt":"4.75","Ppg":"38","L":"1","Use":"Mash","Id":"432051","IngId":"575","Name":"Pilsner - DE","CustomName":"","Rank":"2"},{"Per":"7","Amt":"0.375","Ppg":"37","L":"1","Use":"Mash","Id":"432052","IngId":"89","Name":"Flaked Corn - US","CustomName":"","Rank":"4"},{"Per":"3","Amt":"0.16","Ppg":"46","L":"0","Use":"Late","Id":"434094","IngId":"87","Name":"Corn Sugar (Dextrose) - US","CustomName":"","Rank":"6"},{"Per":"8","Amt":"0.44","Ppg":"46","L":"0","Use":"Late","Id":"434095","IngId":"153","Name":"Table Sugar - Sucrose - US","CustomName":"","Rank":"8"}],"Hops":[{"Amt":"0.5","Type":"Pellet","Use":"Boil","Min":"60","Day":"0","AA":"4.7","Ibu":"11.3467008341762","Id":"459087","IngId":"3","Name":"Cascade ","CustomName":"","Rank":"1"},{"Amt":"0.5","Type":"Pellet","Use":"Boil","Min":"15","Day":"0","AA":"4.7","Ibu":"5.63026555250131","Id":"459088","IngId":"3","Name":"Cascade ","CustomName":"","Rank":"2"},{"Amt":"1","Type":"Pellet","Use":"FlameOut","Min":"0","Day":"0","AA":"4.7","Ibu":"0","Id":"459089","IngId":"3","Name":"Cascade ","CustomName":"","Rank":"3"}],"Yeasts":[{"Atten":"0.81","Id":"120013","IngId":"148","Name":"White Labs American Lager WLP840","CustomName":"","Rank":"1"}],"Others":[{"Amt":"0.5","Unit":"each","Use":"Boil","Id":"80969","IngId":"12441","Name":"Whirlfloc","CustomName":"","Rank":"1"},{"Amt":"0.5","Unit":"tsp","Use":"Boil","Id":"80970","IngId":"12442","Name":"Wyeast Yeast Nutrient Blend","CustomName":"","Rank":"2"}],"MashSteps":[{"Heat":"Direct Heat","Temp":"146","Time":"45","Id":"57804","IngId":"4078","Name":"Beta Rest","CustomName":"","Rank":"1"},{"Heat":"Direct Heat","Temp":"156","Time":"35","Id":"57805","IngId":"4077","Name":"Alpha Rest","CustomName":"","Rank":"2"},{"Heat":"Direct Heat","Temp":"170","Time":"10","Id":"57806","IngId":"7","Name":"Mash-Out","CustomName":"","Rank":"3"}],"Steps":[{"Id":"135820","Rank":"1","Text":"Ferment @ 55F under 12 psi until SG of 1.025."},{"Id":"135821","Rank":"2","Text":"Raise to room temp until FG stable for 7 days. The drier, the better. Hoping for FG 1.004."},{"Id":"135822","Rank":"3","Text":"Cold crash to 33F for 4 days."},{"Id":"135823","Rank":"4","Text":"Closed transfer to serving keg on top of gelatin. Dump trub after 3 days."},{"Id":"135824","Rank":"5","Text":"Lager for minimum 2 weeks and then serve. Enjoy!"}]}