Original Pumpkin Ale Recipe
Recipe Info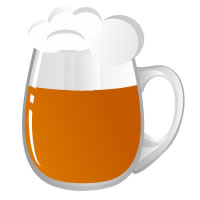 https://brewgr.com/Media/img/mug/12_d.jpg
https://brewgr.com/Media/img/mug/12_t.jpg
Original Pumpkin Ale
by Rick-B on

8/24/2016
First attempt at recipe, turned out really good, wife liked it too and she is not a beer drinker, OG came out lower than expected. Efficiency was more at 60% than 70% as hoped. I decided to make another batch but wanted it to be sweeter, more like a pumpkin pie.
This recipe was cloned from
Hail Hail Pumpkin Ale
.
Fermentables
%
lb
fermentable
ppg

L

usage

85%

15

Pilsner - US

34
1°
Mash

6%

1

Victory Malt - US

34
28°
Mash

4%

0.75

Caramel/Crystal 80 - US

35
80°
Mash

3%

0.5

Brown Sugar - US

46
10°
Late

3%

0.5

Lactose - Milk Sugar - US

41
1°
Late
17.75 lb
Hops
oz
variety
type
usage
time
AA

IBU

0.5

Mt. Hood

Pellet
Boil
60 minutes
6.0
8.9
0.25

Willamette

Pellet
Boil
60 minutes
5.0
3.7
0.25

Saaz

Pellet
Boil
15 minutes
3.8
1.4
1 oz
IBUs calculated using the Tinseth formula
Hop Summary
oz
variety
type
AA
0.5

Mt. Hood

Pellet
6.0
0.25

Willamette

Pellet
5.0
0.25

Saaz

Pellet
3.8
1 oz
Yeast
name
attenuation

Danstar Nottingham

75%
Other Stuff
amount
unit
name
usage
4
each

Cinnamon

Secondary
1
tsp

Allspice

Boil
1
tsp

Nutmeg

Boil
2
lb

Pumpkin Fruit (1.8 lb can)

Mash
1
tsp

Clove

Boil
1
tsp

Vanilla Extract

Secondary
1
tsp

Capella Gingerbread Extract

Secondary
1
tsp

Irish Moss

Mash
1
tbsp

Gypsum

Mash
1
tsp

Pie Spice

Boil
Mash Steps
No Mash Steps in this Recipe
Special Instructions
Heat 5 gallons of strike water for mash to 174F, heat 4 gallon of water for sparge to 170F for a 7 gallon of mash for boil based on 1 gallon of loss per hour.
Adjust extract flavorings in secondary to meet prefered taste.
Primary fermentation 14 days at 67F and rack to carboy
Secondary fermentation 30 days at 67F, add finings once FG is reached, allow 4 weeks
Tasting Notes (
0

)
There aren't any tasting notes logged yet
{"RecipeId":28335,"RecipeTypeId":10,"OriginalRecipeId":28314,"UnitType":"s","IbuFormula":"t","CreatedBy":109966,"Name":"Original Pumpkin Ale","Description":"First attempt at recipe, turned out really good, wife liked it too and she is not a beer drinker, OG came out lower than expected. Efficiency was more at 60% than 70% as hoped. I decided to make another batch but wanted it to be sweeter, more like a pumpkin pie.","ImageUrlRoot":null,"StyleId":null,"StyleName":null,"BatchSize":5,"BoilSize":6.5,"BoilTime":60,"Efficiency":0.6,"DateCreated":"\/Date(1472047271950)\/","BrewSessionCount":0,"MostRecentBrewSession":null,"Og":1.07713,"Fg":1.0192825,"Srm":12.454992913359224,"Ibu":14.06253960203016,"BgGu":0.18232256712083722,"Abv":7.4623275,"Calories":265,"AverageRating":0,"TastingNoteCount":0,"Fermentables":[{"Per":"85","Amt":"15","Ppg":"34","L":"1","Use":"Mash","Id":"138311","IngId":"149","Name":"Pilsner - US","CustomName":"","Rank":"1"},{"Per":"6","Amt":"1","Ppg":"34","L":"28","Use":"Mash","Id":"138312","IngId":"35","Name":"Victory Malt - US","CustomName":"","Rank":"2"},{"Per":"4","Amt":"0.75","Ppg":"35","L":"80","Use":"Mash","Id":"138313","IngId":"44","Name":"Caramel/Crystal 80 - US","CustomName":"","Rank":"3"},{"Per":"3","Amt":"0.5","Ppg":"46","L":"10","Use":"Late","Id":"138314","IngId":"63","Name":"Brown Sugar - US","CustomName":"","Rank":"4"},{"Per":"3","Amt":"0.5","Ppg":"41","L":"1","Use":"Late","Id":"138315","IngId":"545","Name":"Lactose - Milk Sugar - US","CustomName":"","Rank":"5"}],"Hops":[{"Amt":"0.5","Type":"Pellet","Use":"Boil","Min":"60","Day":"0","AA":"6","Ibu":"8.93541825999802","Id":"143184","IngId":"20","Name":"Mt. Hood ","CustomName":"","Rank":"1"},{"Amt":"0.25","Type":"Pellet","Use":"Boil","Min":"60","Day":"0","AA":"5","Ibu":"3.72309094166584","Id":"143185","IngId":"64","Name":"Willamette ","CustomName":"","Rank":"2"},{"Amt":"0.25","Type":"Pellet","Use":"Boil","Min":"15","Day":"0","AA":"3.8","Ibu":"1.4040304003663","Id":"143186","IngId":"27","Name":"Saaz ","CustomName":"","Rank":"3"}],"Yeasts":[{"Atten":"0.75","Id":"39760","IngId":"128","Name":"Danstar Nottingham","CustomName":"","Rank":"1"}],"Others":[{"Amt":"4","Unit":"each","Use":"Secondary","Id":"26077","IngId":"6","Name":"Cinnamon","CustomName":"","Rank":"1"},{"Amt":"1","Unit":"tsp","Use":"Boil","Id":"26078","IngId":"1","Name":"Allspice","CustomName":"","Rank":"2"},{"Amt":"1","Unit":"tsp","Use":"Boil","Id":"26079","IngId":"19","Name":"Nutmeg","CustomName":"","Rank":"3"},{"Amt":"2","Unit":"lb","Use":"Mash","Id":"26080","IngId":"36","Name":"Pumpkin Fruit (1.8 lb can)","CustomName":"","Rank":"4"},{"Amt":"1","Unit":"tsp","Use":"Boil","Id":"26081","IngId":"7","Name":"Clove","CustomName":"","Rank":"5"},{"Amt":"1","Unit":"tsp","Use":"Secondary","Id":"26082","IngId":"45","Name":"Vanilla Extract","CustomName":"","Rank":"6"},{"Amt":"1","Unit":"tsp","Use":"Secondary","Id":"26083","IngId":"4582","Name":"Capella Gingerbread Extract","CustomName":"","Rank":"7"},{"Amt":"1","Unit":"tsp","Use":"Mash","Id":"26084","IngId":"14","Name":"Irish Moss","CustomName":"","Rank":"8"},{"Amt":"1","Unit":"tbsp","Use":"Mash","Id":"26085","IngId":"12","Name":"Gypsum","CustomName":"","Rank":"9"},{"Amt":"1","Unit":"tsp","Use":"Boil","Id":"26086","IngId":"4586","Name":"Pie Spice","CustomName":"","Rank":"10"}],"MashSteps":[],"Steps":[{"Id":"43572","Rank":"1","Text":"Heat 5 gallons of strike water for mash to 174F, heat 4 gallon of water for sparge to 170F for a 7 gallon of mash for boil based on 1 gallon of loss per hour."},{"Id":"43573","Rank":"2","Text":"Adjust extract flavorings in secondary to meet prefered taste."},{"Id":"43574","Rank":"3","Text":"Primary fermentation 14 days at 67F and rack to carboy"},{"Id":"43575","Rank":"4","Text":"Secondary fermentation 30 days at 67F, add finings once FG is reached, allow 4 weeks"}]}