Czech Premium Pale Lager Recipe - Bavarian Pilsner 105
Czech Premium Pale Lager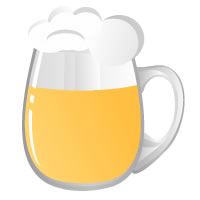 https://brewgr.com/Media/img/mug/3_d.jpg
https://brewgr.com/Media/img/mug/3_t.jpg
Bavarian Pilsner 105
by DaleTheRail on

7/6/2021

Based on Urban Chestnut Zwickel notes for Homebrewers


This recipe was cloned from Bavarian Pils 103.
3%
-
Dry Malt Extract - Light - US
5%
-
Caramel/Crystal 20 - US
OMEGA BAYERN LAGER OYL-114
5 gal strike water at 125 F for 122 F dough-in
Slow rise to 144 F Beta Amylase about one hour. Pull Decoction.
Meanwhile prepare 5 gal sparge water 190F for my system.
Single thick decoction to pressure cooker pot, about half full. Set to "Reduce-low", 30 min. Lid open.
Timer starts when boil starts. Stir occasionally, will not scorch.
Return to main mash target 162F. Raise temp as needed.
Lauter to boil kettle. Boil off to 6.5 gallons following hop schedule.
Tasting Notes (
0

)
There aren't any tasting notes logged yet
Bavarian Pilsner 105
Czech Premium Pale Lager
6.50

Gallons

Liters

Batch Size

8.00

Gallons

Liters

Boil Size

120

min

Boil Time

1.048

OG

1.010

FG

30.7

IBU (tinseth)

Bitterness

0.63

BG:GU

3.5

° SRM

Color

80%

Efficiency

5.0

% ABV

Alcohol

159

per 12oz

Calories
Clone This Recipe
Similar Homebrew Recipes
Help support Brewgr and buy your ingredients from MoreBeer
Or consider a donation via PayPal
{"RecipeId":96944,"RecipeTypeId":30,"OriginalRecipeId":84046,"UnitType":"s","IbuFormula":"t","CreatedBy":106972,"Name":"Bavarian Pilsner 105","Description":"Based on Urban Chestnut Zwickel notes for Homebrewers","ImageUrlRoot":null,"StyleId":"3B","StyleName":"Czech Premium Pale Lager","BatchSize":6.5,"BoilSize":8,"BoilTime":120,"Efficiency":0.8,"DateCreated":"\/Date(1625588212620)\/","BrewSessionCount":1,"MostRecentBrewSession":17771,"Og":1.0483692307692307,"Fg":1.0096738461538461,"Srm":3.4990261240647147,"Ibu":30.696532488141138,"BgGu":0.63462932943039951,"Abv":4.9917046153846165,"Calories":159,"AverageRating":0,"TastingNoteCount":0,"Fermentables":[{"Per":"87","Amt":"9","Ppg":"38","L":"1","Use":"Mash","Id":"518327","IngId":"575","Name":"Pilsner - DE","CustomName":"","Rank":"2"},{"Per":"5","Amt":"0.5","Ppg":"34","L":"2","Use":"Mash","Id":"518328","IngId":"109","Name":"Carafoam - DE","CustomName":"","Rank":"4"},{"Per":"3","Amt":"0.3","Ppg":"44","L":"8","Use":"Extract","Id":"518358","IngId":"71","Name":"Dry Malt Extract - Light - US","CustomName":"","Rank":"4"},{"Per":"5","Amt":"0.5","Ppg":"35","L":"20","Use":"Mash","Id":"518329","IngId":"25","Name":"Caramel/Crystal 20 - US","CustomName":"","Rank":"6"}],"Hops":[{"Amt":"1","Type":"Pellet","Use":"Boil","Min":"60","Day":"0","AA":"4.2","Ibu":"12.4610729956912","Id":"542072","IngId":"286","Name":"Hallertauer Mittelfrüh","CustomName":"","Rank":"2"},{"Amt":"1","Type":"Pellet","Use":"Boil","Min":"30","Day":"0","AA":"4.3","Ibu":"9.80465874584993","Id":"542090","IngId":"286","Name":"Hallertauer Mittelfrüh","CustomName":"","Rank":"4"},{"Amt":"1","Type":"Pellet","Use":"Boil","Min":"15","Day":"0","AA":"4.2","Ibu":"6.18322022058828","Id":"542073","IngId":"286","Name":"Hallertauer Mittelfrüh","CustomName":"","Rank":"6"},{"Amt":"1","Type":"Pellet","Use":"Boil","Min":"5","Day":"0","AA":"3.8","Ibu":"2.24758052601176","Id":"542074","IngId":"27","Name":"Saaz ","CustomName":"","Rank":"8"}],"Yeasts":[{"Atten":"0.8","Id":"144015","IngId":"4357","Name":"OMEGA BAYERN LAGER OYL-114","CustomName":"","Rank":"1"}],"Others":[{"Amt":"1","Unit":"each","Use":"Boil","Id":"95289","IngId":"10665","Name":"Whirlfloc Tablet","CustomName":"","Rank":"1"},{"Amt":"0.5","Unit":"tsp","Use":"Boil","Id":"95290","IngId":"29","Name":"Yeast Nutrient","CustomName":"","Rank":"2"},{"Amt":"1.7","Unit":"floz","Use":"Mash","Id":"95291","IngId":"16","Name":"Lactic Acid","CustomName":"","Rank":"3"}],"MashSteps":[{"Heat":"Direct Heat","Temp":"122","Time":"10","Id":"67006","IngId":"5127","Name":"Dough-in","CustomName":"","Rank":"1"},{"Heat":"Direct Heat","Temp":"144","Time":"30","Id":"67007","IngId":"4568","Name":"Beta Amylase","CustomName":"","Rank":"2"},{"Heat":"Decoction","Temp":"162","Time":"30","Id":"67008","IngId":"4570","Name":"Alpha amylase","CustomName":"","Rank":"3"},{"Heat":"Direct Heat","Temp":"170","Time":"10","Id":"67009","IngId":"7","Name":"Mash-Out","CustomName":"","Rank":"4"}],"Steps":[{"Id":"162008","Rank":"1","Text":"5 gal strike water at 125 F for 122 F dough-in"},{"Id":"162009","Rank":"2","Text":"Slow rise to 144 F Beta Amylase about one hour. Pull Decoction."},{"Id":"162010","Rank":"3","Text":"Meanwhile prepare 5 gal sparge water 190F for my system."},{"Id":"161994","Rank":"4","Text":"Single thick decoction to pressure cooker pot, about half full. Set to \"Reduce-low\", 30 min. Lid open."},{"Id":"161995","Rank":"5","Text":"Timer starts when boil starts. Stir occasionally, will not scorch."},{"Id":"161996","Rank":"6","Text":"Return to main mash target 162F. Raise temp as needed."},{"Id":"162011","Rank":"7","Text":"Mashout 170F 10 min"},{"Id":"162012","Rank":"8","Text":"Lauter to boil kettle. Boil off to 6.5 gallons following hop schedule."}]}