German Pils Recipe - bruckin up
German Pils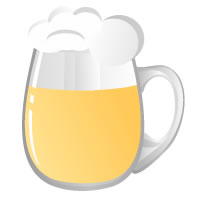 https://brewgr.com/Media/img/mug/2_d.jpg
https://brewgr.com/Media/img/mug/2_t.jpg
bruckin up
by christopherjams on

9/2/2019

2/3 RO, 1/3 A2 tap. Perform a protein rest @ 130-133F with 2.5 gal water add 1g CaCl and CaSO4. Add 1.25gal boiling water to hit a sacch rest of 153F. Acidify 4.5gal sparge water to 5.00 pH. Copper up to 7 gal, add 1g CaSO4, 1g CaCl to kettle at lauter start. Boil 90 minutes. WP 15 minutes, KO as cold as possible. Pitch yeast at 50F. Rack to CO2 flushed keg near end of fermentation, and allow pressure to build and remain.


This recipe was cloned from kellerpils.
2%
-
Acidulated Malt - DE
Omega Yeast Labs Bayern Lager
No other stuff in this recipe
No mash steps in this recipe
No special instructions in this recipe
Tasting Notes (
0

)
There aren't any tasting notes logged yet
5.00

Gallons

Liters

Batch Size

7.00

Gallons

Liters

Boil Size

90

min

Boil Time

1.049

OG

1.009

FG

48.1

IBU (tinseth)

Bitterness

0.99

BG:GU

2.2

° SRM

Color

79%

Efficiency

5.1

% ABV

Alcohol

160

per 12oz

Calories
Clone This Recipe
Similar Homebrew Recipes
{"RecipeId":74070,"RecipeTypeId":10,"OriginalRecipeId":72626,"UnitType":"s","IbuFormula":"t","CreatedBy":118929,"Name":"bruckin up","Description":"2/3 RO, 1/3 A2 tap. Perform a protein rest @ 130-133F with 2.5 gal water add 1g CaCl and CaSO4. Add 1.25gal boiling water to hit a sacch rest of 153F. Acidify 4.5gal sparge water to 5.00 pH. Copper up to 7 gal, add 1g CaSO4, 1g CaCl to kettle at lauter start. Boil 90 minutes. WP 15 minutes, KO as cold as possible. Pitch yeast at 50F. Rack to CO2 flushed keg near end of fermentation, and allow pressure to build and remain.","ImageUrlRoot":null,"StyleId":"5D","StyleName":"German Pils","BatchSize":5,"BoilSize":7,"BoilTime":90,"Efficiency":0.79,"DateCreated":"\/Date(1567463981707)\/","BrewSessionCount":1,"MostRecentBrewSession":15500,"Og":1.04868454,"Fg":1.0092500626,"Srm":2.1609948532686358,"Ibu":48.131483810981152,"BgGu":0.98864000380780337,"Abv":5.0870475846,"Calories":160,"AverageRating":0,"TastingNoteCount":0,"Fermentables":[{"Per":"95","Amt":"7.75","Ppg":"38","L":"1","Use":"Mash","Id":"393677","IngId":"575","Name":"Pilsner - DE","CustomName":"","Rank":"1"},{"Per":"2","Amt":"0.19","Ppg":"27","L":"3","Use":"Mash","Id":"393678","IngId":"474","Name":"Acidulated Malt - DE\r","CustomName":"","Rank":"2"},{"Per":"3","Amt":"0.25","Ppg":"34","L":"1","Use":"Mash","Id":"413211","IngId":"109","Name":"Carafoam - DE","CustomName":"","Rank":"3"}],"Hops":[{"Amt":"0.5","Type":"Leaf","Use":"FirstWort","Min":"90","Day":"0","AA":"12.1","Ibu":"22.6282630648557","Id":"419776","IngId":"31","Name":"Sterling ","CustomName":"","Rank":"2"},{"Amt":"1.5","Type":"Leaf","Use":"Boil","Min":"30","Day":"0","AA":"1.5","Ibu":"6.04597757333685","Id":"419773","IngId":"71","Name":"Hersbrucker ","CustomName":"","Rank":"4"},{"Amt":"0.5","Type":"Leaf","Use":"Boil","Min":"30","Day":"0","AA":"6.7","Ibu":"9.00178883141264","Id":"437441","IngId":"20","Name":"Mt. Hood ","CustomName":"","Rank":"6"},{"Amt":"1.5","Type":"Leaf","Use":"Boil","Min":"5","Day":"0","AA":"1.5","Ibu":"1.56831815120639","Id":"419774","IngId":"71","Name":"Hersbrucker ","CustomName":"","Rank":"8"},{"Amt":"1","Type":"Leaf","Use":"Boil","Min":"5","Day":"0","AA":"6.7","Ibu":"4.67010293914793","Id":"436515","IngId":"20","Name":"Mt. Hood ","CustomName":"","Rank":"10"},{"Amt":"0.5","Type":"Leaf","Use":"Boil","Min":"5","Day":"0","AA":"12.1","Ibu":"4.21703325102163","Id":"436516","IngId":"31","Name":"Sterling ","CustomName":"","Rank":"12"}],"Yeasts":[{"Atten":"0.81","Id":"115117","IngId":"5762","Name":"Omega Yeast Labs Bayern Lager","CustomName":"","Rank":"1"}],"Others":[],"MashSteps":[],"Steps":[]}