Saison Recipe - Sneinton Saison
Saison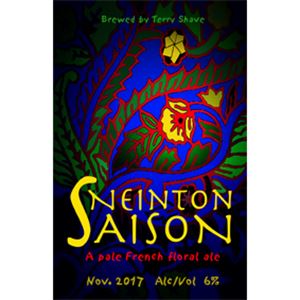 https://brewgr.com/Media/img/r/58/5891df7c-5ea0-4e78-aa78-db778f0abdc0_d.jpg
https://brewgr.com/Media/img/r/58/5891df7c-5ea0-4e78-aa78-db778f0abdc0_t.jpg
64%
-
Maris Otter Pale - UK
3%
-
Dry Malt Extract - Wheat - US
3%
-
Dry Malt Extract - Light - US
5%
-
Corn Sugar (Dextrose) - US
Mangrove Jack's M29 French Saison yeast
Britewort Kappa Carrageenan tab. Last 10 mins
No mash steps in this recipe
Mash 2.25 hours. Grain in @ 55C for 15 mins
Then 1/2 hour @ 60C then up to 66C for 1 hrs
Temp up to 70C for 15 mins
Temp up to 77C for 15 mins then sparge at same temp.
Wort recirculated through the grain bed
Malt extract and suger added to wort before boil
Goldings in after 45 mins. boiling
Irish Moss (Britewort) added last 10 mins
Wort chiller inserted for 2 min in boil to sterilize
Flame out last hops in after 5 mins wort rest
Chilled water passed through wort chiller for 30 mins. (26C)
Wort run into fermentation bin and paddle aerated
Made up to 5 gals(UK) with cold water.
Yeast added at 22C SG1.050 Fermented at 27C
2 days later SG1.038 Racked.
15 days later (15th Nov) SG1.004
Cold crashed (17th Nov) @ 5C for 4 days
Bottled 21st Nov. 95gms Dext. priming
Tasting Notes (
0

)
There aren't any tasting notes logged yet
6.00

Gallons

Liters

Batch Size

6.50

Gallons

Liters

Boil Size

60

 min

Boil Time

1.054

OG

1.008

FG

24.9

 IBU (tinseth)

Bitterness

0.46

BG:GU

12.6

° SRM

Color

70%

Efficiency

5.9

% ABV

Alcohol

177

 per 12oz

Calories
Clone This Recipe
Similar Homebrew Recipes
{"RecipeId":46354,"RecipeTypeId":30,"OriginalRecipeId":42809,"UnitType":"s","IbuFormula":"t","CreatedBy":107281,"Name":"Sneinton Saison","Description":"Brewed 30th October 2017","ImageUrlRoot":"/img/r/58/5891df7c-5ea0-4e78-aa78-db778f0abdc0","StyleId":"25B","StyleName":"Saison","BatchSize":6,"BoilSize":6.5,"BoilTime":60,"Efficiency":0.7,"DateCreated":"\/Date(1509354239427)\/","BrewSessionCount":0,"MostRecentBrewSession":null,"Og":1.0535931866666666,"Fg":1.008038978,"Srm":12.605474478549931,"Ibu":24.920054544201633,"BgGu":0.46498549711546067,"Abv":5.8764929180000012,"Calories":177,"AverageRating":0,"TastingNoteCount":0,"Fermentables":[{"Per":"64","Amt":"7.5","Ppg":"38","L":"3","Use":"Mash","Id":"238230","IngId":"15","Name":"Maris Otter Pale - UK","CustomName":"","Rank":"1"},{"Per":"11","Amt":"1.25","Ppg":"35","L":"4","Use":"Mash","Id":"238231","IngId":"589","Name":"Vienna - UK","CustomName":"","Rank":"2"},{"Per":"9","Amt":"1","Ppg":"33","L":"2","Use":"Mash","Id":"238374","IngId":"11","Name":"Carapils - DE","CustomName":"","Rank":"3"},{"Per":"5","Amt":"0.5512","Ppg":"30","L":"180","Use":"Mash","Id":"238375","IngId":"161","Name":"Special B - BE","CustomName":"","Rank":"4"},{"Per":"1","Amt":"0.1323","Ppg":"32","L":"1","Use":"Mash","Id":"238235","IngId":"94","Name":"Flaked Rice - US","CustomName":"","Rank":"5"},{"Per":"3","Amt":"0.3307","Ppg":"42","L":"3","Use":"Extract","Id":"238376","IngId":"530","Name":"Dry Malt Extract - Wheat - US","CustomName":"","Rank":"6"},{"Per":"3","Amt":"0.3307","Ppg":"44","L":"8","Use":"Extract","Id":"238377","IngId":"71","Name":"Dry Malt Extract - Light - US","CustomName":"","Rank":"7"},{"Per":"5","Amt":"0.5512","Ppg":"46","L":"0","Use":"Late","Id":"238378","IngId":"87","Name":"Corn Sugar (Dextrose) - US","CustomName":"","Rank":"8"}],"Hops":[{"Amt":"1","Type":"Leaf","Use":"Boil","Min":"45","Day":"0","AA":"5.3","Ibu":"13.5642019187775","Id":"253676","IngId":"33","Name":"Styrian Bobek ","CustomName":"","Rank":"1"},{"Amt":"1","Type":"Leaf","Use":"Boil","Min":"30","Day":"0","AA":"5.3","Ibu":"11.3558526254241","Id":"253581","IngId":"35","Name":"Styrian Goldings","CustomName":"","Rank":"2"},{"Amt":"0.5","Type":"Pellet","Use":"FlameOut","Min":"0","Day":"0","AA":"12","Ibu":"0","Id":"253583","IngId":"7","Name":"Citra ","CustomName":"","Rank":"3"},{"Amt":"0.5","Type":"Leaf","Use":"FlameOut","Min":"0","Day":"0","AA":"5.3","Ibu":"0","Id":"253584","IngId":"35","Name":"Styrian Goldings","CustomName":"","Rank":"4"}],"Yeasts":[{"Atten":"0.85","Id":"66925","IngId":"2453","Name":"Mangrove Jack\u0027s M29 French Saison yeast","CustomName":"","Rank":"1"}],"Others":[{"Amt":"1","Unit":"each","Use":"Mash","Id":"46535","IngId":"4011","Name":"Britewort Kappa Carrageenan tab. Last 10 mins","CustomName":"","Rank":"1"}],"MashSteps":[],"Steps":[{"Id":"76736","Rank":"1","Text":"Mash 2.25 hours. Grain in @ 55C for 15 mins"},{"Id":"76737","Rank":"2","Text":"Then 1/2 hour @ 60C then up to 66C for 1 hrs"},{"Id":"76738","Rank":"3","Text":"Temp up to 70C for 15 mins"},{"Id":"76739","Rank":"4","Text":"Temp up to 77C for 15 mins then sparge at same temp."},{"Id":"76740","Rank":"5","Text":"pH test of mash - 5.2"},{"Id":"76780","Rank":"6","Text":"Wort recirculated through the grain bed"},{"Id":"76781","Rank":"7","Text":"Malt extract and suger added to wort before boil"},{"Id":"76741","Rank":"8","Text":"Bring to boil"},{"Id":"76742","Rank":"9","Text":"Goldings in after 45 mins. boiling"},{"Id":"76743","Rank":"10","Text":"Other hops in as above"},{"Id":"76744","Rank":"11","Text":"Irish Moss (Britewort) added last 10 mins"},{"Id":"76745","Rank":"12","Text":"Wort chiller inserted for 2 min in boil to sterilize"},{"Id":"76746","Rank":"13","Text":"Flame out last hops in after 5 mins wort rest"},{"Id":"76747","Rank":"14","Text":"Chilled water passed through wort chiller for 30 mins. (26C)"},{"Id":"76748","Rank":"15","Text":"Wort run into fermentation bin and paddle aerated"},{"Id":"76749","Rank":"16","Text":"Made up to 5 gals(UK) with cold water."},{"Id":"76750","Rank":"17","Text":"Yeast added at 22C SG1.050 Fermented at 27C"},{"Id":"76751","Rank":"18","Text":"2 days later SG1.038 Racked."},{"Id":"77917","Rank":"19","Text":"15 days later (15th Nov) SG1.004"},{"Id":"78061","Rank":"20","Text":"Cold crashed (17th Nov) @ 5C for 4 days"},{"Id":"78343","Rank":"21","Text":"Bottled 21st Nov. 95gms Dext. priming"}]}