Dunkles Weissbier Recipe - North End Lemongrass Dunkelweizen
Dunkles Weissbier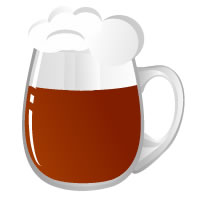 https://brewgr.com/Media/img/mug/21_d.jpg
https://brewgr.com/Media/img/mug/21_t.jpg
North End Lemongrass Dunkelweizen
by FastFord on

6/23/2016

Experimental summer Dunkelweizen recipe...wheat ales are typically served with a little citrus kicker, so I figured I'd make it so that wasn't necessary. Building on a Blood Orange Hefeweizen recipe I made last summer, and inspired by a Lemongrass Kolsch that I had a couple of weeks ago at Middleton Brewing in Everett Washington.


This recipe was cloned from dunkelweizen.
4%
-
Caramel / Crystal 40L
Wyeast Weihenstephan Weizen 3068
No mash steps in this recipe
Sparge with 170 degree water to collect pre oil volume
Heat to start 90 minute boil
Add Hallertau Hops at 60 minutes
Add Lemongrass and Irish moss at 15 minutes
Add Tettnang at flame out and stir to settle trub
Cool to 68 degrees and pitch yeast
7 days transfer to secondary for one additional week...dry hop with one additional ounce of lemongrass if necessary to get the lemony nose you are looking for.
Tasting Notes (
1

)
Tasted on 8/22/2016 by FastFord
Notes:
Malty goodness with just a slight tinge of lemony citrus on the finish. Just about what I expected...maybe would have liked more citrus in the nose, but then you worry about ending up with lemon pledge. Not bad.
North End Lemongrass Dunkelweizen
Dunkles Weissbier
5.50

Gallons

Liters

Batch Size

7.00

Gallons

Liters

Boil Size

90

min

Boil Time

1.054

OG

1.014

FG

19.3

IBU (tinseth)

Bitterness

0.36

BG:GU

20.6

° SRM

Color

70%

Efficiency

5.2

% ABV

Alcohol

181

per 12oz

Calories
Clone This Recipe
Similar Homebrew Recipes
{"RecipeId":26116,"RecipeTypeId":10,"OriginalRecipeId":4482,"UnitType":"s","IbuFormula":"t","CreatedBy":106483,"Name":"North End Lemongrass Dunkelweizen","Description":"Experimental summer Dunkelweizen recipe...wheat ales are typically served with a little citrus kicker, so I figured I\u0027d make it so that wasn\u0027t necessary. Building on a Blood Orange Hefeweizen recipe I made last summer, and inspired by a Lemongrass Kolsch that I had a couple of weeks ago at Middleton Brewing in Everett Washington.","ImageUrlRoot":null,"StyleId":"10B","StyleName":"Dunkles Weissbier","BatchSize":5.5,"BoilSize":7,"BoilTime":90,"Efficiency":0.7,"DateCreated":"\/Date(1466710920853)\/","BrewSessionCount":2,"MostRecentBrewSession":10516,"Og":1.0540909090909092,"Fg":1.0135227272727272,"Srm":20.630401135343092,"Ibu":19.26698692853558,"BgGu":0.3561963969981361,"Abv":5.2332954545454546,"Calories":181,"AverageRating":3,"TastingNoteCount":2,"Fermentables":[{"Per":"44","Amt":"5","Ppg":"40","L":"2","Use":"Mash","Id":"125884","IngId":"10","Name":"White Wheat - US","CustomName":"","Rank":"1"},{"Per":"4","Amt":"0.5","Ppg":"30","L":"180","Use":"Mash","Id":"125886","IngId":"161","Name":"Special B - BE","CustomName":"","Rank":"2"},{"Per":"4","Amt":"0.5","Ppg":"34","L":"0","Use":"Mash","Id":"125887","IngId":"602","Name":"Caramel / Crystal 40L","CustomName":"","Rank":"3"},{"Per":"2","Amt":"0.25","Ppg":"32","L":"412","Use":"Mash","Id":"125888","IngId":"55","Name":"Carafa II - DE","CustomName":"","Rank":"4"},{"Per":"44","Amt":"5","Ppg":"37","L":"9","Use":"Mash","Id":"131726","IngId":"20","Name":"Munich - UK","CustomName":"","Rank":"5"}],"Hops":[{"Amt":"1","Type":"Pellet","Use":"Boil","Min":"60","Day":"0","AA":"3.8","Ibu":"12.6563415993529","Id":"129415","IngId":"15","Name":"Hallertau ","CustomName":"","Rank":"1"},{"Amt":"2","Type":"Pellet","Use":"Boil","Min":"15","Day":"0","AA":"2","Ibu":"6.61064532918267","Id":"129416","IngId":"61","Name":"Tettnang ","CustomName":"","Rank":"2"}],"Yeasts":[{"Atten":"0.75","Id":"36307","IngId":"246","Name":"Wyeast Weihenstephan Weizen 3068","CustomName":"","Rank":"1"}],"Others":[{"Amt":"1","Unit":"tsp","Use":"Boil","Id":"23539","IngId":"14","Name":"Irish Moss","CustomName":"","Rank":"1"},{"Amt":"1","Unit":"oz","Use":"Boil","Id":"24700","IngId":"4398","Name":"Lemongrass","CustomName":"","Rank":"2"}],"MashSteps":[],"Steps":[{"Id":"41764","Rank":"1","Text":"Mash in at 152 degrees"},{"Id":"41765","Rank":"2","Text":"Sparge with 170 degree water to collect pre oil volume"},{"Id":"41766","Rank":"3","Text":"Heat to start 90 minute boil"},{"Id":"41767","Rank":"4","Text":"Add Hallertau Hops at 60 minutes"},{"Id":"41768","Rank":"5","Text":"Add Lemongrass and Irish moss at 15 minutes"},{"Id":"41769","Rank":"6","Text":"Add Tettnang at flame out and stir to settle trub"},{"Id":"41770","Rank":"7","Text":"Cool to 68 degrees and pitch yeast"},{"Id":"41771","Rank":"8","Text":"7 days transfer to secondary for one additional week...dry hop with one additional ounce of lemongrass if necessary to get the lemony nose you are looking for."},{"Id":"41772","Rank":"9","Text":"Keg and enjoy!"}]}