Blonde Ale Recipe - Summer Ale with Elderflower
Blonde Ale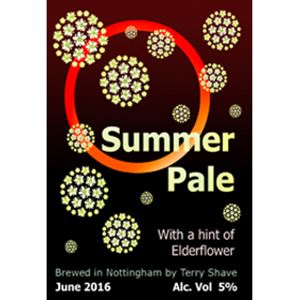 https://brewgr.com/Media/img/r/e0/e04e9a93-a640-43a0-81e2-21752b3af9aa_d.jpg
https://brewgr.com/Media/img/r/e0/e04e9a93-a640-43a0-81e2-21752b3af9aa_t.jpg
Summer Ale with Elderflower
by RadfordBrewer on

6/15/2016

20.8198 Liter(s)

90 min

70%

First brewed 15th June 2016


This recipe was cloned from Lighthouse Bitter.
16%
-
Maris Otter Pale - UK
8%
-
Torrified Wheat - US
12%
-
Corn Sugar (Dextrose) - US
Mangrove Jack's M41 Belgian Ale yeast
Fresh Elderflowers off all stalks
Mash steps as Lighthouse Brew
Mash 2.5 hours. Grain in @ 55° for 1/2 hour
Then 1/2 hr @ 60° then up to 66° for 1.5 hrs
Temp up to 77°C then sparge with water at same temp.
Elderflowers on to boil in 1lt water. Off heat at boiling point
Rest Elderflowers in hot water for 1 hour then strain off
Sugar, gypsum and citric acid added just before boiling point
First hops in at boiling second batch in after 30 mins boil
Irish Moss added for last 10 mins. of boil with third batch of hops
Boil the elderflower water and add for last 10 mins of boil
Wort chiller inserted for 2 min in boil
Flame out - last hops in and left to stand for 10 mins
Chilled water passed through Wort Chiller for 45 mins.
Yeast added at 70? SG 1.042
After 4 days SG was 1.006 transfered to closed barrel.
Racked and fined after 8 days SG 1.002
500mls Elderflower Cordial added with priming suger
Summer Ale with Elderflower
Blonde Ale
19.00

Gallons

Liters

Batch Size

20.82

Gallons

Liters

Boil Size

90

 min

Boil Time

1.035

OG

1.004

FG

12.1

 IBU (brewgr)

Bitterness

0.35

BG:GU

3.3

° SRM

Color

70%

Efficiency

4.1

% ABV

Alcohol

112

 per 12oz

Calories
Clone This Recipe
Similar Homebrew Recipes
{"RecipeId":25812,"RecipeTypeId":10,"OriginalRecipeId":24620,"UnitType":"m","IbuFormula":"b","CreatedBy":107281,"Name":"Summer Ale with Elderflower","Description":"First brewed 15th June 2016","ImageUrlRoot":"/img/r/e0/e04e9a93-a640-43a0-81e2-21752b3af9aa","StyleId":"18A","StyleName":"Blonde Ale","BatchSize":19,"BoilSize":20.8198,"BoilTime":90,"Efficiency":0.7,"DateCreated":"\/Date(1465986634477)\/","BrewSessionCount":0,"MostRecentBrewSession":null,"Og":1.0350451806725602,"Fg":1.0035045180672559,"Srm":3.3158063314974022,"Ibu":12.121065303075044,"BgGu":0.34586967652775225,"Abv":4.0687454760842412,"Calories":112,"AverageRating":4,"TastingNoteCount":1,"Fermentables":[{"Per":"32","Amt":"0.9072","Ppg":"38","L":"2","Use":"Mash","Id":"124325","IngId":"7","Name":"Lager Malt - UK","CustomName":"","Rank":"1"},{"Per":"32","Amt":"0.9072","Ppg":"35","L":"4","Use":"Mash","Id":"124324","IngId":"589","Name":"Vienna - UK","CustomName":"","Rank":"2"},{"Per":"16","Amt":"0.4536","Ppg":"38","L":"3","Use":"Mash","Id":"124290","IngId":"15","Name":"Maris Otter Pale - UK","CustomName":"","Rank":"3"},{"Per":"8","Amt":"0.2268","Ppg":"36","L":"2","Use":"Mash","Id":"124326","IngId":"586","Name":"Torrified Wheat - US","CustomName":"","Rank":"4"},{"Per":"12","Amt":"0.3402","Ppg":"46","L":"0","Use":"Late","Id":"124293","IngId":"87","Name":"Corn Sugar (Dextrose) - US","CustomName":"","Rank":"5"}],"Hops":[{"Amt":"14.1748","Type":"Leaf","Use":"Boil","Min":"90","Day":"0","AA":"3.8","Ibu":"8.22568719239383","Id":"127343","IngId":"27","Name":"Saaz ","CustomName":"","Rank":"1"},{"Amt":"7.0874","Type":"Pellet","Use":"Boil","Min":"60","Day":"0","AA":"3.5","Ibu":"3.89537811068122","Id":"127401","IngId":"70","Name":"Herkules ","CustomName":"","Rank":"2"},{"Amt":"7.0874","Type":"Pellet","Use":"FlameOut","Min":"0","Day":"0","AA":"5","Ibu":"0","Id":"127345","IngId":"14","Name":"Goldings","CustomName":"","Rank":"3"}],"Yeasts":[{"Atten":"0.9","Id":"35801","IngId":"1344","Name":"Mangrove Jack\u0027s M41 Belgian Ale yeast","CustomName":"","Rank":"1"}],"Others":[{"Amt":"7.3934","Unit":"ml","Use":"Boil","Id":"23244","IngId":"12","Name":"Gypsum","CustomName":"","Rank":"1"},{"Amt":"2.4645","Unit":"ml","Use":"Boil","Id":"23245","IngId":"3610","Name":"Citric acid","CustomName":"","Rank":"2"},{"Amt":"9.8578","Unit":"ml","Use":"Boil","Id":"23246","IngId":"14","Name":"Irish Moss","CustomName":"","Rank":"3"},{"Amt":"0.1701","Unit":"kg","Use":"Boil","Id":"23265","IngId":"4208","Name":"Fresh Elderflowers off all stalks","CustomName":"","Rank":"4"}],"MashSteps":[{"Heat":"Decoction","Temp":"66","Time":"0","Id":"16658","IngId":"2271","Name":"Mash steps as Lighthouse Brew","CustomName":"","Rank":"1"}],"Steps":[{"Id":"39472","Rank":"1","Text":"Mash 2.5 hours. Grain in @ 55° for 1/2 hour"},{"Id":"39473","Rank":"2","Text":"Then 1/2 hr @ 60° then up to 66° for 1.5 hrs"},{"Id":"39474","Rank":"3","Text":"Temp up to 77°C then sparge with water at same temp."},{"Id":"39513","Rank":"4","Text":"Elderflowers on to boil in 1lt water. Off heat at boiling point"},{"Id":"39514","Rank":"5","Text":"Rest Elderflowers in hot water for 1 hour then strain off"},{"Id":"39475","Rank":"6","Text":"Sugar, gypsum and citric acid added just before boiling point"},{"Id":"39476","Rank":"7","Text":"First hops in at boiling second batch in after 30 mins boil"},{"Id":"39477","Rank":"8","Text":"Irish Moss added for last 10 mins. of boil with third batch of hops"},{"Id":"39515","Rank":"9","Text":"Boil the elderflower water and add for last 10 mins of boil"},{"Id":"39478","Rank":"10","Text":"Wort chiller inserted for 2 min in boil"},{"Id":"39479","Rank":"11","Text":"Flame out - last hops in and left to stand for 10 mins"},{"Id":"39480","Rank":"12","Text":"Chilled water passed through Wort Chiller for 45 mins."},{"Id":"39481","Rank":"13","Text":"Yeast added at 70? SG 1.042"},{"Id":"39482","Rank":"14","Text":"After 4 days SG was 1.006 transfered to closed barrel."},{"Id":"39925","Rank":"15","Text":"Racked and fined after 8 days SG 1.002"},{"Id":"40182","Rank":"16","Text":"500mls Elderflower Cordial added with priming suger"}]}