Kölsch Recipe - Star Ship Kolsch
Kölsch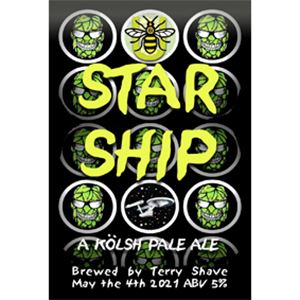 https://brewgr.com/Media/img/r/a3/a388f450-1416-4688-b6b1-580c882b0c47_d.jpg
https://brewgr.com/Media/img/r/a3/a388f450-1416-4688-b6b1-580c882b0c47_t.jpg
61%
-
Golden Promise - UK
Protafloc Tablet (Use half) last 15mins of boil
No mash steps in this recipe
17 lts Mash water. 1 hr at 65C
Then to 70C for 10 mins mash-out. Then up to 77C for sparging
First Bobek hops washed during sparging
Sparge with 15lts water. Then on to boil. First hops in for 45 mins
Second hops plus Maltodextrin in for 10mins. Half Protofloc tab added for 10 mins too
Flame out then Hop stand with Citra @ 70C for 10 mins.
23 lts collected - Yeast added at 20C 'Pure Brew' added at the same time. SG 1.052
Fermenting well after 24hrs. 35gms Ekaunot hops added to fermenter.
5 days after brewing - Racked off yeast and second batch of dry hops added SG1.014
Into cellar to lager. After 5 days, (19th May) 15 days after brewing, SG1.010
Lagering for 30 days to 19th June then cold crash for 3 days.
Bottled on 22rd June. Batch primed with 60gms Dex. SG1004 Clear after 2 days
22.00

Gallons

Liters

Batch Size

30.00

Gallons

Liters

Boil Size

60

 min

Boil Time

1.050

OG

1.011

FG

22.0

 IBU (tinseth)

Bitterness

0.44

BG:GU

4.9

° SRM

Color

72%

Efficiency

5.0

% ABV

Alcohol

165

 per 12oz

Calories
Clone This Recipe
Similar Homebrew Recipes
{"RecipeId":95226,"RecipeTypeId":10,"OriginalRecipeId":91815,"UnitType":"m","IbuFormula":"t","CreatedBy":107281,"Name":"Star Ship Kolsch","Description":"First brewed May 4th 2021","ImageUrlRoot":"/img/r/a3/a388f450-1416-4688-b6b1-580c882b0c47","StyleId":"5B","StyleName":"Kölsch","BatchSize":22,"BoilSize":30,"BoilTime":60,"Efficiency":0.72,"DateCreated":"\/Date(1619176118263)\/","BrewSessionCount":0,"MostRecentBrewSession":null,"Og":1.0498079072450044,"Fg":1.0109577395939009,"Srm":4.8541564790634979,"Ibu":21.962361315143774,"BgGu":0.44094125872647549,"Abv":5.0116716269923316,"Calories":165,"AverageRating":5,"TastingNoteCount":1,"Fermentables":[{"Per":"61","Amt":"3","Ppg":"37","L":"3","Use":"Mash","Id":"510242","IngId":"538","Name":"Golden Promise - UK","CustomName":"","Rank":"2"},{"Per":"20","Amt":"1","Ppg":"35","L":"4","Use":"Mash","Id":"508853","IngId":"589","Name":"Vienna - UK","CustomName":"","Rank":"4"},{"Per":"2","Amt":"0.1","Ppg":"32","L":"1","Use":"Mash","Id":"510243","IngId":"94","Name":"Flaked Rice - US","CustomName":"","Rank":"5"},{"Per":"15","Amt":"0.75","Ppg":"37","L":"2","Use":"Mash","Id":"508854","IngId":"590","Name":"Wheat Malt - DE","CustomName":"","Rank":"6"},{"Per":"2","Amt":"0.1","Ppg":"39","L":"0","Use":"Late","Id":"508858","IngId":"553","Name":"Maltodextrin - US","CustomName":"","Rank":"8"}],"Hops":[{"Amt":"20","Type":"Leaf","Use":"Mash","Min":"0","Day":"0","AA":"12","Ibu":"0","Id":"533672","IngId":"7","Name":"Citra ","CustomName":"","Rank":"2"},{"Amt":"20","Type":"Leaf","Use":"Boil","Min":"10","Day":"0","AA":"5.3","Ibu":"4.03697870627465","Id":"533636","IngId":"33","Name":"Styrian Bobek ","CustomName":"","Rank":"4"},{"Amt":"10","Type":"Pellet","Use":"Boil","Min":"45","Day":"0","AA":"16.9","Ibu":"17.9253826088691","Id":"533635","IngId":"11738","Name":"Enigma","CustomName":"","Rank":"6"},{"Amt":"10","Type":"Leaf","Use":"FlameOut","Min":"0","Day":"0","AA":"12","Ibu":"0","Id":"533673","IngId":"7","Name":"Citra ","CustomName":"","Rank":"8"},{"Amt":"35","Type":"Pellet","Use":"DryHop","Min":"0","Day":"5","AA":"15","Ibu":"0","Id":"534397","IngId":"3799","Name":"Ekaunot","CustomName":"","Rank":"10"},{"Amt":"35","Type":"Pellet","Use":"DryHop","Min":"0","Day":"7","AA":"15","Ibu":"0","Id":"533978","IngId":"3799","Name":"Ekaunot","CustomName":"","Rank":"12"}],"Yeasts":[{"Atten":"0.78","Id":"141747","IngId":"230","Name":"Wyeast Kölsch 2565","CustomName":"","Rank":"1"}],"Others":[{"Amt":"0.5","Unit":"each","Use":"Mash","Id":"93870","IngId":"7237","Name":"Protafloc Tablet (Use half) last 15mins of boil","CustomName":"","Rank":"1"}],"MashSteps":[],"Steps":[{"Id":"158941","Rank":"1","Text":"17 lts Mash water. 1 hr at 65C"},{"Id":"158942","Rank":"2","Text":"Then to 70C for 10 mins mash-out. Then up to 77C for sparging"},{"Id":"158943","Rank":"3","Text":"First Bobek hops washed during sparging"},{"Id":"158944","Rank":"4","Text":"Sparge with 15lts water. Then on to boil. First hops in for 45 mins"},{"Id":"158945","Rank":"5","Text":"Second hops plus Maltodextrin in for 10mins. Half Protofloc tab added for 10 mins too"},{"Id":"158946","Rank":"6","Text":"Flame out then Hop stand with Citra @ 70C for 10 mins."},{"Id":"158947","Rank":"7","Text":"23 lts collected - Yeast added at 20C \u0027Pure Brew\u0027 added at the same time. SG 1.052"},{"Id":"158948","Rank":"8","Text":"Fermenting well after 24hrs. 35gms Ekaunot hops added to fermenter."},{"Id":"158949","Rank":"9","Text":"5 days after brewing - Racked off yeast and second batch of dry hops added SG1.014"},{"Id":"158951","Rank":"10","Text":"Into cellar to lager. After 5 days, (19th May) 15 days after brewing, SG1.010"},{"Id":"159933","Rank":"11","Text":"Lagering for 30 days to 19th June then cold crash for 3 days."},{"Id":"158952","Rank":"12","Text":"Bottled on 22rd June. Batch primed with 60gms Dex. SG1004 Clear after 2 days"}]}