Irish Stout Recipe - Toaster
Irish Stout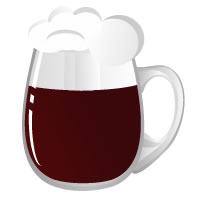 https://brewgr.com/Media/img/mug/36_d.jpg
https://brewgr.com/Media/img/mug/36_t.jpg
Toaster
by BrewGoblin on

3/30/2021
All Grain Irish Stout homebrew recipe. This homebrew recipe uses the following ingredients: Maris Otter Pale - UK, Flaked Barley - US, Golden Naked Oats - UK, Roasted Barley - UK, CaraMunich I - DE, Magnum Hops, Fuggles Hops, Fermentis Safale US-05 Homebrew Yeast.
67%
-
Maris Otter Pale - UK
8%
-
Golden Naked Oats - UK
No other stuff in this recipe
No mash steps in this recipe
Apr 11/21: Mashed in with 15.14L, 3.5ml phosphoric, 2.5g CaCl2, 2g CaSO4
Hit 65.5c. 45 minute mash.
Sparged with 19.87L, 2ml phosphoric, 2.8g CaCl2, 2.3g CaSO4
Added second 1/2lb of roasted barley to mashbed before adding 80c sparge water.
80c sparge water to 52c grainbed for 69c mashout. 20 minute timer.
Apr 11/21 1:30pm: 19c wort into FC set to 18c.
Apr 17/21 930am: FC up to 19c.
Apr 18/21 9am: FC up to 20c
Apr22/930pm: FC up to 21c
Apr 24/21 9am: Brought FV out into basement to begin chilling.
May 1/21: Bottling Day. 4.4oz to 19.25L at 21c for 2.42 volumes
Tasting Notes (
0

)
There aren't any tasting notes logged yet
6.00

Gallons

Liters

Batch Size

7.00

Gallons

Liters

Boil Size

60

min

Boil Time

1.040

OG

1.010

FG

33.8

IBU (tinseth)

Bitterness

0.84

BG:GU

35.7

° SRM

Color

69%

Efficiency

3.9

% ABV

Alcohol

132

per 12oz

Calories
Clone This Recipe
Similar Homebrew Recipes
{"RecipeId":94617,"RecipeTypeId":10,"OriginalRecipeId":null,"UnitType":"s","IbuFormula":"t","CreatedBy":101865,"Name":"Toaster","Description":"","ImageUrlRoot":null,"StyleId":"15B","StyleName":"Irish Stout","BatchSize":6,"BoilSize":7,"BoilTime":60,"Efficiency":0.69,"DateCreated":"\/Date(1617098093193)\/","BrewSessionCount":0,"MostRecentBrewSession":null,"Og":1.04022125,"Fg":1.0096531,"Srm":35.680930572468604,"Ibu":33.751072001681834,"BgGu":0.83913533273286511,"Abv":3.9432913499999986,"Calories":132,"AverageRating":0,"TastingNoteCount":0,"Fermentables":[{"Per":"67","Amt":"6.5","Ppg":"38","L":"3","Use":"Mash","Id":"505449","IngId":"15","Name":"Maris Otter Pale - UK","CustomName":"","Rank":"2"},{"Per":"10","Amt":"1","Ppg":"32","L":"2","Use":"Mash","Id":"507173","IngId":"78","Name":"Flaked Barley - US","CustomName":"","Rank":"4"},{"Per":"8","Amt":"0.75","Ppg":"33","L":"10","Use":"Mash","Id":"505452","IngId":"537","Name":"Golden Naked Oats - UK","CustomName":"","Rank":"6"},{"Per":"5","Amt":"0.5","Ppg":"29","L":"550","Use":"Mash","Id":"505450","IngId":"579","Name":"Roasted Barley - UK","CustomName":"","Rank":"8"},{"Per":"5","Amt":"0.5","Ppg":"34","L":"39","Use":"Mash","Id":"507174","IngId":"501","Name":"CaraMunich I - DE","CustomName":"","Rank":"10"},{"Per":"5","Amt":"0.5","Ppg":"29","L":"550","Use":"Mash","Id":"507175","IngId":"579","Name":"Roasted Barley - UK","CustomName":"","Rank":"12"}],"Hops":[{"Amt":"1","Type":"Pellet","Use":"Boil","Min":"25","Day":"0","AA":"11.9","Ibu":"28.6100632943924","Id":"530709","IngId":"18","Name":"Magnum ","CustomName":"","Rank":"2"},{"Amt":"1","Type":"Pellet","Use":"Boil","Min":"10","Day":"0","AA":"4.1","Ibu":"5.14100870728947","Id":"530710","IngId":"11","Name":"Fuggles","CustomName":"","Rank":"4"}],"Yeasts":[{"Atten":"0.76","Id":"140376","IngId":"253","Name":"Fermentis Safale US-05","CustomName":"","Rank":"1"}],"Others":[],"MashSteps":[],"Steps":[{"Id":"158532","Rank":"1","Text":"Apr 11/21: Mashed in with 15.14L, 3.5ml phosphoric, 2.5g CaCl2, 2g CaSO4"},{"Id":"158533","Rank":"2","Text":"Hit 65.5c. 45 minute mash."},{"Id":"158534","Rank":"3","Text":"Sparged with 19.87L, 2ml phosphoric, 2.8g CaCl2, 2.3g CaSO4"},{"Id":"158535","Rank":"4","Text":"Added second 1/2lb of roasted barley to mashbed before adding 80c sparge water."},{"Id":"158536","Rank":"5","Text":"80c sparge water to 52c grainbed for 69c mashout. 20 minute timer."},{"Id":"158552","Rank":"6","Text":"Apr 11/21 1:30pm: 19c wort into FC set to 18c."},{"Id":"158652","Rank":"7","Text":"Apr 17/21 930am: FC up to 19c."},{"Id":"158691","Rank":"8","Text":"Apr 18/21 9am: FC up to 20c"},{"Id":"158921","Rank":"9","Text":"Apr22/930pm: FC up to 21c"},{"Id":"158973","Rank":"10","Text":"Apr 24/21 9am: Brought FV out into basement to begin chilling."},{"Id":"159305","Rank":"11","Text":"May 1/21: Bottling Day. 4.4oz to 19.25L at 21c for 2.42 volumes"}]}