Doppelbock Recipe - Urban Chestnut Hallertau Wolamot Doppelbock
Doppelbock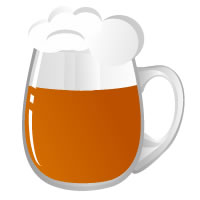 https://brewgr.com/Media/img/mug/13_d.jpg
https://brewgr.com/Media/img/mug/13_t.jpg
Urban Chestnut Hallertau Wolamot Doppelbock
by DaleTheRail on

1/10/2021
Recipe from Craft Beer & Brewing, Feb-Mar 2021
Fermentis Saflager W-34/70
No other stuff in this recipe
After 162 F rest, pull decoction 1/3 of mash, boil 15 min, reunite with main mash.
After boil, chill to 46 F, pitch yeast
Ferment at 50 F for 10 days or fermentation is complete
Decrease temp by about 4 degrees/day down to 32 F
Lager for 4-6 weeks. Package and carbonate.
Tasting Notes (
0

)
There aren't any tasting notes logged yet
Urban Chestnut Hallertau Wolamot Doppelbock
Doppelbock
5.00

Gallons

Liters

Batch Size

6.50

Gallons

Liters

Boil Size

75

min

Boil Time

1.075

OG

1.018

FG

24.1

IBU (tinseth)

Bitterness

0.32

BG:GU

13.1

° SRM

Color

72%

Efficiency

7.4

% ABV

Alcohol

259

per 12oz

Calories
Clone This Recipe
Similar Homebrew Recipes
Help support Brewgr and buy your ingredients from MoreBeer
Or consider a donation via PayPal
{"RecipeId":91990,"RecipeTypeId":10,"OriginalRecipeId":null,"UnitType":"s","IbuFormula":"t","CreatedBy":106972,"Name":"Urban Chestnut Hallertau Wolamot Doppelbock","Description":"Recipe from Craft Beer \u0026 Brewing, Feb-Mar 2021","ImageUrlRoot":null,"StyleId":"9A","StyleName":"Doppelbock","BatchSize":5,"BoilSize":6.5,"BoilTime":75,"Efficiency":0.72,"DateCreated":"\/Date(1610309465523)\/","BrewSessionCount":0,"MostRecentBrewSession":null,"Og":1.07549344,"Fg":1.0181184256,"Srm":13.086278154160263,"Ibu":24.059533233335202,"BgGu":0.31869700510845972,"Abv":7.4013768576,"Calories":259,"AverageRating":0,"TastingNoteCount":0,"Fermentables":[{"Per":"45","Amt":"6.4","Ppg":"38","L":"2","Use":"Mash","Id":"490743","IngId":"575","Name":"Pilsner - DE","CustomName":"","Rank":"1"},{"Per":"45","Amt":"6.4","Ppg":"37","L":"10","Use":"Mash","Id":"490744","IngId":"560","Name":"Munich Light - DE","CustomName":"","Rank":"2"},{"Per":"6","Amt":"0.9","Ppg":"33","L":"10","Use":"Mash","Id":"490745","IngId":"100","Name":"CaraHell - DE","CustomName":"","Rank":"3"},{"Per":"3","Amt":"0.4","Ppg":"34","L":"46","Use":"Mash","Id":"490746","IngId":"502","Name":"CaraMunich II - DE","CustomName":"","Rank":"4"},{"Per":"0","Amt":"0.03","Ppg":"32","L":"412","Use":"Mash","Id":"490747","IngId":"55","Name":"Carafa II - DE","CustomName":"","Rank":"5"}],"Hops":[{"Amt":"0.55","Type":"Pellet","Use":"Boil","Min":"75","Day":"0","AA":"8.3","Ibu":"14.4193065424629","Id":"515053","IngId":"26","Name":"Perle ","CustomName":"","Rank":"1"},{"Amt":"0.5","Type":"Pellet","Use":"Boil","Min":"30","Day":"0","AA":"8.3","Ibu":"9.64022669087229","Id":"515054","IngId":"26","Name":"Perle ","CustomName":"","Rank":"2"},{"Amt":"0.2","Type":"Pellet","Use":"Boil","Min":"0","Day":"0","AA":"4.3","Ibu":"0","Id":"515055","IngId":"286","Name":"Hallertauer Mittelfrüh","CustomName":"","Rank":"3"}],"Yeasts":[{"Atten":"0.76","Id":"136380","IngId":"571","Name":"Fermentis Saflager W-34/70","CustomName":"","Rank":"1"}],"Others":[],"MashSteps":[{"Heat":"Direct Heat","Temp":"122","Time":"0","Id":"64263","IngId":"5123","Name":"Mash in see instructions","CustomName":"","Rank":"2"},{"Heat":"Direct Heat","Temp":"126","Time":"15","Id":"64264","IngId":"8","Name":"Protein Rest","CustomName":"","Rank":"2"},{"Heat":"Direct Heat","Temp":"145","Time":"30","Id":"64265","IngId":"9","Name":"Saccharification Rest","CustomName":"","Rank":"3"},{"Heat":"Direct Heat","Temp":"162","Time":"15","Id":"64266","IngId":"9","Name":"Saccharification Rest","CustomName":"","Rank":"4"},{"Heat":"Decoction","Temp":"212","Time":"15","Id":"64267","IngId":"9","Name":"Saccharification Rest","CustomName":"","Rank":"5"}],"Steps":[{"Id":"153613","Rank":"1","Text":"After 162 F rest, pull decoction 1/3 of mash, boil 15 min, reunite with main mash."},{"Id":"153614","Rank":"2","Text":"After boil, chill to 46 F, pitch yeast"},{"Id":"153615","Rank":"3","Text":"Ferment at 50 F for 10 days or fermentation is complete"},{"Id":"153616","Rank":"4","Text":"Decrease temp by about 4 degrees/day down to 32 F"},{"Id":"153617","Rank":"5","Text":"Lager for 4-6 weeks. Package and carbonate."}]}