Weizenbock Recipe - Weizenbock
Weizenbock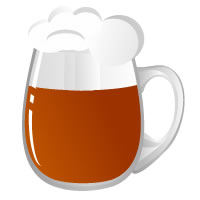 https://brewgr.com/Media/img/mug/17_d.jpg
https://brewgr.com/Media/img/mug/17_t.jpg
Weizenbock
by Brewer 118550 on

7/27/2020

All Grain Weizenbock homebrew recipe. This homebrew recipe uses the following ingredients: Munich - 60L - US, Wheat - US, Carapils - Dextrine Malt - US, Caramel/Crystal 120 - US, Tettnang Hops, Hallertau Hops, Fermentis Safbrew WB-06 Homebrew Yeast.


This recipe was cloned from Weizenbock 001.
5%
-
Carapils - Dextrine Malt - US
2%
-
Caramel/Crystal 120 - US
No other stuff in this recipe
No mash steps in this recipe
Heat 1 gallons water to 160 and steep Carapils and Crystal 120 for 20"
Increase water to 3.25 gallons and heat to 134.6 degrees
Toss tap water out of mash tun
Insert BIAB bag into mash tun
Add infusion water from kettle
Stir grains into mash tun filled with infusion water
Drain water from mash tun to capture total 2 gallons. Add from C.Spg supply if necessary
Heat 2 gallons slowly to 150 degrees and let set at that temp for 20"
Raise heat and boil for 30"
Add 2 gallons boiled water back to mash tun to attain saccharification temp of 155 degrees for 30"
Pull 1st gleanings from mash tun and heat slowly to reach 160 degrees for 20"
Drain mash tun to obtain 4.5 gallons minimum
Collect Boil Gravity with hydrometer "BG"
Raise wort to a rolling boil
Add first addition of Tettnang hops
At 5" add 1/2 tablet of Whirlfloc
At 5" add second addition of Tettnang hops
Ice bath and chiller combo to cool wort to 80 degrees
Siphon wort from kettle into carboy
Top off carboy with remainder C.Spg water
Aerate the wort in the carboy
If temp is correct, add yeast (2 packs)
Move carboy downstairs to Brew Room
Tasting Notes (
0

)
There aren't any tasting notes logged yet
19.00

Gallons

Liters

Batch Size

25.00

Gallons

Liters

Boil Size

90

min

Boil Time

1.071

OG

1.010

FG

18.0

IBU (brewgr)

Bitterness

0.26

BG:GU

17.0

° SRM

Color

70%

Efficiency

7.8

% ABV

Alcohol

237

per 12oz

Calories
Clone This Recipe
Similar Homebrew Recipes
{"RecipeId":86511,"RecipeTypeId":10,"OriginalRecipeId":32343,"UnitType":"m","IbuFormula":"b","CreatedBy":118550,"Name":"Weizenbock","Description":"","ImageUrlRoot":null,"StyleId":"10C","StyleName":"Weizenbock","BatchSize":19,"BoilSize":25,"BoilTime":90,"Efficiency":0.7,"DateCreated":"\/Date(1595895499263)\/","BrewSessionCount":0,"MostRecentBrewSession":null,"Og":1.07058384210606,"Fg":1.0098817378948484,"Srm":16.9623420883393,"Ibu":18.001333888243735,"BgGu":0.255034769305909,"Abv":7.8305714432463063,"Calories":237,"AverageRating":0,"TastingNoteCount":0,"Fermentables":[{"Per":"16","Amt":"1","Ppg":"35","L":"60","Use":"Mash","Id":"459537","IngId":"556","Name":"Munich - 60L - US","CustomName":"","Rank":"1"},{"Per":"78","Amt":"5","Ppg":"37","L":"1","Use":"Mash","Id":"459538","IngId":"150","Name":"Wheat - US","CustomName":"","Rank":"2"},{"Per":"5","Amt":"0.3","Ppg":"33","L":"1","Use":"Steep","Id":"459539","IngId":"505","Name":"Carapils - Dextrine Malt - US","CustomName":"","Rank":"3"},{"Per":"2","Amt":"0.1","Ppg":"35","L":"120","Use":"Steep","Id":"459540","IngId":"46","Name":"Caramel/Crystal 120 - US","CustomName":"","Rank":"4"}],"Hops":[{"Amt":"0","Type":"Pellet","Use":"Boil","Min":"60","Day":"0","AA":"4.5","Ibu":"0","Id":"486197","IngId":"297","Name":"Tettnang","CustomName":"","Rank":"1"},{"Amt":"5","Type":"Pellet","Use":"Boil","Min":"5","Day":"0","AA":"4.5","Ibu":"0.579768938175607","Id":"486198","IngId":"297","Name":"Tettnang","CustomName":"","Rank":"2"},{"Amt":"28","Type":"Pellet","Use":"Boil","Min":"90","Day":"0","AA":"4.5","Ibu":"17.4215649500681","Id":"486200","IngId":"15","Name":"Hallertau ","CustomName":"","Rank":"3"}],"Yeasts":[{"Atten":"0.86","Id":"127966","IngId":"568","Name":"Fermentis Safbrew WB-06","CustomName":"","Rank":"1"}],"Others":[],"MashSteps":[],"Steps":[{"Id":"144128","Rank":"1","Text":"Heat 1 gallons water to 160 and steep Carapils and Crystal 120 for 20\""},{"Id":"144129","Rank":"2","Text":"Increase water to 3.25 gallons and heat to 134.6 degrees"},{"Id":"144130","Rank":"3","Text":"Toss tap water out of mash tun"},{"Id":"144131","Rank":"4","Text":"Insert BIAB bag into mash tun"},{"Id":"144132","Rank":"5","Text":"Add infusion water from kettle"},{"Id":"144133","Rank":"6","Text":"Stir grains into mash tun filled with infusion water"},{"Id":"144134","Rank":"7","Text":"Protein rest for 30\""},{"Id":"144135","Rank":"8","Text":"Drain water from mash tun to capture total 2 gallons. Add from C.Spg supply if necessary"},{"Id":"144136","Rank":"9","Text":"Heat 2 gallons slowly to 150 degrees and let set at that temp for 20\""},{"Id":"144137","Rank":"10","Text":"Raise heat and boil for 30\""},{"Id":"144138","Rank":"11","Text":"Add 2 gallons boiled water back to mash tun to attain saccharification temp of 155 degrees for 30\""},{"Id":"144139","Rank":"12","Text":"Pull 1st gleanings from mash tun and heat slowly to reach 160 degrees for 20\""},{"Id":"144140","Rank":"13","Text":"Heat to boiling for 25\""},{"Id":"144141","Rank":"14","Text":"Add back to mash tun"},{"Id":"144142","Rank":"15","Text":"Drain mash tun to obtain 4.5 gallons minimum"},{"Id":"144143","Rank":"16","Text":"Collect Boil Gravity with hydrometer \"BG\""},{"Id":"144144","Rank":"17","Text":"Raise wort to a rolling boil"},{"Id":"144145","Rank":"18","Text":"Add first addition of Tettnang hops"},{"Id":"144146","Rank":"19","Text":"Set timer for 60\""},{"Id":"144147","Rank":"20","Text":"At 10\" add wort chiller"},{"Id":"144148","Rank":"21","Text":"At 5\" add 1/2 tablet of Whirlfloc"},{"Id":"144149","Rank":"22","Text":"At 5\" add second addition of Tettnang hops"},{"Id":"144150","Rank":"23","Text":"Flame-out"},{"Id":"144151","Rank":"24","Text":"Ice bath and chiller combo to cool wort to 80 degrees"},{"Id":"144152","Rank":"25","Text":"Sanitize carboy"},{"Id":"144153","Rank":"26","Text":"Siphon wort from kettle into carboy"},{"Id":"144154","Rank":"27","Text":"Top off carboy with remainder C.Spg water"},{"Id":"144155","Rank":"28","Text":"Aerate the wort in the carboy"},{"Id":"144156","Rank":"29","Text":"If temp is correct, add yeast (2 packs)"},{"Id":"144157","Rank":"30","Text":"Move carboy downstairs to Brew Room"},{"Id":"144158","Rank":"31","Text":"Set up blow-off tubing"},{"Id":"144159","Rank":"32","Text":"Clean up!!"}]}