Irish Red Ale Recipe - Irish red ale
Irish Red Ale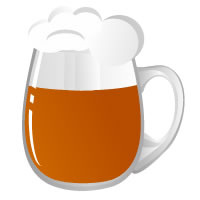 https://brewgr.com/Media/img/mug/14_d.jpg
https://brewgr.com/Media/img/mug/14_t.jpg
Irish red ale
by BarklyBrew on

6/23/2020
Recipe version of Grain and Grape livestream Irish Red Ale modified to be a partial mash
40%
-
Liquid Malt Extract - Light - US
13%
-
Dry Malt Extract - Pilsen - US
27%
-
Maris Otter Pale - UK
4%
-
Crystal 60L Heritage - UK
3%
-
Golden Naked Oats - UK
White Labs Irish Ale WLP004
Heat 5.2L (ratio is about 3L/kg of grain) water to strike temp (calculate temp here: https://www.brewersfriend.com/mash/)
Place grain bag into pot with mash water. Slowly poor grains into bag whilst mixing with slotted spoon. Mix to ensure that no clumps are present.
Mash grains at 67C for 60 min. Heat water after 30min if needed.
Remove grain bag and allow to drain as much as possible. "Batch Sparge" by placing grain bag in 7.5L at 74C for 10 min.
Meanwhile start heating water and add 4.5-5L to bring final pre-boil volume to approx 14L (assuming approx 3.6L absorbed by grain)
When close to boil remove from heat and add DME. Once dissolved reheat pot and bring to boil.
Add LME, nutrients and irish moss (rehydrate first) with 10 minutes left of boil
Cool wort and then transfer to fermenter. Make batch to 20L. Aerate well and pitch yeast.
Bottle prime to 2.4 Volumes CO2
Tasting Notes (
0

)
There aren't any tasting notes logged yet
Irish red ale
Irish Red Ale
20.00

Gallons

Liters

Batch Size

14.00

Gallons

Liters

Boil Size

60

min

Boil Time

1.049

OG

1.012

FG

22.5

IBU (tinseth)

Bitterness

0.46

BG:GU

13.7

° SRM

Color

75%

Efficiency

4.8

% ABV

Alcohol

162

per 12oz

Calories
Clone This Recipe
Similar Homebrew Recipes
{"RecipeId":85244,"RecipeTypeId":30,"OriginalRecipeId":null,"UnitType":"m","IbuFormula":"t","CreatedBy":120758,"Name":"Irish red ale","Description":"Recipe version of Grain and Grape livestream Irish Red Ale modified to be a partial mash","ImageUrlRoot":null,"StyleId":"15A","StyleName":"Irish Red Ale","BatchSize":20,"BoilSize":14,"BoilTime":60,"Efficiency":0.75,"DateCreated":"\/Date(1592915503957)\/","BrewSessionCount":0,"MostRecentBrewSession":null,"Og":1.0487199809215209,"Fg":1.011692795421165,"Srm":13.707063101482159,"Ibu":22.460859030298053,"BgGu":0.46101945455353244,"Abv":4.7765069295459019,"Calories":162,"AverageRating":0,"TastingNoteCount":0,"Fermentables":[{"Per":"40","Amt":"1.5","Ppg":"35","L":"4","Use":"Late","Id":"453400","IngId":"548","Name":"Liquid Malt Extract - Light - US","CustomName":"","Rank":"2"},{"Per":"13","Amt":"0.5","Ppg":"42","L":"2","Use":"Extract","Id":"453401","IngId":"529","Name":"Dry Malt Extract - Pilsen - US","CustomName":"","Rank":"4"},{"Per":"27","Amt":"1","Ppg":"38","L":"3","Use":"Mash","Id":"453402","IngId":"15","Name":"Maris Otter Pale - UK","CustomName":"","Rank":"6"},{"Per":"2","Amt":"0.07","Ppg":"29","L":"500","Use":"Mash","Id":"453161","IngId":"579","Name":"Roasted Barley - UK","CustomName":"","Rank":"8"},{"Per":"4","Amt":"0.15","Ppg":"0","L":"60","Use":"Mash","Id":"453403","IngId":"9562","Name":"Crystal 60L Heritage - UK","CustomName":"","Rank":"10"},{"Per":"4","Amt":"0.15","Ppg":"34","L":"30","Use":"Mash","Id":"453404","IngId":"513","Name":"Crystal 30L - UK","CustomName":"","Rank":"12"},{"Per":"7","Amt":"0.25","Ppg":"37","L":"1","Use":"Mash","Id":"453405","IngId":"152","Name":"Flaked Oats - US","CustomName":"","Rank":"14"},{"Per":"3","Amt":"0.1","Ppg":"33","L":"10","Use":"Mash","Id":"453406","IngId":"537","Name":"Golden Naked Oats - UK","CustomName":"","Rank":"16"}],"Hops":[{"Amt":"35","Type":"Pellet","Use":"Boil","Min":"60","Day":"0","AA":"5","Ibu":"22.4608590302981","Id":"479654","IngId":"14","Name":"Goldings","CustomName":"","Rank":"2"}],"Yeasts":[{"Atten":"0.76","Id":"126428","IngId":"178","Name":"White Labs Irish Ale WLP004","CustomName":"","Rank":"1"}],"Others":[{"Amt":"1","Unit":"each","Use":"Boil","Id":"84596","IngId":"14","Name":"Irish Moss","CustomName":"","Rank":"1"},{"Amt":"2.5","Unit":"ml","Use":"Boil","Id":"84597","IngId":"29","Name":"Yeast Nutrient","CustomName":"","Rank":"2"}],"MashSteps":[{"Heat":"Direct Heat","Temp":"67","Time":"60","Id":"60284","IngId":"9","Name":"Saccharification Rest","CustomName":"","Rank":"1"}],"Steps":[{"Id":"142791","Rank":"1","Text":"Heat 5.2L (ratio is about 3L/kg of grain) water to strike temp (calculate temp here: https://www.brewersfriend.com/mash/)"},{"Id":"142792","Rank":"2","Text":"Place grain bag into pot with mash water. Slowly poor grains into bag whilst mixing with slotted spoon. Mix to ensure that no clumps are present."},{"Id":"142706","Rank":"3","Text":"Mash grains at 67C for 60 min. Heat water after 30min if needed."},{"Id":"142793","Rank":"4","Text":"Remove grain bag and allow to drain as much as possible. \"Batch Sparge\" by placing grain bag in 7.5L at 74C for 10 min."},{"Id":"142862","Rank":"5","Text":"Meanwhile start heating water and add 4.5-5L to bring final pre-boil volume to approx 14L (assuming approx 3.6L absorbed by grain)"},{"Id":"142707","Rank":"6","Text":"When close to boil remove from heat and add DME. Once dissolved reheat pot and bring to boil."},{"Id":"142708","Rank":"7","Text":"Add hops as directed."},{"Id":"142709","Rank":"8","Text":"Add LME, nutrients and irish moss (rehydrate first) with 10 minutes left of boil"},{"Id":"142710","Rank":"9","Text":"Cool wort and then transfer to fermenter. Make batch to 20L. Aerate well and pitch yeast."},{"Id":"142711","Rank":"10","Text":"Ferment at 19C."},{"Id":"142712","Rank":"11","Text":"Bottle prime to 2.4 Volumes CO2"}]}