American IPA Recipe - Go Crazy IPA
American IPA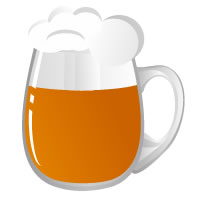 https://brewgr.com/Media/img/mug/11_d.jpg
https://brewgr.com/Media/img/mug/11_t.jpg
Go Crazy IPA
by LeeCase99 on

5/22/2020

Building it - Biko named it...this brew is meant for the members of the Oak Tree Co-Op and TBH, and anyone who has helped us during this time! The goal is to use one of the Italian carboys one of the brew devil carboys to get a final batch size total of 8 gallons from one build (two yeast sachets of 34/70 will be used. Because the Aussie malt from Speight is pre-hopped, it comes with a whopping 58 IBU already. I have to "fake subsitute" a FWH to bring up the IBUs, back off the bittering, and focus on final/FlameOut hops, prolly only 2 oz.


This recipe was cloned from Capn Crunch Hazy Pale Ale.
31%
-
Golden Promise - UK
5%
-
CaraCrystal Wheat Malt - US
8%
-
Floor-Malted Bohemian Wheat - DE
29%
-
Liquid Malt Extract - Light - US
4%
-
Belgian Amber Candi Sugar - BE
4%
-
Dark Brown Sugar - US
Wyeast Weihenstephan Weizen 3068
No mash steps in this recipe
Mash grains for 60 min. target 150 F. Fly Sparge for 20 min.
~60 min. boil. Use Palmer method - add 3/4 of extract at beginning of boil, remainder at ~15 minutes.
Cool using chiller, pitch yeast. Note: No whirlfloc or Irish moss used b/c it is a hazy pale ale.
Tasting Notes (
0

)
There aren't any tasting notes logged yet
Go Crazy IPA
American IPA
7.00

Gallons

Liters

Batch Size

8.00

Gallons

Liters

Boil Size

60

min

Boil Time

1.057

OG

1.014

FG

60.5

IBU (tinseth)

Bitterness

1.06

BG:GU

11.4

° SRM

Color

75%

Efficiency

5.5

% ABV

Alcohol

191

per 12oz

Calories
Clone This Recipe
Similar Homebrew Recipes
{"RecipeId":84095,"RecipeTypeId":10,"OriginalRecipeId":79971,"UnitType":"s","IbuFormula":"t","CreatedBy":106038,"Name":"Go Crazy IPA","Description":"Building it - Biko named it...this brew is meant for the members of the Oak Tree Co-Op and TBH, and anyone who has helped us during this time! The goal is to use one of the Italian carboys one of the brew devil carboys to get a final batch size total of 8 gallons from one build (two yeast sachets of 34/70 will be used. \n\nBecause the Aussie malt from Speight is pre-hopped, it comes with a whopping 58 IBU already. I have to \"fake subsitute\" a FWH to bring up the IBUs, back off the bittering, and focus on final/FlameOut hops, prolly only 2 oz. \n","ImageUrlRoot":null,"StyleId":"21A","StyleName":"American IPA","BatchSize":7,"BoilSize":8,"BoilTime":60,"Efficiency":0.75,"DateCreated":"\/Date(1590209081913)\/","BrewSessionCount":0,"MostRecentBrewSession":null,"Og":1.0569428571428572,"Fg":1.0142357142857144,"Srm":11.375658237577262,"Ibu":60.541037580931032,"BgGu":1.0631893202872977,"Abv":5.5092214285714283,"Calories":191,"AverageRating":0,"TastingNoteCount":0,"Fermentables":[{"Per":"8","Amt":"1","Ppg":"37","L":"1","Use":"Mash","Id":"447319","IngId":"152","Name":"Flaked Oats - US","CustomName":"","Rank":"2"},{"Per":"31","Amt":"4","Ppg":"37","L":"3","Use":"Mash","Id":"447320","IngId":"538","Name":"Golden Promise - UK","CustomName":"","Rank":"4"},{"Per":"5","Amt":"0.6","Ppg":"34","L":"55","Use":"Mash","Id":"447322","IngId":"495","Name":"CaraCrystal Wheat Malt - US","CustomName":"","Rank":"4"},{"Per":"8","Amt":"1","Ppg":"38","L":"1","Use":"Mash","Id":"447323","IngId":"536","Name":"Floor-Malted Bohemian Wheat - DE","CustomName":"","Rank":"5"},{"Per":"29","Amt":"3.75","Ppg":"35","L":"4","Use":"Late","Id":"447321","IngId":"548","Name":"Liquid Malt Extract - Light - US","CustomName":"","Rank":"6"},{"Per":"4","Amt":"0.5","Ppg":"36","L":"75","Use":"Late","Id":"447324","IngId":"84","Name":"Belgian Amber Candi Sugar - BE","CustomName":"","Rank":"6"},{"Per":"5","Amt":"0.6","Ppg":"37","L":"1","Use":"Mash","Id":"447340","IngId":"89","Name":"Flaked Corn - US","CustomName":"","Rank":"7"},{"Per":"5","Amt":"0.6","Ppg":"32","L":"1","Use":"Mash","Id":"447341","IngId":"94","Name":"Flaked Rice - US","CustomName":"","Rank":"8"},{"Per":"4","Amt":"0.5","Ppg":"46","L":"50","Use":"Late","Id":"447342","IngId":"82","Name":"Dark Brown Sugar - US","CustomName":"","Rank":"9"},{"Per":"4","Amt":"0.5","Ppg":"34","L":"15","Use":"Mash","Id":"447561","IngId":"512","Name":"Crystal 15L - UK","CustomName":"","Rank":"10"}],"Hops":[{"Amt":"2","Type":"Leaf","Use":"FirstWort","Min":"60","Day":"0","AA":"11.3","Ibu":"52.4051037409225","Id":"473796","IngId":"99","Name":"Nelson Sauvin","CustomName":"","Rank":"2"},{"Amt":"0.5","Type":"Leaf","Use":"Boil","Min":"15","Day":"0","AA":"4.5","Ibu":"2.58885030204289","Id":"473436","IngId":"15","Name":"Hallertau ","CustomName":"","Rank":"4"},{"Amt":"0.5","Type":"Pellet","Use":"FlameOut","Min":"0","Day":"0","AA":"4.5","Ibu":"0","Id":"473797","IngId":"15","Name":"Hallertau ","CustomName":"","Rank":"6"},{"Amt":"0.5","Type":"Leaf","Use":"Boil","Min":"20","Day":"0","AA":"5.8","Ibu":"4.07245938423736","Id":"473798","IngId":"3","Name":"Cascade ","CustomName":"","Rank":"6"},{"Amt":"0.5","Type":"Pellet","Use":"Boil","Min":"5","Day":"0","AA":"5.8","Ibu":"1.47462415372831","Id":"473799","IngId":"3","Name":"Cascade ","CustomName":"","Rank":"7"},{"Amt":"1","Type":"Pellet","Use":"FlameOut","Min":"0","Day":"0","AA":"12","Ibu":"0","Id":"473438","IngId":"18","Name":"Magnum ","CustomName":"","Rank":"8"},{"Amt":"1","Type":"Pellet","Use":"DryHop","Min":"0","Day":"7","AA":"12","Ibu":"0","Id":"473439","IngId":"18","Name":"Magnum ","CustomName":"","Rank":"10"}],"Yeasts":[{"Atten":"0.75","Id":"124362","IngId":"246","Name":"Wyeast Weihenstephan Weizen 3068","CustomName":"","Rank":"1"}],"Others":[{"Amt":"2","Unit":"tsp","Use":"FlameOut","Id":"83302","IngId":"6","Name":"Cinnamon","CustomName":"","Rank":"2"},{"Amt":"2","Unit":"tbsp","Use":"Mash","Id":"83312","IngId":"3484","Name":"Grapefruit peels, dried","CustomName":"","Rank":"2"}],"MashSteps":[],"Steps":[{"Id":"140297","Rank":"1","Text":"Mash grains for 60 min. target 150 F. Fly Sparge for 20 min."},{"Id":"140298","Rank":"2","Text":"~60 min. boil. Use Palmer method - add 3/4 of extract at beginning of boil, remainder at ~15 minutes."},{"Id":"140299","Rank":"3","Text":"Cool using chiller, pitch yeast. Note: No whirlfloc or Irish moss used b/c it is a hazy pale ale."}]}