Altbier Recipe - Nussdorf St Thomas
Altbier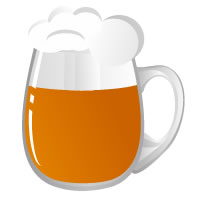 https://brewgr.com/Media/img/mug/11_d.jpg
https://brewgr.com/Media/img/mug/11_t.jpg
Nussdorf St Thomas
by Beerserked on

11/11/2019
All Grain Altbier homebrew recipe. This homebrew recipe uses the following ingredients: Munich Light - DE, Vienna - DE, Blackprinz - US, Table Sugar - Sucrose - US, CaraMunich II - DE, Saaz Hops, Hallertauer Mittelfrüh Hops, LALLEMAND KOLSCH Homebrew Yeast.
7%
-
Table Sugar - Sucrose - US
No other stuff in this recipe
It's very important that you use an altbier yeast if you want to get these defining characteristics. Mash at a low
temperature, around 149-150°F (65-66°C) to get a very fermentable wort. Ferment cool, at around 16°C
and allow for at least a month of cold lagering to mellow the beer and allow the yeast to consume the
unwanted byproducts of fermentation. Since the beer ferments so well and attenuates fully, to get the touch of
residual sweetness that is appropriate in this beer, you can use a Crystal or Caramel malt which will leave
some sweetness and body in the finished beer. Caramunich is a good choice, but keep the percentage low, at
around 5% so it doesn't seem too sweet. There is nothing you can do about residual brewing sugars left that
are unfermentable. No amount of lagering will reduce them, so err on the low side for your crystal malt addition.
Tasting Notes (
0

)
There aren't any tasting notes logged yet
Nussdorf St Thomas
Altbier
24.00

Gallons

Liters

Batch Size

27.00

Gallons

Liters

Boil Size

60

 min

Boil Time

1.051

OG

1.008

FG

30.2

 IBU (tinseth)

Bitterness

0.59

BG:GU

11.3

° SRM

Color

75%

Efficiency

5.6

% ABV

Alcohol

167

 per 12oz

Calories
Clone This Recipe
Similar Homebrew Recipes
{"RecipeId":76675,"RecipeTypeId":10,"OriginalRecipeId":null,"UnitType":"m","IbuFormula":"t","CreatedBy":110694,"Name":"Nussdorf St Thomas","Description":"","ImageUrlRoot":null,"StyleId":"7B","StyleName":"Altbier","BatchSize":24,"BoilSize":27,"BoilTime":60,"Efficiency":0.75,"DateCreated":"\/Date(1573530023170)\/","BrewSessionCount":0,"MostRecentBrewSession":null,"Og":1.0508559917757181,"Fg":1.0076283987663577,"Srm":11.278946924299715,"Ibu":30.167567925858368,"BgGu":0.593195941569707,"Abv":5.5763594982074896,"Calories":167,"AverageRating":0,"TastingNoteCount":0,"Fermentables":[{"Per":"49","Amt":"2.5565","Ppg":"37","L":"6","Use":"Mash","Id":"521212","IngId":"560","Name":"Munich Light - DE","CustomName":"","Rank":"2"},{"Per":"40","Amt":"2.0868","Ppg":"37","L":"4","Use":"Mash","Id":"431285","IngId":"588","Name":"Vienna - DE","CustomName":"","Rank":"4"},{"Per":"1","Amt":"0.04","Ppg":"36","L":"500","Use":"Mash","Id":"521213","IngId":"484","Name":"Blackprinz - US","CustomName":"","Rank":"5"},{"Per":"7","Amt":"0.3653","Ppg":"46","L":"10","Use":"Mash","Id":"431287","IngId":"153","Name":"Table Sugar - Sucrose - US","CustomName":"","Rank":"6"},{"Per":"3","Amt":"0.1459","Ppg":"34","L":"46","Use":"Mash","Id":"493640","IngId":"502","Name":"CaraMunich II - DE","CustomName":"","Rank":"8"}],"Hops":[{"Amt":"36","Type":"Pellet","Use":"Boil","Min":"90","Day":"0","AA":"2.8","Ibu":"11.3135855374293","Id":"433043","IngId":"27","Name":"Saaz ","CustomName":"","Rank":"2"},{"Amt":"33","Type":"Pellet","Use":"Boil","Min":"90","Day":"0","AA":"4.5","Ibu":"16.6673358363913","Id":"433044","IngId":"286","Name":"Hallertauer Mittelfrüh","CustomName":"","Rank":"4"},{"Amt":"15","Type":"Pellet","Use":"Boil","Min":"15","Day":"0","AA":"2.8","Ibu":"2.18664655203779","Id":"433045","IngId":"27","Name":"Saaz ","CustomName":"","Rank":"6"}],"Yeasts":[{"Atten":"0.85","Id":"153152","IngId":"7003","Name":"LALLEMAND KOLSCH","CustomName":"","Rank":"1"}],"Others":[],"MashSteps":[{"Heat":"Infusion","Temp":"50","Time":"25","Id":"67305","IngId":"4","Name":"Beta-Glucan Rest","CustomName":"","Rank":"1"},{"Heat":"Direct Heat","Temp":"66","Time":"60","Id":"67306","IngId":"9","Name":"Saccharification Rest","CustomName":"","Rank":"2"}],"Steps":[{"Id":"153068","Rank":"1","Text":"It's very important that you use an altbier yeast if you want to get these defining characteristics. Mash at a low"},{"Id":"153069","Rank":"2","Text":"temperature, around 149-150°F (65-66°C) to get a very fermentable wort. Ferment cool, at around 16°C"},{"Id":"153070","Rank":"3","Text":"and allow for at least a month of cold lagering to mellow the beer and allow the yeast to consume the"},{"Id":"153071","Rank":"4","Text":"unwanted byproducts of fermentation. Since the beer ferments so well and attenuates fully, to get the touch of"},{"Id":"153072","Rank":"5","Text":"residual sweetness that is appropriate in this beer, you can use a Crystal or Caramel malt which will leave"},{"Id":"153073","Rank":"6","Text":"some sweetness and body in the finished beer. Caramunich is a good choice, but keep the percentage low, at"},{"Id":"153074","Rank":"7","Text":"around 5% so it doesn't seem too sweet. There is nothing you can do about residual brewing sugars left that"},{"Id":"153075","Rank":"8","Text":"are unfermentable. No amount of lagering will reduce them, so err on the low side for your crystal malt addition."}]}