American Brown Ale Recipe - Brown Note Clone
American Brown Ale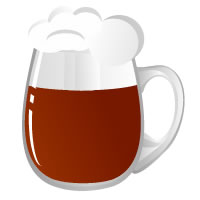 https://brewgr.com/Media/img/mug/23_d.jpg
https://brewgr.com/Media/img/mug/23_t.jpg
Brown Note Clone
by CheeseNips on

5/17/2019
3.75 Gallon(s)
60 min
71%
I had a can of this in St Louis recently and it was quite good so I'll give it a go. Thanks to Austin Homebrew for the clone recipe that I adapted a little bit.
77%
-
Maris Otter Pale - UK
8%
-
Torrified Wheat - US
Mash 3.75 gallons with 1.13g Gypsum, 0.75g CaCl, 0.56g Salt, 0.5mL lactic
Whirlfloc and yeast nutrient in with 15 minutes left of boil
Tasting Notes (
1

)
Tasted on 7/10/2019 by CheeseNips
Notes:
Medium brown in color with slight haze and half a finger of foam. Aroma is sweet wheat bread with a touch of roast. Flavor follows aroma but more nuttiness and roast than in the nose and a fairly prominent bitterness on the tail end. Body is medium and and nucleation is a bit sharp. Overall this is a great brown ale and I don't know that I could really improve it. 5 stars.
Brown Note Clone
American Brown Ale
3.00

Gallons

Liters

Batch Size

3.75

Gallons

Liters

Boil Size

60

min

Boil Time

1.054

OG

1.012

FG

46.0

IBU (tinseth)

Bitterness

0.85

BG:GU

22.9

° SRM

Color

71%

Efficiency

5.5

% ABV

Alcohol

181

per 12oz

Calories
Clone This Recipe
Similar Homebrew Recipes
{"RecipeId":69721,"RecipeTypeId":10,"OriginalRecipeId":null,"UnitType":"s","IbuFormula":"t","CreatedBy":112387,"Name":"Brown Note Clone","Description":"I had a can of this in St Louis recently and it was quite good so I\u0027ll give it a go. Thanks to Austin Homebrew for the clone recipe that I adapted a little bit.","ImageUrlRoot":null,"StyleId":"19C","StyleName":"American Brown Ale","BatchSize":3,"BoilSize":3.75,"BoilTime":60,"Efficiency":0.71,"DateCreated":"\/Date(1558110554003)\/","BrewSessionCount":1,"MostRecentBrewSession":14541,"Og":1.0542558333333334,"Fg":1.0119362833333334,"Srm":22.938840757672793,"Ibu":46.043210581623228,"BgGu":0.84863152499651062,"Abv":5.45922195,"Calories":181,"AverageRating":5,"TastingNoteCount":1,"Fermentables":[{"Per":"77","Amt":"4.75","Ppg":"38","L":"3","Use":"Mash","Id":"370550","IngId":"15","Name":"Maris Otter Pale - UK","CustomName":"","Rank":"1"},{"Per":"8","Amt":"0.5","Ppg":"33","L":"75","Use":"Mash","Id":"371644","IngId":"521","Name":"Crystal Rye - UK","CustomName":"","Rank":"2"},{"Per":"8","Amt":"0.5","Ppg":"36","L":"2","Use":"Mash","Id":"370552","IngId":"586","Name":"Torrified Wheat - US","CustomName":"","Rank":"3"},{"Per":"5","Amt":"0.3","Ppg":"32","L":"200","Use":"Mash","Id":"371645","IngId":"175","Name":"Pale Chocolate - UK","CustomName":"","Rank":"4"},{"Per":"1","Amt":"0.075","Ppg":"29","L":"550","Use":"Mash","Id":"370554","IngId":"579","Name":"Roasted Barley - UK","CustomName":"","Rank":"5"},{"Per":"1","Amt":"0.075","Ppg":"33","L":"50","Use":"Mash","Id":"370555","IngId":"40","Name":"Special Roast - US","CustomName":"","Rank":"6"}],"Hops":[{"Amt":"0.3","Type":"Pellet","Use":"Boil","Min":"60","Day":"0","AA":"13","Ibu":"23.7786349207959","Id":"396204","IngId":"276","Name":"Bravo","CustomName":"","Rank":"1"},{"Amt":"0.75","Type":"Pellet","Use":"Boil","Min":"15","Day":"0","AA":"7","Ibu":"15.8833055267028","Id":"397521","IngId":"8","Name":"Cluster ","CustomName":"","Rank":"2"},{"Amt":"0.75","Type":"Pellet","Use":"Boil","Min":"5","Day":"0","AA":"7","Ibu":"6.38127013412462","Id":"397522","IngId":"8","Name":"Cluster ","CustomName":"","Rank":"3"}],"Yeasts":[{"Atten":"0.78","Id":"103492","IngId":"131","Name":"Fermentis Safale S-04","CustomName":"","Rank":"1"}],"Others":[{"Amt":"0","Unit":"each","Use":"Mash","Id":"71339","IngId":"12","Name":"Gypsum","CustomName":"","Rank":"1"},{"Amt":"0","Unit":"each","Use":"Mash","Id":"71340","IngId":"6603","Name":"Calcium Chloride","CustomName":"","Rank":"2"},{"Amt":"0","Unit":"each","Use":"Mash","Id":"71341","IngId":"6511","Name":"Salt (NaCl)","CustomName":"","Rank":"3"},{"Amt":"0","Unit":"each","Use":"Mash","Id":"71342","IngId":"16","Name":"Lactic Acid","CustomName":"","Rank":"4"},{"Amt":"0","Unit":"each","Use":"Boil","Id":"71338","IngId":"29","Name":"Yeast Nutrient","CustomName":"","Rank":"5"},{"Amt":"0","Unit":"each","Use":"Boil","Id":"71337","IngId":"6692","Name":"Whirlfloc Tablet","CustomName":"","Rank":"6"}],"MashSteps":[{"Heat":"Infusion","Temp":"150","Time":"60","Id":"51415","IngId":"9","Name":"Saccharification Rest","CustomName":"","Rank":"1"}],"Steps":[{"Id":"118559","Rank":"1","Text":"Mash 3.75 gallons with 1.13g Gypsum, 0.75g CaCl, 0.56g Salt, 0.5mL lactic"},{"Id":"118560","Rank":"2","Text":"Whirlfloc and yeast nutrient in with 15 minutes left of boil"},{"Id":"118561","Rank":"3","Text":"No aeration of wort"}]}