Imperial Stout Recipe - Terrys Chocolate Orange Imperial Stout
Imperial Stout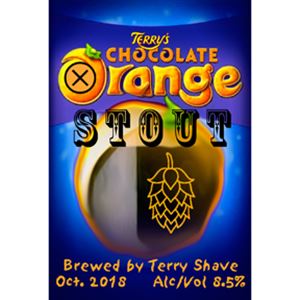 https://brewgr.com/Media/img/r/ef/ef96819d-6e6e-4eac-8ac0-b2081e8e6ee7_d.jpg
https://brewgr.com/Media/img/r/ef/ef96819d-6e6e-4eac-8ac0-b2081e8e6ee7_t.jpg
Terrys Chocolate Orange Imperial Stout
by RadfordBrewer on

9/26/2018

24.6052 Liter(s)

60 min

70%

First brewed 29th September 2018


This recipe was cloned from Catcher Porter.
60%
-
Maris Otter Pale - UK
5%
-
Chocolate Rye Malt - DE
Mangrove Jack's M15 Empre Ale
No mash steps in this recipe
Mash 1 hour. Grain in @ 60C for 15 mins
Then up to 66C for 45 mins.
Temp up to 77C then sparge with water at same temp.
Boil for 30 mins before first hops added
Other hops added as above plus brown sugar
Choc. Rye cold brewed for 8 hrs and added to wort pre boil.
Coffee & chocolate cold brewed for 8 hrs added 10 mins boil
Orange peel and orange extract added for last 10 mins of boil
Wort chiller for 30 mins. (To 26C)
Made up to 20 lts with cold water.
Yeast added at 24C SG 1.078
Fermenting fast after 14 hrs.
After 40hrs 300 gms of Nibs added to 2nd ferm.
After 60 hrs zest of 4 oranges added to fermentation.
Racked to secondary fermentation bin 5 days after brewing
Bottled 15 days after brewing. SG 1.020 Primed 55gms Dext.
Primed with 55gms Dext. and 15 tabs Hermesetas
Tasting Notes (
0

)
There aren't any tasting notes logged yet
Terrys Chocolate Orange Imperial Stout
Imperial Stout
18.00

Gallons

Liters

Batch Size

24.61

Gallons

Liters

Boil Size

60

 min

Boil Time

1.081

OG

1.020

FG

44.8

 IBU (tinseth)

Bitterness

0.55

BG:GU

37.1

° SRM

Color

70%

Efficiency

7.9

% ABV

Alcohol

280

 per 12oz

Calories
Clone This Recipe
Similar Homebrew Recipes
{"RecipeId":58438,"RecipeTypeId":10,"OriginalRecipeId":45705,"UnitType":"m","IbuFormula":"t","CreatedBy":107281,"Name":"Terrys Chocolate Orange Imperial Stout","Description":"First brewed 29th September 2018","ImageUrlRoot":"/img/r/ef/ef96819d-6e6e-4eac-8ac0-b2081e8e6ee7","StyleId":"20C","StyleName":"Imperial Stout","BatchSize":18,"BoilSize":24.6052,"BoilTime":60,"Efficiency":0.7,"DateCreated":"\/Date(1537965152490)\/","BrewSessionCount":0,"MostRecentBrewSession":null,"Og":1.0811443327327146,"Fg":1.0202860831831786,"Srm":37.138038949541162,"Ibu":44.788499273952368,"BgGu":0.551960904299792,"Abv":7.850714191890134,"Calories":280,"AverageRating":0,"TastingNoteCount":0,"Fermentables":[{"Per":"60","Amt":"4","Ppg":"38","L":"3","Use":"Mash","Id":"308458","IngId":"15","Name":"Maris Otter Pale - UK","CustomName":"","Rank":"1"},{"Per":"15","Amt":"1","Ppg":"37","L":"2","Use":"Mash","Id":"308463","IngId":"590","Name":"Wheat Malt - DE","CustomName":"","Rank":"2"},{"Per":"8","Amt":"0.5","Ppg":"28","L":"0","Use":"Mash","Id":"308459","IngId":"3840","Name":"Pale Rye Malt","CustomName":"","Rank":"3"},{"Per":"5","Amt":"0.3","Ppg":"34","L":"250","Use":"Mash","Id":"309096","IngId":"50","Name":"Chocolate Rye Malt - DE","CustomName":"","Rank":"4"},{"Per":"5","Amt":"0.3","Ppg":"34","L":"425","Use":"Mash","Id":"308499","IngId":"507","Name":"Chocolate - UK","CustomName":"","Rank":"5"},{"Per":"5","Amt":"0.3","Ppg":"34","L":"30","Use":"Mash","Id":"308500","IngId":"513","Name":"Crystal 30L - UK","CustomName":"","Rank":"6"},{"Per":"4","Amt":"0.25","Ppg":"46","L":"10","Use":"Late","Id":"309097","IngId":"63","Name":"Brown Sugar - US","CustomName":"","Rank":"7"}],"Hops":[{"Amt":"30","Type":"Pellet","Use":"Boil","Min":"60","Day":"0","AA":"10.5","Ibu":"33.5661240219839","Id":"332297","IngId":"5","Name":"Centennial ","CustomName":"","Rank":"1"},{"Amt":"25","Type":"Pellet","Use":"Boil","Min":"30","Day":"0","AA":"3.5","Ibu":"7.16566616580455","Id":"332298","IngId":"70","Name":"Herkules ","CustomName":"","Rank":"2"},{"Amt":"30","Type":"Pellet","Use":"Boil","Min":"10","Day":"0","AA":"3.5","Ibu":"4.05670908616391","Id":"332299","IngId":"70","Name":"Herkules ","CustomName":"","Rank":"3"}],"Yeasts":[{"Atten":"0.75","Id":"86467","IngId":"1481","Name":"Mangrove Jack\u0027s M15 Empre Ale","CustomName":"","Rank":"1"}],"Others":[{"Amt":"9","Unit":"each","Use":"Mash","Id":"59887","IngId":"8934","Name":"Fresh orange zest","CustomName":"","Rank":"1"},{"Amt":"5","Unit":"each","Use":"Mash","Id":"59888","IngId":"4983","Name":"Teaspoon orange extract","CustomName":"","Rank":"2"},{"Amt":"0.5","Unit":"l","Use":"Boil","Id":"59889","IngId":"9324","Name":"Cacao nibs","CustomName":"","Rank":"3"},{"Amt":"0.5","Unit":"l","Use":"Boil","Id":"59890","IngId":"9325","Name":"Cold brewed coffeee","CustomName":"","Rank":"4"},{"Amt":"0.5","Unit":"each","Use":"Boil","Id":"60027","IngId":"9329","Name":"Cold brewed chocolate","CustomName":"","Rank":"5"}],"MashSteps":[],"Steps":[{"Id":"99723","Rank":"1","Text":"Mash 1 hour. Grain in @ 60C for 15 mins"},{"Id":"99724","Rank":"2","Text":"Then up to 66C for 45 mins."},{"Id":"99725","Rank":"3","Text":"Then to 72C for 15 mins."},{"Id":"99726","Rank":"4","Text":"Temp up to 77C then sparge with water at same temp."},{"Id":"99727","Rank":"5","Text":"Boil for 30 mins before first hops added"},{"Id":"99728","Rank":"6","Text":"Other hops added as above plus brown sugar"},{"Id":"99729","Rank":"7","Text":"Choc. Rye cold brewed for 8 hrs and added to wort pre boil."},{"Id":"99730","Rank":"8","Text":"Coffee \u0026 chocolate cold brewed for 8 hrs added 10 mins boil"},{"Id":"100065","Rank":"9","Text":"Orange peel and orange extract added for last 10 mins of boil"},{"Id":"99731","Rank":"10","Text":"Wort chiller for 30 mins. (To 26C)"},{"Id":"99732","Rank":"11","Text":"Made up to 20 lts with cold water."},{"Id":"99733","Rank":"12","Text":"Yeast added at 24C SG 1.078"},{"Id":"100311","Rank":"13","Text":"Fermenting fast after 14 hrs."},{"Id":"99734","Rank":"14","Text":"After 40hrs 300 gms of Nibs added to 2nd ferm."},{"Id":"100679","Rank":"15","Text":"After 60 hrs zest of 4 oranges added to fermentation."},{"Id":"99735","Rank":"16","Text":"Racked to secondary fermentation bin 5 days after brewing"},{"Id":"101088","Rank":"17","Text":"Cold Crashed for 4 days"},{"Id":"99736","Rank":"18","Text":"Bottled 15 days after brewing. SG 1.020 Primed 55gms Dext."},{"Id":"101089","Rank":"19","Text":"Primed with 55gms Dext. and 15 tabs Hermesetas"}]}