Recipe Info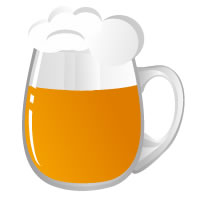 https://brewgr.com/Media/img/mug/8_d.jpg
https://brewgr.com/Media/img/mug/8_t.jpg
Julius Clone
by Kyle on

4/20/2018
Variation of https://trinitybrewers.com/brews/ipa/julius-clone-treehouse-brewing-ipa/
Fermentables
%
lb
fermentable
ppg

L

usage

46%

3.33

Pale 2-Row

37
2°
Mash

38%

2.73

United Kingdom - Golden Promise

37
3°
Mash

10%

0.76

German - CaraFoam

37
2°
Mash

5%

0.34

Belgian - Aromatic

33
38°
Mash

2%

0.11

Corn Sugar - Dextrose

46
0°
Late
7.27 lb
Hops
oz
variety
type
usage
time
AA

IBU

0.18

Warrior

Pellet
Boil
60 minutes
15.0
17.9
0.22

Nugget

Pellet
Boil
20 minutes
14.0
12.4
0.25

Citra

Pellet
Boil
15 minutes
12.0
9.9
0.2

Nugget

Pellet
Boil
10 minutes
14.0
6.7
1.36

Citra

Pellet
Boil
1 minutes
12.0
4.7
0.65

Nugget

Pellet
Boil
1 minutes
14.0
2.6
0.5

Citra

Pellet
Dry Hop
12 days
12.0
0.0
0.1

Nugget

Pellet
Dry Hop
12 days
14.0
0.0
1.55

Citra

Pellet
Dry Hop
4 days
12.0
0.0
0.55

Nugget

Pellet
Dry Hop
4 days
14.0
0.0
5.56 oz
IBUs calculated using the Tinseth formula
Hop Summary
oz
variety
type
AA
0.18

Warrior

Pellet
15.0
1.72

Nugget

Pellet
14.0
3.66

Citra

Pellet
12.0
5.56 oz
Yeast
name
attenuation

London Ale III 1318 (1 Smack Pack)

73%

Fermentis Safbrew T-58

70%
Other Stuff
No Other Stuff in this Recipe
Mash Steps
type
heat
temp °F
time
Mashed
Infusion
156
60 minutes
Special Instructions
Water: Began with 4 gallons of tap water (2 filtered, 2 unfiltered)
Water: Added half of a campden tablet
Mash: Heated mash water to 164
Mash: Squeezed all wort form grain bag
Mash: About .5 gallons will be lost to the grain. Leaving 3.5 to start the boil with
Yeast: Added 1 smack pack of London Ale III
Yeast: Added 1/4 packet of T-58 (did not rehydrate)
Dry Hop: Add first dry hop addition during high-krousen
Dry Hop: Second addition: Let sit for a full 4 days
Tasting Notes (
2

)
Tasted on 5/26/2018 by Kyle
Notes:
Too much T58. Tasted like a witbier IPA...not my favorite. Next time don't use T58
Tasted on 5/10/2018 by Kyle
Notes:
Interesting mouth feel (coats your mouth) after 1 week of bottling. However, it seems to be going away as the beer sits in the bottles a bit longer (~1.5 weeks). Will taste again after 2 weeks of being in the bottle, and see if the weird mouth feel went away.
{"RecipeId":52949,"RecipeTypeId":10,"OriginalRecipeId":null,"UnitType":"s","IbuFormula":"t","CreatedBy":115572,"Name":"Julius Clone","Description":"Variation of https://trinitybrewers.com/brews/ipa/julius-clone-treehouse-brewing-ipa/","ImageUrlRoot":null,"StyleId":null,"StyleName":null,"BatchSize":2.5,"BoilSize":3.5,"BoilTime":60,"Efficiency":0.6,"DateCreated":"\/Date(1524228564513)\/","BrewSessionCount":0,"MostRecentBrewSession":null,"Og":1.0652784,"Fg":1.018604344,"Srm":8.1403678217730349,"Ibu":54.10679672991354,"BgGu":0.82886217692090447,"Abv":6.0209532239999994,"Calories":222,"AverageRating":2.5,"TastingNoteCount":24,"Fermentables":[{"Per":"46","Amt":"3.33","Ppg":"37","L":"2","Use":"Mash","Id":"276933","IngId":"4797","Name":"Pale 2-Row","CustomName":"","Rank":"0"},{"Per":"38","Amt":"2.73","Ppg":"37","L":"3","Use":"Mash","Id":"276934","IngId":"4911","Name":"United Kingdom - Golden Promise","CustomName":"","Rank":"0"},{"Per":"10","Amt":"0.76","Ppg":"37","L":"2","Use":"Mash","Id":"276935","IngId":"4912","Name":"German - CaraFoam","CustomName":"","Rank":"0"},{"Per":"5","Amt":"0.34","Ppg":"33","L":"38","Use":"Mash","Id":"276936","IngId":"4913","Name":"Belgian - Aromatic","CustomName":"","Rank":"0"},{"Per":"2","Amt":"0.11","Ppg":"46","L":"0","Use":"Late","Id":"276937","IngId":"4914","Name":"Corn Sugar - Dextrose","CustomName":"","Rank":"0"}],"Hops":[{"Amt":"0.18","Type":"Pellet","Use":"Boil","Min":"60","Day":"0","AA":"15","Ibu":"17.8914382018561","Id":"296571","IngId":"63","Name":"Warrior ","CustomName":"","Rank":"0"},{"Amt":"0.22","Type":"Pellet","Use":"Boil","Min":"20","Day":"0","AA":"14","Ibu":"12.3602092436214","Id":"296572","IngId":"24","Name":"Nugget ","CustomName":"","Rank":"0"},{"Amt":"0.25","Type":"Pellet","Use":"Boil","Min":"15","Day":"0","AA":"12","Ibu":"9.86420337454754","Id":"296573","IngId":"7","Name":"Citra ","CustomName":"","Rank":"0"},{"Amt":"0.2","Type":"Pellet","Use":"Boil","Min":"10","Day":"0","AA":"14","Ibu":"6.72718613687637","Id":"296574","IngId":"24","Name":"Nugget ","CustomName":"","Rank":"0"},{"Amt":"1.36","Type":"Pellet","Use":"Boil","Min":"1","Day":"0","AA":"12","Ibu":"4.66343664419978","Id":"296575","IngId":"7","Name":"Citra ","CustomName":"","Rank":"0"},{"Amt":"0.65","Type":"Pellet","Use":"Boil","Min":"1","Day":"0","AA":"14","Ibu":"2.60032312881238","Id":"296576","IngId":"24","Name":"Nugget ","CustomName":"","Rank":"0"},{"Amt":"0.5","Type":"Pellet","Use":"DryHop","Min":"0","Day":"12","AA":"12","Ibu":"0","Id":"296577","IngId":"7","Name":"Citra ","CustomName":"","Rank":"0"},{"Amt":"0.1","Type":"Pellet","Use":"DryHop","Min":"0","Day":"12","AA":"14","Ibu":"0","Id":"296578","IngId":"24","Name":"Nugget ","CustomName":"","Rank":"0"},{"Amt":"1.55","Type":"Pellet","Use":"DryHop","Min":"0","Day":"4","AA":"12","Ibu":"0","Id":"296579","IngId":"7","Name":"Citra ","CustomName":"","Rank":"0"},{"Amt":"0.55","Type":"Pellet","Use":"DryHop","Min":"0","Day":"4","AA":"14","Ibu":"0","Id":"296580","IngId":"24","Name":"Nugget ","CustomName":"","Rank":"0"}],"Yeasts":[{"Atten":"0.73","Id":"77375","IngId":"3178","Name":"London Ale III 1318 (1 Smack Pack)","CustomName":"","Rank":"1"},{"Atten":"0.7","Id":"77374","IngId":"133","Name":"Fermentis Safbrew T-58","CustomName":"","Rank":"2"}],"Others":[],"MashSteps":[{"Heat":"Infusion","Temp":"156","Time":"60","Id":"38860","IngId":"3930","Name":"Mashed","CustomName":"","Rank":"1"}],"Steps":[{"Id":"89117","Rank":"1","Text":"Water: Began with 4 gallons of tap water (2 filtered, 2 unfiltered)"},{"Id":"89118","Rank":"2","Text":"Water: Added half of a campden tablet"},{"Id":"89119","Rank":"3","Text":"Mash: Heated mash water to 164"},{"Id":"89120","Rank":"4","Text":"Mash: Squeezed all wort form grain bag"},{"Id":"89121","Rank":"5","Text":"Mash: About .5 gallons will be lost to the grain. Leaving 3.5 to start the boil with"},{"Id":"89122","Rank":"6","Text":"Yeast: Added 1 smack pack of London Ale III"},{"Id":"89123","Rank":"7","Text":"Yeast: Added 1/4 packet of T-58 (did not rehydrate)"},{"Id":"89124","Rank":"8","Text":"Dry Hop: Add first dry hop addition during high-krousen"},{"Id":"89125","Rank":"9","Text":"Dry Hop: Second addition: Let sit for a full 4 days"}]}