Munich Dunkel Recipe - Asahi Black Clone
Munich Dunkel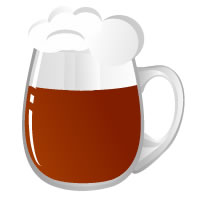 https://brewgr.com/Media/img/mug/21_d.jpg
https://brewgr.com/Media/img/mug/21_t.jpg
Asahi Black Clone
by brewgrer on

4/12/2018
45.6212 Liter(s)
60 min
75%
Credits: https://www.brewtoad.com/recipes/asahi-black-clone-11
8%
-
Caramel/Crystal 60 - US
White Labs Mexican Lager Yeast WLP940
No other stuff in this recipe
No mash steps in this recipe
Use a double decoction mash. Mash grains at 50C for 30min
Use 2.61. Decoct 1/3 of mash (thick portion) and raise to 70° C
Rest for 20 min. Raise temp and boil for 20 min. Add to main mash and rest at 65° C for 20 min.
For second decoction, pull 1/3 of mash and raise to 70° C for 20 min. Bring to boil and add to main mash to mash out at 75° C
Sparge with 75° C sparge water treated with 1/2 tsp calcium carbonate to collect seven gallons.
Boil for 90 min. Cool to 8° C and add yeast to adequately aerated wort.
Once visible signs of fermentations are observed reduce temp of fermentation to 55° F (13° C).
Tasting Notes (
0

)
There aren't any tasting notes logged yet
Asahi Black Clone
Munich Dunkel
23.00

Gallons

Liters

Batch Size

45.62

Gallons

Liters

Boil Size

60

min

Boil Time

1.052

OG

1.014

FG

22.2

IBU (tinseth)

Bitterness

0.43

BG:GU

21.4

° SRM

Color

75%

Efficiency

5.0

% ABV

Alcohol

174

per 12oz

Calories
Clone This Recipe
Similar Homebrew Recipes
{"RecipeId":52625,"RecipeTypeId":10,"OriginalRecipeId":null,"UnitType":"m","IbuFormula":"t","CreatedBy":110694,"Name":"Asahi Black Clone","Description":"Credits: https://www.brewtoad.com/recipes/asahi-black-clone-11","ImageUrlRoot":null,"StyleId":"8A","StyleName":"Munich Dunkel","BatchSize":23,"BoilSize":45.6212,"BoilTime":60,"Efficiency":0.75,"DateCreated":"\/Date(1523526591430)\/","BrewSessionCount":0,"MostRecentBrewSession":null,"Og":1.0521972582586181,"Fg":1.0135712871472407,"Srm":21.416142589086036,"Ibu":22.197072634385915,"BgGu":0.42525361244852433,"Abv":4.9827502733676807,"Calories":174,"AverageRating":0,"TastingNoteCount":0,"Fermentables":[{"Per":"40","Amt":"2.1","Ppg":"38","L":"1","Use":"Mash","Id":"276432","IngId":"575","Name":"Pilsner - DE","CustomName":"","Rank":"1"},{"Per":"22","Amt":"1.14","Ppg":"37","L":"6","Use":"Mash","Id":"276433","IngId":"560","Name":"Munich Light - DE","CustomName":"","Rank":"2"},{"Per":"8","Amt":"0.42","Ppg":"36","L":"60","Use":"Mash","Id":"276734","IngId":"42","Name":"Caramel/Crystal 60 - US","CustomName":"","Rank":"3"},{"Per":"1","Amt":"0.05","Ppg":"32","L":"412","Use":"Mash","Id":"276428","IngId":"55","Name":"Carafa II - DE","CustomName":"","Rank":"4"},{"Per":"3","Amt":"0.16","Ppg":"34","L":"350","Use":"Mash","Id":"275133","IngId":"53","Name":"Chocolate Malt - US","CustomName":"","Rank":"5"},{"Per":"1","Amt":"0.05","Ppg":"30","L":"400","Use":"Mash","Id":"276735","IngId":"578","Name":"Roasted Barley - BE","CustomName":"","Rank":"6"},{"Per":"16","Amt":"0.82","Ppg":"36","L":"0","Use":"Mash","Id":"275513","IngId":"4867","Name":"Sushi Rice","CustomName":"","Rank":"7"},{"Per":"9","Amt":"0.45","Ppg":"37","L":"1","Use":"Mash","Id":"275136","IngId":"89","Name":"Flaked Corn - US","CustomName":"","Rank":"8"}],"Hops":[{"Amt":"54","Type":"Pellet","Use":"Boil","Min":"60","Day":"0","AA":"3.8","Ibu":"22.1970726343859","Id":"294619","IngId":"27","Name":"Saaz ","CustomName":"","Rank":"1"}],"Yeasts":[{"Atten":"0.74","Id":"76874","IngId":"180","Name":"White Labs Mexican Lager Yeast WLP940","CustomName":"","Rank":"1"}],"Others":[],"MashSteps":[],"Steps":[{"Id":"88640","Rank":"1","Text":"Use a double decoction mash. Mash grains at 50C for 30min"},{"Id":"88641","Rank":"2","Text":"Use 2.61. Decoct 1/3 of mash (thick portion) and raise to 70° C"},{"Id":"88642","Rank":"3","Text":"Rest for 20 min. Raise temp and boil for 20 min. Add to main mash and rest at 65° C for 20 min."},{"Id":"88643","Rank":"4","Text":"For second decoction, pull 1/3 of mash and raise to 70° C for 20 min. Bring to boil and add to main mash to mash out at 75° C"},{"Id":"88644","Rank":"5","Text":"Sparge with 75° C sparge water treated with 1/2 tsp calcium carbonate to collect seven gallons."},{"Id":"88645","Rank":"6","Text":"Boil for 90 min. Cool to 8° C and add yeast to adequately aerated wort."},{"Id":"88646","Rank":"7","Text":"Once visible signs of fermentations are observed reduce temp of fermentation to 55° F (13° C)."}]}