Witbier Recipe - Sarahs Garden
Witbier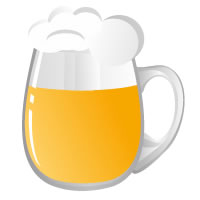 https://brewgr.com/Media/img/mug/4_d.jpg
https://brewgr.com/Media/img/mug/4_t.jpg
Sarahs Garden
by GFUBrewCo on

10/21/2017
Hoegarrden-ish clone. I think it comes very close. I put a little extra orange in mine cause I like it and Chamomile to add an herbal perfume nose. If you skip the fresh orange zest and chamomile you pretty much can't tell the difference between this and the real thing. with this version usually coming out as top choice.
Wyeast Belgian Witbier 3944
Chamomile @ 5 min 7 grams
Fresh Tangerine zest @5 min
Sugar Plum Spice Tea Celestial seasonings tea bag at 5 min
Sugar Plum Spice Tea Celestial seasonings
Chamomile in secondary 7 grams
2 Stage mash to ensure wheat converts.
I use Badia brand Chamomile in .25 oz pkg (14.5 grams)
Celestial Seasonings tea can be used in place of Chamomile or ommited
my boil volume is high because I use a 20 gal pot for 5 gal batches so my evaporation rate at boil is higher, adjust boil volume to your equipment.
The tea, Chamomile, Coriander and orange should be subtle reduce amounts if desired.
First batch of orange, herbs and spice at 5 min left in boil
Second batch of orange, herbs and spice in secondary right before cold crash for aroma
Tasting Notes (
1

)
Tasted on 10/21/2017 by GFUBrewCo
Notes:
Great light anytime brew. Very very close to the real thing. I like the slightly elevated orange and herbal notes a lot. IMHO its and improvement over the original for my pallet. If you half the amount of Chamomile and fresh orange and omit the Tea. it will be an exact clone. Thats how I did my first brew in the spring. We crushed the keg before the summer even started. We just tapped the keg today with my second version (this one with extra orange and herbs) The taste is exactly the same as Hoegarrden except it has more nose, more aroma. I love it and so far so does everyone who has sampled it.
5.50

Gallons

Liters

Batch Size

7.00

Gallons

Liters

Boil Size

90

min

Boil Time

1.051

OG

1.013

FG

15.3

IBU (tinseth)

Bitterness

0.30

BG:GU

3.6

° SRM

Color

75%

Efficiency

4.9

% ABV

Alcohol

170

per 12oz

Calories
Clone This Recipe
Similar Homebrew Recipes
{"RecipeId":46034,"RecipeTypeId":10,"OriginalRecipeId":null,"UnitType":"s","IbuFormula":"t","CreatedBy":112334,"Name":"Sarahs Garden","Description":"Hoegarrden-ish clone. I think it comes very close. I put a little extra orange in mine cause I like it and Chamomile to add an herbal perfume nose. If you skip the fresh orange zest and chamomile you pretty much can\u0027t tell the difference between this and the real thing. with this version usually coming out as top choice. ","ImageUrlRoot":null,"StyleId":"24A","StyleName":"Witbier","BatchSize":5.5,"BoilSize":7,"BoilTime":90,"Efficiency":0.75,"DateCreated":"\/Date(1508611193107)\/","BrewSessionCount":0,"MostRecentBrewSession":null,"Og":1.0510681818181817,"Fg":1.0132777272727274,"Srm":3.6311710699998412,"Ibu":15.25300398078226,"BgGu":0.2986792056761996,"Abv":4.8749686363636364,"Calories":170,"AverageRating":5,"TastingNoteCount":1,"Fermentables":[{"Per":"48","Amt":"5","Ppg":"36","L":"2","Use":"Mash","Id":"236220","IngId":"5","Name":"Pilsner - BE","CustomName":"","Rank":"1"},{"Per":"43","Amt":"4.5","Ppg":"35","L":"2","Use":"Mash","Id":"236221","IngId":"96","Name":"Flaked Wheat - US","CustomName":"","Rank":"2"},{"Per":"10","Amt":"1","Ppg":"37","L":"1","Use":"Mash","Id":"236222","IngId":"152","Name":"Flaked Oats - US","CustomName":"","Rank":"3"}],"Hops":[{"Amt":"0.25","Type":"Pellet","Use":"Boil","Min":"60","Day":"0","AA":"14.9","Ibu":"12.7481993195931","Id":"251652","IngId":"19","Name":"Millennium ","CustomName":"","Rank":"1"},{"Amt":"0.25","Type":"Pellet","Use":"Boil","Min":"15","Day":"0","AA":"3","Ibu":"1.27362948874026","Id":"251653","IngId":"27","Name":"Saaz ","CustomName":"","Rank":"2"},{"Amt":"0.25","Type":"Pellet","Use":"Boil","Min":"15","Day":"0","AA":"2.9","Ibu":"1.23117517244892","Id":"251654","IngId":"35","Name":"Styrian Goldings","CustomName":"","Rank":"3"}],"Yeasts":[{"Atten":"0.74","Id":"66452","IngId":"207","Name":"Wyeast Belgian Witbier 3944","CustomName":"","Rank":"1"}],"Others":[{"Amt":"0.25","Unit":"oz","Use":"Boil","Id":"46144","IngId":"7313","Name":"Bitter Orange Zest 5 min","CustomName":"","Rank":"1"},{"Amt":"7","Unit":"each","Use":"Boil","Id":"46145","IngId":"7314","Name":"Chamomile @ 5 min 7 grams","CustomName":"","Rank":"2"},{"Amt":"1","Unit":"oz","Use":"Boil","Id":"46146","IngId":"7315","Name":"Fresh Tangerine zest @5 min","CustomName":"","Rank":"3"},{"Amt":"1","Unit":"each","Use":"Boil","Id":"46147","IngId":"7316","Name":"Sugar Plum Spice Tea Celestial seasonings tea bag at 5 min","CustomName":"","Rank":"4"},{"Amt":"1","Unit":"each","Use":"Secondary","Id":"46148","IngId":"7317","Name":"Sugar Plum Spice Tea Celestial seasonings","CustomName":"","Rank":"5"},{"Amt":"0.25","Unit":"oz","Use":"Secondary","Id":"46149","IngId":"8","Name":"Coriander","CustomName":"","Rank":"6"},{"Amt":"7","Unit":"each","Use":"Secondary","Id":"46150","IngId":"7318","Name":"Chamomile in secondary 7 grams","CustomName":"","Rank":"7"},{"Amt":"0.25","Unit":"oz","Use":"Secondary","Id":"46151","IngId":"8","Name":"Coriander","CustomName":"","Rank":"8"}],"MashSteps":[{"Heat":"Decoction","Temp":"125","Time":"15","Id":"33039","IngId":"9","Name":"Saccharification Rest","CustomName":"","Rank":"1"},{"Heat":"Infusion","Temp":"154","Time":"75","Id":"33040","IngId":"9","Name":"Saccharification Rest","CustomName":"","Rank":"2"},{"Heat":"Infusion","Temp":"170","Time":"20","Id":"33041","IngId":"7","Name":"Mash-Out","CustomName":"","Rank":"3"}],"Steps":[{"Id":"76239","Rank":"1","Text":"2 Stage mash to ensure wheat converts."},{"Id":"76240","Rank":"2","Text":"I use Badia brand Chamomile in .25 oz pkg (14.5 grams)"},{"Id":"76241","Rank":"3","Text":"Celestial Seasonings tea can be used in place of Chamomile or ommited"},{"Id":"76242","Rank":"4","Text":"my boil volume is high because I use a 20 gal pot for 5 gal batches so my evaporation rate at boil is higher, adjust boil volume to your equipment."},{"Id":"76243","Rank":"5","Text":"The tea, Chamomile, Coriander and orange should be subtle reduce amounts if desired."},{"Id":"76244","Rank":"6","Text":"First batch of orange, herbs and spice at 5 min left in boil"},{"Id":"76245","Rank":"7","Text":"Second batch of orange, herbs and spice in secondary right before cold crash for aroma"}]}