American IPA Recipe - Ballast Point Sculpin IPA
American IPA
Recipe Info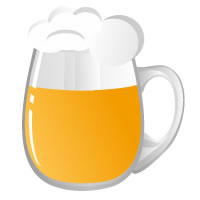 https://brewgr.com/Media/img/mug/5_d.jpg
https://brewgr.com/Media/img/mug/5_t.jpg
All Grain American IPA homebrew recipe. This homebrew recipe uses the following ingredients: 2-Row - US, Caramel/Crystal 20 - US, Caramel/Crystal 10 - US, Carapils - Dextrine Malt - US, Warrior Hops, Centennial Hops, Amarillo Hops, Simcoe Hops, Fermentis Safale US-05 Homebrew Yeast.
This recipe was cloned from
Clone Of Ballast Point Sculpin IPA
.
Fermentables
%
lb
fermentable
ppg

L

usage

90%

13.5

2-Row - US

37
1°
Mash

3%

0.5

Caramel/Crystal 20 - US

35
20°
Mash

3%

0.5

Caramel/Crystal 10 - US

35
10°
Mash

3%

0.5

Carapils - Dextrine Malt - US

33
1°
Mash
15 lb
Hops
oz
variety
type
usage
time
AA

IBU

0.5

Warrior

Pellet
First Wort
90 minutes
16.0
24.7
1

Centennial

Pellet
Boil
30 minutes
10.5
23.3
0.5

Amarillo

Pellet
Boil
20 minutes
9.0
7.9
0.5

Simcoe

Pellet
Boil
20 minutes
13.0
11.4
0.5

Amarillo

Pellet
Boil
10 minutes
9.0
4.7
0.5

Simcoe

Pellet
Boil
5 minutes
13.0
3.7
0.5

Centennial

Pellet
Flame Out
0 minutes
10.5
0.0
1

Amarillo

Pellet
Dry Hop
10 days
9.0
0.0
0.5

Centennial

Pellet
Dry Hop
10 days
10.5
0.0
5.5 oz
IBUs calculated using the Tinseth formula
Hop Summary
oz
variety
type
AA
0.5

Warrior

Pellet
16.0
2.0

Centennial

Pellet
10.5
2.0

Amarillo

Pellet
9.0
1.0

Simcoe

Pellet
13.0
5.5 oz
Yeast
name
attenuation

Fermentis Safale US-05

81%
Other Stuff
No Other Stuff in this Recipe
Mash Steps
No Mash Steps in this Recipe
Special Instructions
Steep grains and .5oz Warrior with 5 gal of water for 60 min.
Sparge with 5.5 gallons at 171F
Ferment at 68F for 10 days, then dry hop 10 days
Tasting Notes (
0

)
There aren't any tasting notes logged yet
{"RecipeId":42288,"RecipeTypeId":10,"OriginalRecipeId":22622,"UnitType":"s","IbuFormula":"t","CreatedBy":102461,"Name":"Ballast Point Sculpin IPA","Description":"","ImageUrlRoot":null,"StyleId":"21A","StyleName":"American IPA","BatchSize":5.5,"BoilSize":7.5,"BoilTime":90,"Efficiency":0.7,"DateCreated":"\/Date(1498770531190)\/","BrewSessionCount":0,"MostRecentBrewSession":null,"Og":1.0701272727272728,"Fg":1.0133241818181817,"Srm":4.6923525148138134,"Ibu":75.597172998453573,"BgGu":1.0779996149636872,"Abv":7.3275987272727274,"Calories":237,"AverageRating":0,"TastingNoteCount":0,"Fermentables":[{"Per":"90","Amt":"13.5","Ppg":"37","L":"1","Use":"Mash","Id":"213634","IngId":"3","Name":"2-Row - US","CustomName":"","Rank":"1"},{"Per":"3","Amt":"0.5","Ppg":"35","L":"20","Use":"Mash","Id":"213635","IngId":"25","Name":"Caramel/Crystal 20 - US","CustomName":"","Rank":"2"},{"Per":"3","Amt":"0.5","Ppg":"35","L":"10","Use":"Mash","Id":"213636","IngId":"22","Name":"Caramel/Crystal 10 - US","CustomName":"","Rank":"3"},{"Per":"3","Amt":"0.5","Ppg":"33","L":"1","Use":"Mash","Id":"213637","IngId":"505","Name":"Carapils - Dextrine Malt - US","CustomName":"","Rank":"4"}],"Hops":[{"Amt":"0.5","Type":"Pellet","Use":"FirstWort","Min":"90","Day":"0","AA":"16","Ibu":"24.6770315263446","Id":"227850","IngId":"63","Name":"Warrior ","CustomName":"","Rank":"1"},{"Amt":"1","Type":"Pellet","Use":"Boil","Min":"30","Day":"0","AA":"10.5","Ibu":"23.2691434761876","Id":"227851","IngId":"5","Name":"Centennial ","CustomName":"","Rank":"2"},{"Amt":"0.5","Type":"Pellet","Use":"Boil","Min":"20","Day":"0","AA":"9","Ibu":"7.85849448581638","Id":"227852","IngId":"2","Name":"Amarillo ","CustomName":"","Rank":"3"},{"Amt":"0.5","Type":"Pellet","Use":"Boil","Min":"20","Day":"0","AA":"13","Ibu":"11.3511587017348","Id":"227853","IngId":"29","Name":"Simcoe ","CustomName":"","Rank":"4"},{"Amt":"0.5","Type":"Pellet","Use":"Boil","Min":"10","Day":"0","AA":"9","Ibu":"4.70478367572002","Id":"227854","IngId":"2","Name":"Amarillo ","CustomName":"","Rank":"5"},{"Amt":"0.5","Type":"Pellet","Use":"Boil","Min":"5","Day":"0","AA":"13","Ibu":"3.73656113265013","Id":"227855","IngId":"29","Name":"Simcoe ","CustomName":"","Rank":"6"},{"Amt":"0.5","Type":"Pellet","Use":"FlameOut","Min":"0","Day":"0","AA":"10.5","Ibu":"0","Id":"227856","IngId":"5","Name":"Centennial ","CustomName":"","Rank":"7"},{"Amt":"1","Type":"Pellet","Use":"DryHop","Min":"0","Day":"10","AA":"9","Ibu":"0","Id":"227857","IngId":"2","Name":"Amarillo ","CustomName":"","Rank":"8"},{"Amt":"0.5","Type":"Pellet","Use":"DryHop","Min":"0","Day":"10","AA":"10.5","Ibu":"0","Id":"227858","IngId":"5","Name":"Centennial ","CustomName":"","Rank":"9"}],"Yeasts":[{"Atten":"0.81","Id":"60612","IngId":"253","Name":"Fermentis Safale US-05","CustomName":"","Rank":"1"}],"Others":[],"MashSteps":[],"Steps":[{"Id":"68477","Rank":"1","Text":"Steep grains and .5oz Warrior with 5 gal of water for 60 min."},{"Id":"68478","Rank":"2","Text":"Sparge with 5.5 gallons at 171F"},{"Id":"68479","Rank":"3","Text":"Ferment at 68F for 10 days, then dry hop 10 days"}]}