Sweet Stout Recipe - Chocolate Stout Lager
Sweet Stout
Recipe Info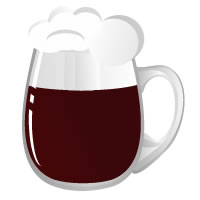 https://brewgr.com/Media/img/mug/37_d.jpg
https://brewgr.com/Media/img/mug/37_t.jpg
Chocolate Stout Lager
by Rick-B on

8/26/2016
slight hoppiness with bittersweet chocolate notes
Fermentables
%
lb
fermentable
ppg

L

usage

77%

11

Maris Otter Pale - UK

38
3°
Mash

4%

0.5

Crystal 120L - CA

33
120°
Mash

7%

1

Chocolate Malt - US

34
350°
Mash

4%

0.5

Rolled Oats - US

33
2°
Mash

2%

0.25

Roasted Barley - US

25
300°
Mash

7%

1

Lactose - Milk Sugar - US

41
1°
Late
14.25 lb
Hops
oz
variety
type
usage
time
AA

IBU

1

Cascade

Pellet
Boil
90 minutes
5.8
18.0
1

Cascade

Pellet
Boil
30 minutes
5.8
12.9
1

Cascade

Pellet
Boil
0 minutes
5.8
0.0
3 oz
IBUs calculated using the Tinseth formula
Hop Summary
oz
variety
type
AA
3

Cascade

Pellet
5.8
3 oz
Yeast
name
attenuation

Fermentis Saflager W-34/70

83%
Other Stuff
amount
unit
name
usage
1
each

Whirlfloc

Boil
1.5
oz

Chocolate Extract

Secondary
Mash Steps
type
heat
temp °F
time
Single infusion
Infusion
150
60 minutes
Special Instructions
Mash at 150F for 60 minutes
Sparge at 175F to collect 6.5 gallon of wort
Boil for 90 minutes
Pitch yeast at 60F and ferment for one week
Siphon into secondary and ferment at 50-55F until complete
Rack to carboy, cold stabalize and bottle or keg when clear
Tasting Notes (
2

)
Tasted on 3/31/2017 by Rick-B
Notes:
I have had this beer on tap a while it's one of the favorites by all who has it, it's one of my favorites as well. the roast is mild while the chocolate really comes through. i would make this again and probably double if not triple the chocolate malt.
Tasted on 9/24/2016 by Rick-B
Notes:
I added the 1.5 tsp. of chocolate extract, racked to carboy and placed into cold stabilization around 34 degree, I did not notice a lot of chocolate taste. next step add to keg and carbonate. depending on taste I may add more chocolate extract. taste is mild, no bitterness or coffee tasting.
{"RecipeId":28421,"RecipeTypeId":10,"OriginalRecipeId":null,"UnitType":"s","IbuFormula":"t","CreatedBy":109966,"Name":"Chocolate Stout Lager","Description":"slight hoppiness with bittersweet chocolate notes","ImageUrlRoot":null,"StyleId":"16A","StyleName":"Sweet Stout","BatchSize":5,"BoilSize":6.5,"BoilTime":90,"Efficiency":0.73,"DateCreated":"\/Date(1472243650843)\/","BrewSessionCount":0,"MostRecentBrewSession":null,"Og":1.0799225,"Fg":1.013586825,"Srm":36.723094694175835,"Ibu":30.96886944689561,"BgGu":0.38748624538641369,"Abv":8.5573020749999991,"Calories":273,"AverageRating":4,"TastingNoteCount":2,"Fermentables":[{"Per":"77","Amt":"11","Ppg":"38","L":"3","Use":"Mash","Id":"138771","IngId":"15","Name":"Maris Otter Pale - UK","CustomName":"","Rank":"1"},{"Per":"4","Amt":"0.5","Ppg":"33","L":"120","Use":"Mash","Id":"138772","IngId":"509","Name":"Crystal 120L - CA","CustomName":"","Rank":"2"},{"Per":"7","Amt":"1","Ppg":"34","L":"350","Use":"Mash","Id":"138773","IngId":"53","Name":"Chocolate Malt - US","CustomName":"","Rank":"3"},{"Per":"4","Amt":"0.5","Ppg":"33","L":"2","Use":"Mash","Id":"138774","IngId":"580","Name":"Rolled Oats - US","CustomName":"","Rank":"4"},{"Per":"2","Amt":"0.25","Ppg":"25","L":"300","Use":"Mash","Id":"138775","IngId":"51","Name":"Roasted Barley - US","CustomName":"","Rank":"5"},{"Per":"7","Amt":"1","Ppg":"41","L":"1","Use":"Late","Id":"138781","IngId":"545","Name":"Lactose - Milk Sugar - US","CustomName":"","Rank":"6"}],"Hops":[{"Amt":"1","Type":"Pellet","Use":"Boil","Min":"90","Day":"0","AA":"5.8","Ibu":"18.0215422425602","Id":"143734","IngId":"3","Name":"Cascade ","CustomName":"","Rank":"1"},{"Amt":"1","Type":"Pellet","Use":"Boil","Min":"30","Day":"0","AA":"5.8","Ibu":"12.9473272043354","Id":"143735","IngId":"3","Name":"Cascade ","CustomName":"","Rank":"2"},{"Amt":"1","Type":"Pellet","Use":"Boil","Min":"0","Day":"0","AA":"5.8","Ibu":"0","Id":"143736","IngId":"3","Name":"Cascade ","CustomName":"","Rank":"3"}],"Yeasts":[{"Atten":"0.83","Id":"39862","IngId":"571","Name":"Fermentis Saflager W-34/70","CustomName":"","Rank":"1"}],"Others":[{"Amt":"1","Unit":"each","Use":"Boil","Id":"26159","IngId":"4594","Name":"Whirlfloc","CustomName":"","Rank":"1"},{"Amt":"1.5","Unit":"oz","Use":"Secondary","Id":"26160","IngId":"4596","Name":"Chocolate Extract","CustomName":"","Rank":"2"}],"MashSteps":[{"Heat":"Infusion","Temp":"150","Time":"60","Id":"18611","IngId":"2397","Name":"Single infusion","CustomName":"","Rank":"1"}],"Steps":[{"Id":"43714","Rank":"1","Text":"Mash at 150F for 60 minutes"},{"Id":"43715","Rank":"2","Text":"Sparge at 175F to collect 6.5 gallon of wort"},{"Id":"43716","Rank":"3","Text":"Boil for 90 minutes"},{"Id":"43717","Rank":"4","Text":"Pitch yeast at 60F and ferment for one week"},{"Id":"43718","Rank":"5","Text":"Siphon into secondary and ferment at 50-55F until complete"},{"Id":"43719","Rank":"6","Text":"Rack to carboy, cold stabalize and bottle or keg when clear"}]}