Saison Recipe - Sour Saison
Saison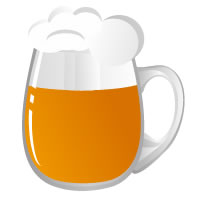 https://brewgr.com/Media/img/mug/9_d.jpg
https://brewgr.com/Media/img/mug/9_t.jpg
Sour Saison
by messengerdarrell on

2/13/2016
My first attempt at doing a saison and then introducing brett to it to make it a sour. Ended up not using brett but rather lactobacillus. Aged in a glass carboy at 74 degrees for 8 months. A bit sour, and a bit cherry. I added 5 lbs of cherries for 8 months. HAs a nice flavor.
13%
-
Caramel/Crystal 20 - US
71%
-
Dry Malt Extract - Extra Light - US
Wyeast Brettan. Lambicus 5526
Mangrove Jacks 27L Belgian Ale Yeast
No mash steps in this recipe
Steep Caramel Malt and Flaked Oats for 30 minutes in 2 qts of water at 150degrees
Strain Wort into brew kettle and add extract
Boil for 60 minutes, adding hops and additives
At the end of the boil, remove from heat and add brown sugar
Whirlpool/Chill Wort/Add enough to make 5 gallons
Tasting Notes (
2

)
Notes:
Notes so far (update): Fermented for 7 days. Racked to bottling bucket to clean glass carboy. Ended up with about 4 gallons of beer. Racked back to glass carboy, added 5 lbs of cherries and lactobacillus. Now we wait. Decided not to split the batch and just keep it together.
Notes:
Notes so far: The yeast I'm using is Mangrove Jacks Belgian Ale (dry yeast) and I'm planning on after its fermented to split the batch up in 2.5 gallons and sour the batches using the lambicus. In one bucket I'll put 3 lbs of pineapple and the other I'll put 3lbs of cranberries
5.00

Gallons

Liters

Batch Size

6.50

Gallons

Liters

Boil Size

60

min

Boil Time

1.088

OG

1.031

FG

28.3

IBU (tinseth)

Bitterness

0.32

BG:GU

8.7

° SRM

Color

75%

Efficiency

7.4

% ABV

Alcohol

310

per 12oz

Calories
Clone This Recipe
Similar Homebrew Recipes
{"RecipeId":19708,"RecipeTypeId":20,"OriginalRecipeId":null,"UnitType":"s","IbuFormula":"t","CreatedBy":107574,"Name":"Sour Saison","Description":"My first attempt at doing a saison and then introducing brett to it to make it a sour. Ended up not using brett but rather lactobacillus. Aged in a glass carboy at 74 degrees for 8 months. A bit sour, and a bit cherry. I added 5 lbs of cherries for 8 months. HAs a nice flavor.","ImageUrlRoot":null,"StyleId":"25B","StyleName":"Saison","BatchSize":5,"BoilSize":6.5,"BoilTime":60,"Efficiency":0.75,"DateCreated":"\/Date(1455396899120)\/","BrewSessionCount":0,"MostRecentBrewSession":null,"Og":1.08781,"Fg":1.0307335,"Srm":8.7273766524781227,"Ibu":28.276620626700122,"BgGu":0.32202050594123838,"Abv":7.3628684999999994,"Calories":310,"AverageRating":5,"TastingNoteCount":6,"Fermentables":[{"Per":"13","Amt":"1.5","Ppg":"35","L":"20","Use":"Steep","Id":"94558","IngId":"25","Name":"Caramel/Crystal 20 - US","CustomName":"","Rank":"1"},{"Per":"7","Amt":"0.8","Ppg":"37","L":"1","Use":"Steep","Id":"94559","IngId":"152","Name":"Flaked Oats - US","CustomName":"","Rank":"2"},{"Per":"9","Amt":"1","Ppg":"46","L":"10","Use":"Late","Id":"94560","IngId":"63","Name":"Brown Sugar - US","CustomName":"","Rank":"3"},{"Per":"71","Amt":"8","Ppg":"44","L":"3","Use":"Extract","Id":"94561","IngId":"69","Name":"Dry Malt Extract - Extra Light - US","CustomName":"","Rank":"4"}],"Hops":[{"Amt":"1","Type":"Pellet","Use":"Boil","Min":"60","Day":"0","AA":"5.5","Ibu":"14.8823433537546","Id":"93497","IngId":"39","Name":"East Kent Goldings","CustomName":"","Rank":"1"},{"Amt":"0.5","Type":"Pellet","Use":"Boil","Min":"30","Day":"0","AA":"5.5","Ibu":"5.71872485195113","Id":"93498","IngId":"39","Name":"East Kent Goldings","CustomName":"","Rank":"2"},{"Amt":"0.5","Type":"Pellet","Use":"Boil","Min":"20","Day":"0","AA":"3.8","Ibu":"3.11355003557377","Id":"95011","IngId":"27","Name":"Saaz ","CustomName":"","Rank":"3"},{"Amt":"0.5","Type":"Pellet","Use":"Boil","Min":"10","Day":"0","AA":"5.5","Ibu":"2.69795839997997","Id":"93499","IngId":"39","Name":"East Kent Goldings","CustomName":"","Rank":"4"},{"Amt":"0.5","Type":"Pellet","Use":"Boil","Min":"10","Day":"0","AA":"3.8","Ibu":"1.8640439854407","Id":"95012","IngId":"27","Name":"Saaz ","CustomName":"","Rank":"5"},{"Amt":"1","Type":"Pellet","Use":"DryHop","Min":"0","Day":"7","AA":"6.5","Ibu":"0","Id":"95013","IngId":"39","Name":"East Kent Goldings","CustomName":"","Rank":"6"}],"Yeasts":[{"Atten":"0.6","Id":"26934","IngId":"211","Name":"Wyeast Brettan. Lambicus 5526 ","CustomName":"","Rank":"1"},{"Atten":"0.7","Id":"28568","IngId":"1142","Name":"Mangrove Jacks 27L Belgian Ale Yeast","CustomName":"","Rank":"2"}],"Others":[{"Amt":"0.25","Unit":"oz","Use":"Boil","Id":"18117","IngId":"8","Name":"Coriander","CustomName":"","Rank":"1"},{"Amt":"1.5","Unit":"tsp","Use":"Boil","Id":"18118","IngId":"29","Name":"Yeast Nutrient","CustomName":"","Rank":"2"},{"Amt":"1.5","Unit":"tsp","Use":"Boil","Id":"18119","IngId":"14","Name":"Irish Moss","CustomName":"","Rank":"3"},{"Amt":"1","Unit":"oz","Use":"Boil","Id":"18195","IngId":"20","Name":"Orange or Lemon peel","CustomName":"","Rank":"4"}],"MashSteps":[],"Steps":[{"Id":"30440","Rank":"1","Text":"Steep Caramel Malt and Flaked Oats for 30 minutes in 2 qts of water at 150degrees"},{"Id":"30441","Rank":"2","Text":"Strain Wort into brew kettle and add extract"},{"Id":"30442","Rank":"3","Text":"Boil for 60 minutes, adding hops and additives"},{"Id":"30443","Rank":"4","Text":"At the end of the boil, remove from heat and add brown sugar"},{"Id":"30444","Rank":"5","Text":"Whirlpool/Chill Wort/Add enough to make 5 gallons"}]}