American Wheat Beer Recipe - Hard Rain - American Wheat Beer
American Wheat Beer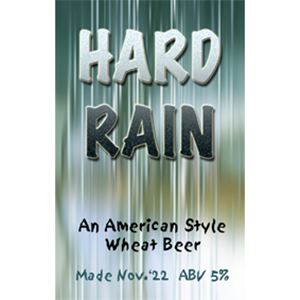 https://brewgr.com/Media/img/r/6f/6f1f8452-b047-4de8-9547-8f2e60e37e0b_d.jpg
https://brewgr.com/Media/img/r/6f/6f1f8452-b047-4de8-9547-8f2e60e37e0b_t.jpg
Hard Rain - American Wheat Beer
by RadfordBrewer on

11/10/2022
First brewed 25th November 2022 with rain water collected after a heavy rain storm
30%
-
Maris Otter Pale - UK
Lallemand New England American East Coast Ale
Protafloc Tablet (Use half) last 15mins of boil
No mash steps in this recipe
14 its of fresh rain water plus 2lts tap water for mash at 65C for 1 hour
Sparged with 14 lts tap water then on to boil. Hops added as above.
22lts collected and on to ferment at 20C SG1.054
Racked on 30th Nov. SG1.018. Flushed barrel with CO2
Bottled on 12th December 2022 17 days after brewing
70 gms of corn sugar batch priming. SG1.014
Tasting Notes (
1

)
Notes:
Great colour and flavour with just the right amount of carbonation.
Hard Rain - American Wheat Beer
American Wheat Beer
22.00

Gallons

Liters

Batch Size

25.00

Gallons

Liters

Boil Size

60

 min

Boil Time

1.052

OG

1.012

FG

18.8

 IBU (tinseth)

Bitterness

0.36

BG:GU

4.1

° SRM

Color

75%

Efficiency

5.1

% ABV

Alcohol

173

 per 12oz

Calories
Clone This Recipe
Similar Homebrew Recipes
{"RecipeId":106064,"RecipeTypeId":10,"OriginalRecipeId":null,"UnitType":"m","IbuFormula":"t","CreatedBy":107281,"Name":"Hard Rain - American Wheat Beer","Description":"First brewed 25th November 2022 with rain water collected after a heavy rain storm","ImageUrlRoot":"/img/r/6f/6f1f8452-b047-4de8-9547-8f2e60e37e0b","StyleId":"1D","StyleName":"American Wheat Beer","BatchSize":22,"BoilSize":25,"BoilTime":60,"Efficiency":0.75,"DateCreated":"\/Date(1668083255420)\/","BrewSessionCount":0,"MostRecentBrewSession":null,"Og":1.0519638449226605,"Fg":1.0124713227814386,"Srm":4.0675643066404854,"Ibu":18.801476287491674,"BgGu":0.36181842039353584,"Abv":5.0945353562176434,"Calories":173,"AverageRating":5,"TastingNoteCount":3,"Fermentables":[{"Per":"61","Amt":"3","Ppg":"37","L":"2","Use":"Mash","Id":"569635","IngId":"590","Name":"Wheat Malt - DE","CustomName":"","Rank":"2"},{"Per":"30","Amt":"1.5","Ppg":"38","L":"3","Use":"Mash","Id":"569634","IngId":"15","Name":"Maris Otter Pale - UK","CustomName":"","Rank":"4"},{"Per":"5","Amt":"0.25","Ppg":"33","L":"2","Use":"Mash","Id":"571056","IngId":"11","Name":"Carapils - DE","CustomName":"","Rank":"6"},{"Per":"2","Amt":"0.1","Ppg":"32","L":"2","Use":"Mash","Id":"569651","IngId":"78","Name":"Flaked Barley - US","CustomName":"","Rank":"8"},{"Per":"2","Amt":"0.1","Ppg":"32","L":"1","Use":"Mash","Id":"569652","IngId":"94","Name":"Flaked Rice - US","CustomName":"","Rank":"10"}],"Hops":[{"Amt":"20","Type":"Leaf","Use":"Boil","Min":"60","Day":"0","AA":"5.3","Ibu":"10.920630557826","Id":"590157","IngId":"35","Name":"Styrian Goldings","CustomName":"","Rank":"2"},{"Amt":"8","Type":"Leaf","Use":"Boil","Min":"15","Day":"0","AA":"5.3","Ibu":"2.16753930291791","Id":"590158","IngId":"35","Name":"Styrian Goldings","CustomName":"","Rank":"2"},{"Amt":"8","Type":"Pellet","Use":"Boil","Min":"15","Day":"0","AA":"12.7","Ibu":"5.71330642674777","Id":"590159","IngId":"167","Name":"Mosaic","CustomName":"","Rank":"3"}],"Yeasts":[{"Atten":"0.76","Id":"158212","IngId":"8380","Name":"Lallemand New England American East Coast Ale","CustomName":"","Rank":"1"}],"Others":[{"Amt":"0.5","Unit":"each","Use":"Primary","Id":"103679","IngId":"7237","Name":"Protafloc Tablet (Use half) last 15mins of boil","CustomName":"","Rank":"1"},{"Amt":"1","Unit":"each","Use":"Primary","Id":"103850","IngId":"14462","Name":"Pure Brew","CustomName":"","Rank":"2"}],"MashSteps":[],"Steps":[{"Id":"178492","Rank":"1","Text":"14 its of fresh rain water plus 2lts tap water for mash at 65C for 1 hour"},{"Id":"178493","Rank":"2","Text":"Sparged with 14 lts tap water then on to boil. Hops added as above."},{"Id":"178495","Rank":"3","Text":"22lts collected and on to ferment at 20C SG1.054"},{"Id":"178600","Rank":"4","Text":"Racked on 30th Nov. SG1.018. Flushed barrel with CO2"},{"Id":"178762","Rank":"5","Text":"Bottled on 12th December 2022 17 days after brewing"},{"Id":"178763","Rank":"6","Text":"70 gms of corn sugar batch priming. SG1.014"}]}