American Stout Recipe - Buffalo Sweat clone 5 gal extract
American Stout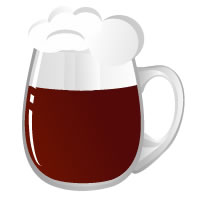 https://brewgr.com/Media/img/mug/30_d.jpg
https://brewgr.com/Media/img/mug/30_t.jpg
Buffalo Sweat clone 5 gal extract
by ApexAleworksIndependenceMO on

8/6/2022
All Grain Plus Extract American Stout homebrew recipe. This homebrew recipe uses the following ingredients: Dry Malt Extract - Light - US, Dry Malt Extract - Dark - US, Roasted Barley - US, Vienna - DE, Flaked Oats - US, Victory Malt - US, Black Patent Malt - UK, Lactose - Milk Sugar - US, Cascade Hops, Willamette Hops, US-04 Homebrew Yeast.
59%
-
Dry Malt Extract - Light - US
10%
-
Dry Malt Extract - Dark - US
2%
-
Black Patent Malt - UK
5%
-
Lactose - Milk Sugar - US
No other stuff in this recipe
Prepare 2.5 gallons of water and heat to 150 degrees F. When you reach 150 degrees add your bag of specialty grains and put the lid on your kettle. Allow grains to steep for 45 minutes.
After 45 minutes of steeping, remove your specialty grains and allow to drain thoroughly.
Optional** Rinse grains with half a gallon of 168 degree water by pouring water over the grain bag. This is an optional step that can add more fermentable sugars and colors from your grain.
Add the dry malt extract to your kettle and stir very thoroughly. Once all of the extract is dissolved, bring to a gentle boil. You want to watch this very closely as this is when most boil-overs occur.
Once your wort is boiling you are ready to add your hops. You will be boiling for a total of 60 minutes.
Add 1ounce Cascade hops and boil for 45 minutes.
At 15 minutes from the end of the boil add yeast nutrient and whirlfloc.
At 5 minutes till the end of the boil, add .25 ounce Wilammette.
Allow to boil for the remaining 5 minutes and then remove from heat.
Cool to below 80 degrees as quickly as possible using an ice bath, immersion chiller, plate chiller or counterflow chiller.
Keep cooling to get the wort to 68 degrees F and then transfer to your fermenting vessel.
Top off with enough water to make a total of 5.50 gallons. Your original gravity should be 1.072 at this point.
Be sure to aerate well and pitch your yeast. I recommend using a starter on liquid yeast.
Ferment at 68 degrees F for at least 10 days or until your final gravity is around 1.022.
If you would like, rack to secondary or you can just leave in the primary fermentation vessel for at least 3 weeks. After that, bottle or keg as usual and enjoy!
Tasting Notes (
0

)
There aren't any tasting notes logged yet
Buffalo Sweat clone 5 gal extract
American Stout
5.50

Gallons

Liters

Batch Size

6.50

Gallons

Liters

Boil Size

60

 min

Boil Time

1.072

OG

1.022

FG

17.2

 IBU (tinseth)

Bitterness

0.24

BG:GU

30.4

° SRM

Color

75%

Efficiency

6.5

% ABV

Alcohol

247

 per 12oz

Calories
Clone This Recipe
Similar Homebrew Recipes
{"RecipeId":104571,"RecipeTypeId":30,"OriginalRecipeId":null,"UnitType":"s","IbuFormula":"t","CreatedBy":114067,"Name":"Buffalo Sweat clone 5 gal extract","Description":"","ImageUrlRoot":null,"StyleId":"20B","StyleName":"American Stout","BatchSize":5.5,"BoilSize":6.5,"BoilTime":60,"Efficiency":0.75,"DateCreated":"\/Date(1659841877697)\/","BrewSessionCount":0,"MostRecentBrewSession":null,"Og":1.0717613636363637,"Fg":1.0215284090909091,"Srm":30.3531610362705,"Ibu":17.189080495587266,"BgGu":0.23953112962971956,"Abv":6.4800511363636364,"Calories":247,"AverageRating":0,"TastingNoteCount":0,"Fermentables":[{"Per":"59","Amt":"6","Ppg":"44","L":"8","Use":"Extract","Id":"560872","IngId":"71","Name":"Dry Malt Extract - Light - US","CustomName":"","Rank":"1"},{"Per":"10","Amt":"1","Ppg":"44","L":"18","Use":"Extract","Id":"560873","IngId":"73","Name":"Dry Malt Extract - Dark - US","CustomName":"","Rank":"2"},{"Per":"7","Amt":"0.75","Ppg":"25","L":"300","Use":"Mash","Id":"560874","IngId":"51","Name":"Roasted Barley - US","CustomName":"","Rank":"3"},{"Per":"7","Amt":"0.75","Ppg":"37","L":"4","Use":"Mash","Id":"560875","IngId":"588","Name":"Vienna - DE","CustomName":"","Rank":"4"},{"Per":"5","Amt":"0.5","Ppg":"37","L":"1","Use":"Mash","Id":"560876","IngId":"152","Name":"Flaked Oats - US","CustomName":"","Rank":"5"},{"Per":"5","Amt":"0.5","Ppg":"34","L":"28","Use":"Mash","Id":"560877","IngId":"35","Name":"Victory Malt - US","CustomName":"","Rank":"6"},{"Per":"2","Amt":"0.25","Ppg":"25","L":"500","Use":"Mash","Id":"560878","IngId":"56","Name":"Black Patent Malt - UK","CustomName":"","Rank":"7"},{"Per":"5","Amt":"0.5","Ppg":"41","L":"1","Use":"Late","Id":"561002","IngId":"545","Name":"Lactose - Milk Sugar - US","CustomName":"","Rank":"8"}],"Hops":[{"Amt":"1","Type":"Pellet","Use":"Boil","Min":"60","Day":"0","AA":"5.8","Ibu":"16.4809867726479","Id":"581581","IngId":"3","Name":"Cascade ","CustomName":"","Rank":"1"},{"Amt":"0.25","Type":"Pellet","Use":"Boil","Min":"5","Day":"0","AA":"5","Ibu":"0.708093722939388","Id":"581582","IngId":"64","Name":"Willamette ","CustomName":"","Rank":"2"}],"Yeasts":[{"Atten":"0.7","Id":"155589","IngId":"7271","Name":"US-04","CustomName":"","Rank":"1"}],"Others":[],"MashSteps":[{"Heat":"Infusion","Temp":"150","Time":"30","Id":"71565","IngId":"9","Name":"Saccharification Rest","CustomName":"","Rank":"1"}],"Steps":[{"Id":"175663","Rank":"1","Text":"Prepare 2.5 gallons of water and heat to 150 degrees F. When you reach 150 degrees add your bag of specialty grains and put the lid on your kettle. Allow grains to steep for 45 minutes."},{"Id":"175664","Rank":"2","Text":"After 45 minutes of steeping, remove your specialty grains and allow to drain thoroughly."},{"Id":"175665","Rank":"3","Text":"Optional** Rinse grains with half a gallon of 168 degree water by pouring water over the grain bag. This is an optional step that can add more fermentable sugars and colors from your grain."},{"Id":"175666","Rank":"4","Text":"Add the dry malt extract to your kettle and stir very thoroughly. Once all of the extract is dissolved, bring to a gentle boil. You want to watch this very closely as this is when most boil-overs occur."},{"Id":"175667","Rank":"5","Text":"Once your wort is boiling you are ready to add your hops. You will be boiling for a total of 60 minutes."},{"Id":"175668","Rank":"6","Text":"Add 1ounce Cascade hops and boil for 45 minutes."},{"Id":"175669","Rank":"7","Text":"At 15 minutes from the end of the boil add yeast nutrient and whirlfloc."},{"Id":"175670","Rank":"8","Text":"At 5 minutes till the end of the boil, add .25 ounce Wilammette."},{"Id":"175671","Rank":"9","Text":"Allow to boil for the remaining 5 minutes and then remove from heat."},{"Id":"175672","Rank":"10","Text":"Cool to below 80 degrees as quickly as possible using an ice bath, immersion chiller, plate chiller or counterflow chiller."},{"Id":"175673","Rank":"11","Text":"Keep cooling to get the wort to 68 degrees F and then transfer to your fermenting vessel."},{"Id":"175674","Rank":"12","Text":"Top off with enough water to make a total of 5.50 gallons. Your original gravity should be 1.072 at this point."},{"Id":"175675","Rank":"13","Text":"Be sure to aerate well and pitch your yeast. I recommend using a starter on liquid yeast."},{"Id":"175676","Rank":"14","Text":"Ferment at 68 degrees F for at least 10 days or until your final gravity is around 1.022."},{"Id":"175677","Rank":"15","Text":"If you would like, rack to secondary or you can just leave in the primary fermentation vessel for at least 3 weeks. After that, bottle or keg as usual and enjoy!"}]}