Berliner Weisse Recipe - Sour Nanna
Berliner Weisse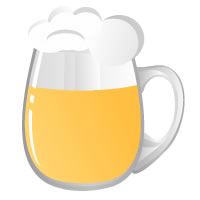 https://brewgr.com/Media/img/mug/3_d.jpg
https://brewgr.com/Media/img/mug/3_t.jpg
Sour Nanna
by Opus123 on

6/25/2022
All Grain Berliner Weisse homebrew recipe. This homebrew recipe uses the following ingredients: Pilsner - DE, White Wheat - US, Carapils - DE, Rice Hulls - US, Hallertau Hops, Jarrylo Hops, LalBrew German Wheat-Style Ale Yeast Homebrew Yeast, Burton Water Salts, Lactic Acid, Vanilla Extract, Bulgarian Yogurt Starter, Dried Banana, Bitter Orange Peel.
LalBrew German Wheat-Style Ale Yeast
No mash steps in this recipe
Heat 2 gallons of strike water to 158-160F.
Steep grains in a mash bag at 146-150F for 60 minutes.
Drain and sparge with 170F water to yield 3 gallons. Allow grain bag to drain for 10-15 minutes.
Add half packet of Burton Water Salts (4.5g) and heat to 180F for 10 minutes.
Chill wort to 105F. Test wort PH. Add lactic acid until wort is between 4.2 and 4.8 PH. (NOTE 2 oz is an estimate)
Remove one quart of the wort to the instant pot. Pitch yogurt starter and set to "yogurt" for 12 hours.
Chill remaining wort and refrigerate overnight.
After instant pot is complete, heat remaining wort to 100 degrees and move to cooler. Add wort from instant pot and let rest, holding 90-100F as long as possible.
Check PH regularly to achieve between 3.0 and 3.5. If PH locks, add heat to 90F. May take up to 24hrs.
Bring wort to a boil for 5 minutes. Pitch hops at beginning of boil. Add vanilla extract at flame out.
Crash to 85F, mover to fermenter, and pitch yeast per instructions. (Note: 4.8g recommended.)
After inital fermentation has settled (about 4 days) move to secondary and add dried banana and bitter orange peel for 4 days.
Add 4oz of table sugar for priming. Bottle to 3.75 volumes of CO2.
Tasting Notes (
0

)
There aren't any tasting notes logged yet
Sour Nanna
Berliner Weisse
2.50

Gallons

Liters

Batch Size

3.00

Gallons

Liters

Boil Size

5

min

Boil Time

1.043

OG

1.010

FG

14.7

IBU (tinseth)

Bitterness

0.34

BG:GU

2.6

° SRM

Color

75%

Efficiency

4.3

% ABV

Alcohol

143

per 12oz

Calories
Clone This Recipe
Similar Homebrew Recipes
Help support Brewgr and buy your ingredients from MoreBeer
Or consider a donation via PayPal
{"RecipeId":103904,"RecipeTypeId":10,"OriginalRecipeId":null,"UnitType":"s","IbuFormula":"t","CreatedBy":115095,"Name":"Sour Nanna","Description":"","ImageUrlRoot":null,"StyleId":"23A","StyleName":"Berliner Weisse","BatchSize":2.5,"BoilSize":3,"BoilTime":5,"Efficiency":0.75,"DateCreated":"\/Date(1656198513417)\/","BrewSessionCount":1,"MostRecentBrewSession":18615,"Og":1.043425,"Fg":1.00998775,"Srm":2.6471495373238509,"Ibu":14.692891311114675,"BgGu":0.33835098010626735,"Abv":4.3134052500000006,"Calories":143,"AverageRating":0,"TastingNoteCount":0,"Fermentables":[{"Per":"44","Amt":"1.75","Ppg":"38","L":"1","Use":"Mash","Id":"557402","IngId":"575","Name":"Pilsner - DE","CustomName":"","Rank":"1"},{"Per":"44","Amt":"1.75","Ppg":"40","L":"2","Use":"Mash","Id":"557403","IngId":"10","Name":"White Wheat - US","CustomName":"","Rank":"2"},{"Per":"6","Amt":"0.25","Ppg":"33","L":"2","Use":"Mash","Id":"557404","IngId":"11","Name":"Carapils - DE","CustomName":"","Rank":"3"},{"Per":"6","Amt":"0.25","Ppg":"0","L":"0","Use":"Mash","Id":"557405","IngId":"116","Name":"Rice Hulls - US","CustomName":"","Rank":"4"}],"Hops":[{"Amt":"0.25","Type":"Pellet","Use":"Boil","Min":"10","Day":"0","AA":"5.7","Ibu":"4.16664081956983","Id":"578592","IngId":"15","Name":"Hallertau ","CustomName":"","Rank":"2"},{"Amt":"0.25","Type":"Pellet","Use":"Boil","Min":"10","Day":"0","AA":"14.4","Ibu":"10.5262504915448","Id":"578593","IngId":"13675","Name":"Jarrylo","CustomName":"","Rank":"4"}],"Yeasts":[{"Atten":"0.77","Id":"154635","IngId":"8200","Name":"LalBrew German Wheat-Style Ale Yeast","CustomName":"","Rank":"1"}],"Others":[{"Amt":"0.17","Unit":"oz","Use":"Mash","Id":"101824","IngId":"15228","Name":"Burton Water Salts","CustomName":"","Rank":"2"},{"Amt":"2","Unit":"oz","Use":"Boil","Id":"101825","IngId":"16","Name":"Lactic Acid","CustomName":"","Rank":"4"},{"Amt":"1","Unit":"tsp","Use":"FlameOut","Id":"101822","IngId":"45","Name":"Vanilla Extract","CustomName":"","Rank":"6"},{"Amt":"1","Unit":"each","Use":"Primary","Id":"101820","IngId":"15225","Name":"Bulgarian Yogurt Starter","CustomName":"","Rank":"8"},{"Amt":"1","Unit":"oz","Use":"Secondary","Id":"101821","IngId":"15226","Name":"Dried Banana","CustomName":"","Rank":"10"},{"Amt":"0.5","Unit":"oz","Use":"Secondary","Id":"101823","IngId":"15227","Name":"Bitter Orange Peel","CustomName":"","Rank":"12"}],"MashSteps":[],"Steps":[{"Id":"174528","Rank":"1","Text":"Heat 2 gallons of strike water to 158-160F."},{"Id":"174513","Rank":"2","Text":"Steep grains in a mash bag at 146-150F for 60 minutes."},{"Id":"174529","Rank":"3","Text":"Drain and sparge with 170F water to yield 3 gallons. Allow grain bag to drain for 10-15 minutes."},{"Id":"174518","Rank":"4","Text":"Add half packet of Burton Water Salts (4.5g) and heat to 180F for 10 minutes."},{"Id":"174514","Rank":"5","Text":"Chill wort to 105F. Test wort PH. Add lactic acid until wort is between 4.2 and 4.8 PH. (NOTE 2 oz is an estimate)"},{"Id":"174515","Rank":"6","Text":"Remove one quart of the wort to the instant pot. Pitch yogurt starter and set to \"yogurt\" for 12 hours."},{"Id":"174530","Rank":"7","Text":"Chill remaining wort and refrigerate overnight."},{"Id":"174516","Rank":"8","Text":"After instant pot is complete, heat remaining wort to 100 degrees and move to cooler. Add wort from instant pot and let rest, holding 90-100F as long as possible."},{"Id":"174517","Rank":"9","Text":"Check PH regularly to achieve between 3.0 and 3.5. If PH locks, add heat to 90F. May take up to 24hrs."},{"Id":"174531","Rank":"10","Text":"Bring wort to a boil for 5 minutes. Pitch hops at beginning of boil. Add vanilla extract at flame out."},{"Id":"174520","Rank":"11","Text":"Crash to 85F, mover to fermenter, and pitch yeast per instructions. (Note: 4.8g recommended.)"},{"Id":"174521","Rank":"12","Text":"After inital fermentation has settled (about 4 days) move to secondary and add dried banana and bitter orange peel for 4 days."},{"Id":"174522","Rank":"13","Text":"Add 4oz of table sugar for priming. Bottle to 3.75 volumes of CO2."}]}