Czech Dark Lager Recipe - Tmave Pivo 6 gal batch 116 adjustments for next batch
Czech Dark Lager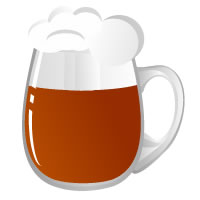 https://brewgr.com/Media/img/mug/18_d.jpg
https://brewgr.com/Media/img/mug/18_t.jpg
Tmave Pivo 6 gal batch 116 adjustments for next batch
by DaleTheRail on

6/6/2022

Same as previous "Tmave Pivo 6 gal" adjusted for actual results. OG came in higher than expected. Topped off fermenter to 6 gal for OG of 1.065 making efficiency 85%. Next batch expect 85%, make batch size 7 gal for OG of 1.056. Also new mash schedule to eliminate decoction rests.


This recipe was cloned from Tmave Pivo 6 gal.
40%
-
Floor-Malted Bohemian Pilsner - DE
18%
-
CaraMunich III - DE
OMEGA BAYERN LAGER OYL-114
No mash steps in this recipe
Mill Carafa separately set aside until sparging
Dough-in 99F pump off 10 min.
Raise temperature to 122F and rest for 10 min
Raise to 143F Rest for 5 min
Pull thick decoction boil 25 min while holding main mash at 143F
Reunite mash targeting 162F rest 30 min.
Option: Rest 5 min then pull 2nd thick decoction boil 15 min while holding main mash at 162F
Raise to 170 for 10 min mashout.
Begin runoff into boil kettle about 0.1 gph and fly sparge
Collect amount according to Brew Session.
Boil 90 minutes adding hops according to the schedule.
3g Yeast Nutrient and Whirlfloc boil 15 min for 7 gal batch
Chill to about 46F, aerate, pitch yeast starter.
Ferment at about 51F for 10 days or until within 2-5 gravity points of FG 1.015
Conduct diacetyl rest at 65F-68F https://www.brewcabin.com/diacetyl-rest/
Drop temperature to 37F. Lager for at least 8 weeks.
Tasting Notes (
0

)
There aren't any tasting notes logged yet
Tmave Pivo 6 gal batch 116 adjustments for next ba...
Czech Dark Lager
7.00

Gallons

Liters

Batch Size

8.00

Gallons

Liters

Boil Size

90

min

Boil Time

1.056

OG

1.013

FG

36.3

IBU (tinseth)

Bitterness

0.65

BG:GU

18.1

° SRM

Color

85%

Efficiency

5.4

% ABV

Alcohol

186

per 12oz

Calories
Clone This Recipe
Similar Homebrew Recipes
Help support Brewgr and buy your ingredients from MoreBeer
Or consider a donation via PayPal
{"RecipeId":103591,"RecipeTypeId":10,"OriginalRecipeId":103340,"UnitType":"s","IbuFormula":"t","CreatedBy":106972,"Name":"Tmave Pivo 6 gal batch 116 adjustments for next batch","Description":"Same as previous \"Tmave Pivo 6 gal\" adjusted for actual results. OG came in higher than expected. Topped off fermenter to 6 gal for OG of 1.065 making efficiency 85%. Next batch expect 85%, make batch size 7 gal for OG of 1.056.\nAlso new mash schedule to eliminate decoction rests.","ImageUrlRoot":null,"StyleId":"3D","StyleName":"Czech Dark Lager","BatchSize":7,"BoilSize":8,"BoilTime":90,"Efficiency":0.85,"DateCreated":"\/Date(1654542223513)\/","BrewSessionCount":0,"MostRecentBrewSession":null,"Og":1.0555535714285715,"Fg":1.013332857142857,"Srm":18.127540153424082,"Ibu":36.324969782601258,"BgGu":0.6538728086871316,"Abv":5.446472142857143,"Calories":186,"AverageRating":0,"TastingNoteCount":0,"Fermentables":[{"Per":"40","Amt":"5","Ppg":"38","L":"1","Use":"Mash","Id":"555704","IngId":"535","Name":"Floor-Malted Bohemian Pilsner - DE","CustomName":"","Rank":"1"},{"Per":"40","Amt":"5","Ppg":"37","L":"6","Use":"Mash","Id":"555705","IngId":"560","Name":"Munich Light - DE","CustomName":"","Rank":"2"},{"Per":"18","Amt":"2.25","Ppg":"34","L":"57","Use":"Mash","Id":"555706","IngId":"503","Name":"CaraMunich III - DE","CustomName":"","Rank":"3"},{"Per":"2","Amt":"0.1875","Ppg":"32","L":"525","Use":"Mash","Id":"555707","IngId":"58","Name":"Carafa III - DE","CustomName":"","Rank":"4"}],"Hops":[{"Amt":"0.4","Type":"Pellet","Use":"Boil","Min":"60","Day":"0","AA":"11.9","Ibu":"12.2938324789039","Id":"576727","IngId":"18","Name":"Magnum ","CustomName":"","Rank":"2"},{"Amt":"0.6","Type":"Pellet","Use":"Boil","Min":"30","Day":"0","AA":"12","Ibu":"14.2912663021857","Id":"576737","IngId":"18","Name":"Magnum ","CustomName":"","Rank":"4"},{"Amt":"2","Type":"Pellet","Use":"Boil","Min":"15","Day":"0","AA":"3.8","Ibu":"9.73987100151166","Id":"576729","IngId":"27","Name":"Saaz ","CustomName":"","Rank":"6"},{"Amt":"1","Type":"Pellet","Use":"FlameOut","Min":"0","Day":"0","AA":"3.8","Ibu":"0","Id":"576734","IngId":"27","Name":"Saaz ","CustomName":"","Rank":"8"}],"Yeasts":[{"Atten":"0.76","Id":"154129","IngId":"4357","Name":"OMEGA BAYERN LAGER OYL-114","CustomName":"","Rank":"1"}],"Others":[{"Amt":"0.11","Unit":"oz","Use":"Boil","Id":"101588","IngId":"9","Name":"Fermax Yeast Nutrient","CustomName":"","Rank":"1"},{"Amt":"1","Unit":"each","Use":"Boil","Id":"101589","IngId":"10665","Name":"Whirlfloc Tablet","CustomName":"","Rank":"2"}],"MashSteps":[],"Steps":[{"Id":"173797","Rank":"1","Text":"Mill Carafa separately set aside until sparging"},{"Id":"173798","Rank":"2","Text":"Dough-in 99F pump off 10 min."},{"Id":"173799","Rank":"3","Text":"Raise temperature to 122F and rest for 10 min"},{"Id":"173800","Rank":"4","Text":"Raise to 143F Rest for 5 min"},{"Id":"173801","Rank":"5","Text":"Pull thick decoction boil 25 min while holding main mash at 143F"},{"Id":"173802","Rank":"6","Text":"Reunite mash targeting 162F rest 30 min."},{"Id":"173803","Rank":"7","Text":"Option: Rest 5 min then pull 2nd thick decoction boil 15 min while holding main mash at 162F"},{"Id":"173804","Rank":"8","Text":"Reunite mash."},{"Id":"173821","Rank":"9","Text":"Add carafa"},{"Id":"173807","Rank":"10","Text":"Raise to 170 for 10 min mashout."},{"Id":"173808","Rank":"11","Text":"Begin runoff into boil kettle about 0.1 gph and fly sparge"},{"Id":"173809","Rank":"12","Text":"Collect amount according to Brew Session."},{"Id":"173810","Rank":"13","Text":"Boil 90 minutes adding hops according to the schedule."},{"Id":"173811","Rank":"14","Text":"3g Yeast Nutrient and Whirlfloc boil 15 min for 7 gal batch"},{"Id":"173812","Rank":"15","Text":"Chill to about 46F, aerate, pitch yeast starter."},{"Id":"173813","Rank":"16","Text":"Ferment at about 51F for 10 days or until within 2-5 gravity points of FG 1.015"},{"Id":"173814","Rank":"17","Text":"Conduct diacetyl rest at 65F-68F https://www.brewcabin.com/diacetyl-rest/"},{"Id":"173815","Rank":"18","Text":"Drop temperature to 37F. Lager for at least 8 weeks."}]}