Festbier Recipe - festbier
Festbier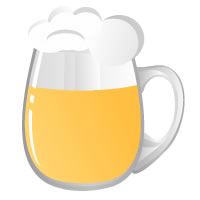 https://brewgr.com/Media/img/mug/3_d.jpg
https://brewgr.com/Media/img/mug/3_t.jpg
festbier
by christopherjams on

7/20/2020

50% RO, 50% A2 H2O Strike with 3.45 gal (141F) to hit a 133F protein rest, add 2g CaSO4 Hold for 15 minutes. Add 1.1 gal boiling water to hit 150F sacch rest. Hold for 30 minutes. Remove 1/3 thin mash, and boil for 10 minutes. Return to boiled portion to main mash. Vorlauf and lauter. Copper up to 7 gal, add 1g CaSO4 to BK. Boil 90 minutes. KO as cold as possible, oxygenate wort, pitch yeast@50F. Ferment at 50-52F.


This recipe was cloned from helles yes mk2.
4%
-
Acidulated Malt - DE
No other stuff in this recipe
No mash steps in this recipe
No special instructions in this recipe
Tasting Notes (
1

)
Notes:
Pours golden with a white head of foam. Quite clear. Aromas of sweet malt and lager yeast, and a faint herbal, noble hop. Medium-light body, with a balanced bitterness. Bitterness fades into sweet, honeyed malt. Starts crisp upfront, but finishes a touch sweet. Would've been better with a lower ABV, and maybe a touch less bitterness. I imagine if it had been 5.5% it would've come across more pilsner like. This is exactly what I was thinking--bigger helles, with a similar balance. Try for a lower O.G., and a slightly higher finishing gravity next year.
5.00

Gallons

Liters

Batch Size

7.00

Gallons

Liters

Boil Size

90

min

Boil Time

1.053

OG

1.009

FG

31.3

IBU (tinseth)

Bitterness

0.59

BG:GU

2.7

° SRM

Color

78%

Efficiency

5.7

% ABV

Alcohol

176

per 12oz

Calories
Clone This Recipe
Similar Homebrew Recipes
{"RecipeId":86255,"RecipeTypeId":10,"OriginalRecipeId":78322,"UnitType":"s","IbuFormula":"t","CreatedBy":118929,"Name":"festbier","Description":"50% RO, 50% A2 H2O\n\nStrike with 3.45 gal (141F) to hit a 133F protein rest, add 2g CaSO4 Hold for 15 minutes. Add 1.1 gal boiling water to hit 150F sacch rest. Hold for 30 minutes. Remove 1/3 thin mash, and boil for 10 minutes. Return to boiled portion to main mash. Vorlauf and lauter. Copper up to 7 gal, add 1g CaSO4 to BK. Boil 90 minutes. KO as cold as possible, oxygenate wort, pitch yeast@50F. Ferment at 50-52F. ","ImageUrlRoot":null,"StyleId":"4B","StyleName":"Festbier","BatchSize":5,"BoilSize":7,"BoilTime":90,"Efficiency":0.78,"DateCreated":"\/Date(1595297715057)\/","BrewSessionCount":1,"MostRecentBrewSession":16585,"Og":1.05335356,"Fg":1.0090701052,"Srm":2.7479438812010848,"Ibu":31.323764343678057,"BgGu":0.58709792455607668,"Abv":5.7125656692,"Calories":176,"AverageRating":4,"TastingNoteCount":1,"Fermentables":[{"Per":"88","Amt":"8","Ppg":"38","L":"1","Use":"Mash","Id":"458293","IngId":"575","Name":"Pilsner - DE","CustomName":"","Rank":"1"},{"Per":"4","Amt":"0.38","Ppg":"27","L":"3","Use":"Mash","Id":"458294","IngId":"474","Name":"Acidulated Malt - DE\r","CustomName":"","Rank":"2"},{"Per":"8","Amt":"0.75","Ppg":"37","L":"4","Use":"Mash","Id":"458295","IngId":"588","Name":"Vienna - DE","CustomName":"","Rank":"3"}],"Hops":[{"Amt":"2","Type":"Leaf","Use":"Boil","Min":"15","Day":"0","AA":"1.5","Ibu":"4.99094817766931","Id":"484870","IngId":"71","Name":"Hersbrucker ","CustomName":"","Rank":"2"},{"Amt":"0.75","Type":"Leaf","Use":"FirstWort","Min":"90","Day":"0","AA":"5","Ibu":"13.4494184781479","Id":"486010","IngId":"83","Name":"Tradition ","CustomName":"","Rank":"3"},{"Amt":"1","Type":"Leaf","Use":"Boil","Min":"30","Day":"0","AA":"5","Ibu":"12.8833976878608","Id":"486009","IngId":"83","Name":"Tradition ","CustomName":"","Rank":"4"}],"Yeasts":[{"Atten":"0.83","Id":"128343","IngId":"235","Name":"Wyeast Munich Lager 2308","CustomName":"","Rank":"1"}],"Others":[],"MashSteps":[],"Steps":[]}