Mixed-Fermentation Sour Beer Recipe - Kettle Sour base
Mixed-Fermentation Sour Beer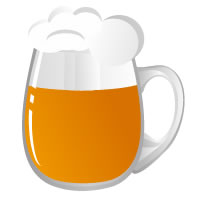 https://brewgr.com/Media/img/mug/9_d.jpg
https://brewgr.com/Media/img/mug/9_t.jpg
Kettle Sour base
by BarklyBrew on

5/24/2020
Kettle sour with NZ hops for an apricot and lime flavour. Special B for plum/raisin flavour. Secondary ferment with dried sloe berries and juniper. Try to keep base IBUs below 10 as dry hop will add a few units.
5%
-
Carapils - Dextrine Malt - US
Juniper berries or boughs
No mash steps in this recipe
Bring 13 litres of water to 72C and begin your 60-minute mash rest. After initially adding your grains, your mash temperature should drop to 66C.
After the mash is complete, sparge with 18 litres of 75C water to collect 24 litres of wort.
Add lactic acid to lower wort pH to 4.5. Boil for 15 minutes then cool the wort to 45C and pitch the lactobacillus starter.
Hold close to 40C for 48 hours or until the pH has dropped to around 3.5 or to taste. Bring to a boil for 45 minutes. Follow the hopping schedule as listed above.
Rack into secondary with sloe berries
Tasting Notes (
0

)
There aren't any tasting notes logged yet
Kettle Sour base
Mixed-Fermentation Sour Beer
20.00

Gallons

Liters

Batch Size

24.00

Gallons

Liters

Boil Size

60

min

Boil Time

1.056

OG

1.011

FG

7.5

IBU (tinseth)

Bitterness

0.13

BG:GU

8.9

° SRM

Color

70%

Efficiency

5.8

% ABV

Alcohol

185

per 12oz

Calories
Clone This Recipe
Similar Homebrew Recipes
{"RecipeId":84178,"RecipeTypeId":10,"OriginalRecipeId":null,"UnitType":"m","IbuFormula":"t","CreatedBy":120758,"Name":"Kettle Sour base","Description":"Kettle sour with NZ hops for an apricot and lime flavour. Special B for plum/raisin flavour. Secondary ferment with dried sloe berries and juniper. Try to keep base IBUs below 10 as dry hop will add a few units. ","ImageUrlRoot":null,"StyleId":"28B","StyleName":"Mixed-Fermentation Sour Beer","BatchSize":20,"BoilSize":24,"BoilTime":60,"Efficiency":0.7,"DateCreated":"\/Date(1590375315200)\/","BrewSessionCount":0,"MostRecentBrewSession":null,"Og":1.0555694026997562,"Fg":1.0105581865129536,"Srm":8.8608304782203522,"Ibu":7.49417174918586,"BgGu":0.1348614774514886,"Abv":5.8064468880975273,"Calories":185,"AverageRating":0,"TastingNoteCount":0,"Fermentables":[{"Per":"78","Amt":"4","Ppg":"38","L":"3","Use":"Mash","Id":"447755","IngId":"567","Name":"Pale Ale - BE","CustomName":"","Rank":"2"},{"Per":"15","Amt":"0.75","Ppg":"36","L":"2","Use":"Mash","Id":"447756","IngId":"571","Name":"Pale Wheat - CA","CustomName":"","Rank":"4"},{"Per":"2","Amt":"0.1","Ppg":"30","L":"180","Use":"Mash","Id":"451816","IngId":"161","Name":"Special B - BE","CustomName":"","Rank":"4"},{"Per":"5","Amt":"0.25","Ppg":"33","L":"1","Use":"Mash","Id":"449031","IngId":"505","Name":"Carapils - Dextrine Malt - US","CustomName":"","Rank":"6"}],"Hops":[{"Amt":"8","Type":"Pellet","Use":"Boil","Min":"30","Day":"0","AA":"10.1","Ibu":"7.49417174918586","Id":"478199","IngId":"292","Name":"Rakau","CustomName":"","Rank":"2"},{"Amt":"20","Type":"Pellet","Use":"FlameOut","Min":"0","Day":"0","AA":"7","Ibu":"0","Id":"474093","IngId":"86","Name":"Motueka ","CustomName":"","Rank":"4"},{"Amt":"20","Type":"Pellet","Use":"FlameOut","Min":"0","Day":"0","AA":"3.5","Ibu":"0","Id":"474094","IngId":"299","Name":"Wai-iti","CustomName":"","Rank":"6"},{"Amt":"10","Type":"Pellet","Use":"FlameOut","Min":"0","Day":"0","AA":"12","Ibu":"0","Id":"474095","IngId":"292","Name":"Rakau","CustomName":"","Rank":"8"},{"Amt":"20","Type":"Pellet","Use":"DryHop","Min":"0","Day":"3","AA":"7","Ibu":"0","Id":"474096","IngId":"86","Name":"Motueka ","CustomName":"","Rank":"10"},{"Amt":"20","Type":"Pellet","Use":"DryHop","Min":"0","Day":"3","AA":"3.5","Ibu":"0","Id":"474097","IngId":"299","Name":"Wai-iti","CustomName":"","Rank":"12"},{"Amt":"10","Type":"Pellet","Use":"DryHop","Min":"0","Day":"3","AA":"12","Ibu":"0","Id":"474098","IngId":"292","Name":"Rakau","CustomName":"","Rank":"14"}],"Yeasts":[{"Atten":"0.81","Id":"124500","IngId":"253","Name":"Fermentis Safale US-05","CustomName":"","Rank":"1"}],"Others":[{"Amt":"0","Unit":"ml","Use":"Mash","Id":"83439","IngId":"16","Name":"Lactic Acid","CustomName":"","Rank":"2"},{"Amt":"1","Unit":"each","Use":"Primary","Id":"84128","IngId":"12880","Name":"lactobacillus plantarum","CustomName":"","Rank":"4"},{"Amt":"0.5","Unit":"kg","Use":"Secondary","Id":"83441","IngId":"12783","Name":"Sloe Berries","CustomName":"","Rank":"6"},{"Amt":"0.03","Unit":"kg","Use":"Secondary","Id":"83442","IngId":"15","Name":"Juniper berries or boughs","CustomName":"","Rank":"8"}],"MashSteps":[],"Steps":[{"Id":"140482","Rank":"1","Text":"Bring 13 litres of water to 72C and begin your 60-minute mash rest. After initially adding your grains, your mash temperature should drop to 66C."},{"Id":"140483","Rank":"2","Text":"After the mash is complete, sparge with 18 litres of 75C water to collect 24 litres of wort."},{"Id":"140484","Rank":"3","Text":"Add lactic acid to lower wort pH to 4.5. Boil for 15 minutes then cool the wort to 45C and pitch the lactobacillus starter."},{"Id":"140485","Rank":"4","Text":"Hold close to 40C for 48 hours or until the pH has dropped to around 3.5 or to taste. Bring to a boil for 45 minutes. Follow the hopping schedule as listed above."},{"Id":"140486","Rank":"5","Text":"Ferment at 17C"},{"Id":"140487","Rank":"6","Text":"Rack into secondary with sloe berries"}]}