American Amber Ale Recipe - 7.5 Gallon Gluten Free Apples Peaches Pumpkin Pie
American Amber Ale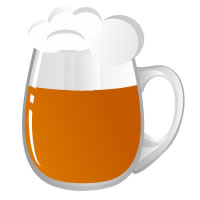 https://brewgr.com/Media/img/mug/12_d.jpg
https://brewgr.com/Media/img/mug/12_t.jpg
7.5 Gallon Gluten Free Apples Peaches Pumpkin Pie
by Brewer 107437 on

9/23/2019
Extract American Amber Ale homebrew recipe. This homebrew recipe uses the following ingredients: White Sorghum Syrup- US, Apple Juice, Pumpkin, Honey - US, Peaches, Apples, Belgian Dark Candi Syrup - BE , Cascade Hops, Fermentis Safale US-05 Homebrew Yeast, Allspice, Nutmeg, Ginger, Cinnamon, Clove.
38%
-
White Sorghum Syrup- US
6%
-
Belgian Dark Candi Syrup - BE
No mash steps in this recipe
Fill kettle with 6 gallons H20. Add salts for neutral or pale ale style.
Bring to 172. Place fruit in bag and steep as kettle rises to 190. Let stand 40 minutes at 190. Remove fruit bag to clean pot.
Add sorghum syrup, apple juice and candi syrup. (60 minute boil)
At 30 minutes, add bittering hops.
At 45 minutes, add spices, whirfloc, and 1 tsp yeast nutrient.flavor hops and other ingredients (use a bag for hops and other).for hops and
After additional 15 minutes (1 hour total), remove from heat. Add flavor hops and return fruit bag to kettle. Cool to 195. Remove all bags, etc.
Cool to 65 degrees and transfer to fermenter. Add yeast. Ferment 5-7 days till FG reached. Cold crash and keg.
Tasting Notes (
0

)
There aren't any tasting notes logged yet
7.5 Gallon Gluten Free Apples Peaches Pumpkin Pie
American Amber Ale
7.50

Gallons

Liters

Batch Size

8.50

Gallons

Liters

Boil Size

60

min

Boil Time

1.054

OG

1.010

FG

30.1

IBU (tinseth)

Bitterness

0.56

BG:GU

11.5

° SRM

Color

75%

Efficiency

5.6

% ABV

Alcohol

179

per 12oz

Calories
Clone This Recipe
Similar Homebrew Recipes
Help support Brewgr and buy your ingredients from MoreBeer
Or consider a donation via PayPal
{"RecipeId":74871,"RecipeTypeId":20,"OriginalRecipeId":73270,"UnitType":"s","IbuFormula":"t","CreatedBy":107437,"Name":"7.5 Gallon Gluten Free Apples Peaches Pumpkin Pie","Description":"","ImageUrlRoot":null,"StyleId":"19A","StyleName":"American Amber Ale","BatchSize":7.5,"BoilSize":8.5,"BoilTime":60,"Efficiency":0.75,"DateCreated":"\/Date(1569259106107)\/","BrewSessionCount":0,"MostRecentBrewSession":null,"Og":1.0538666666666667,"Fg":1.0102346666666666,"Srm":11.501061299837311,"Ibu":30.093944509467313,"BgGu":0.55867471242822919,"Abv":5.6285280000000011,"Calories":179,"AverageRating":0,"TastingNoteCount":0,"Fermentables":[{"Per":"38","Amt":"6","Ppg":"44","L":"8","Use":"Extract","Id":"397938","IngId":"592","Name":"White Sorghum Syrup- US","CustomName":"","Rank":"2"},{"Per":"12","Amt":"2","Ppg":"45","L":"8","Use":"Steep","Id":"408536","IngId":"9083","Name":"Apple Juice","CustomName":"","Rank":"4"},{"Per":"12","Amt":"2","Ppg":"8","L":"0","Use":"Steep","Id":"408537","IngId":"5379","Name":"Pumpkin","CustomName":"","Rank":"6"},{"Per":"6","Amt":"1","Ppg":"35","L":"1","Use":"Late","Id":"408627","IngId":"90","Name":"Honey - US","CustomName":"","Rank":"8"},{"Per":"12","Amt":"2","Ppg":"3","L":"0","Use":"Steep","Id":"408538","IngId":"9084","Name":"Peaches","CustomName":"","Rank":"10"},{"Per":"12","Amt":"2","Ppg":"3","L":"0","Use":"Steep","Id":"408539","IngId":"9085","Name":"Apples","CustomName":"","Rank":"12"},{"Per":"6","Amt":"1","Ppg":"46","L":"80","Use":"Extract","Id":"408540","IngId":"481","Name":"Belgian Dark Candi Syrup - BE\r\n","CustomName":"","Rank":"14"}],"Hops":[{"Amt":"2","Type":"Pellet","Use":"Boil","Min":"30","Day":"0","AA":"8","Ibu":"30.0939445094673","Id":"423809","IngId":"3","Name":"Cascade ","CustomName":"","Rank":"2"},{"Amt":"1","Type":"Pellet","Use":"FlameOut","Min":"0","Day":"0","AA":"5.8","Ibu":"0","Id":"423810","IngId":"3","Name":"Cascade ","CustomName":"","Rank":"4"}],"Yeasts":[{"Atten":"0.81","Id":"113967","IngId":"253","Name":"Fermentis Safale US-05","CustomName":"","Rank":"1"}],"Others":[{"Amt":"0.25","Unit":"tsp","Use":"Boil","Id":"77583","IngId":"1","Name":"Allspice","CustomName":"","Rank":"2"},{"Amt":"0.25","Unit":"tsp","Use":"Boil","Id":"77584","IngId":"19","Name":"Nutmeg","CustomName":"","Rank":"4"},{"Amt":"0.25","Unit":"tsp","Use":"Boil","Id":"77603","IngId":"11","Name":"Ginger","CustomName":"","Rank":"5"},{"Amt":"1","Unit":"each","Use":"Boil","Id":"77585","IngId":"6","Name":"Cinnamon","CustomName":"","Rank":"6"},{"Amt":"0.25","Unit":"tsp","Use":"Boil","Id":"77586","IngId":"7","Name":"Clove","CustomName":"","Rank":"8"}],"MashSteps":[],"Steps":[{"Id":"126616","Rank":"1","Text":"Fill kettle with 6 gallons H20. Add salts for neutral or pale ale style."},{"Id":"129615","Rank":"2","Text":"Bring to 172. Place fruit in bag and steep as kettle rises to 190. Let stand 40 minutes at 190. Remove fruit bag to clean pot."},{"Id":"126617","Rank":"3","Text":"Add sorghum syrup, apple juice and candi syrup. (60 minute boil)"},{"Id":"129616","Rank":"4","Text":"At 30 minutes, add bittering hops."},{"Id":"126618","Rank":"5","Text":"At 45 minutes, add spices, whirfloc, and 1 tsp yeast nutrient.flavor hops and other ingredients (use a bag for hops and other).for hops and"},{"Id":"126619","Rank":"6","Text":"After additional 15 minutes (1 hour total), remove from heat. Add flavor hops and return fruit bag to kettle. Cool to 195. Remove all bags, etc."},{"Id":"126620","Rank":"7","Text":"Cool to 65 degrees and transfer to fermenter. Add yeast. Ferment 5-7 days till FG reached. Cold crash and keg."}]}