American Amber Ale Recipe - Rising Souls Pumpkin Ale
American Amber Ale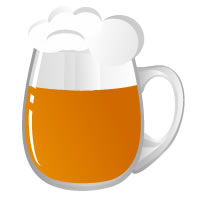 https://brewgr.com/Media/img/mug/10_d.jpg
https://brewgr.com/Media/img/mug/10_t.jpg
Rising Souls Pumpkin Ale
by Brewer 107437 on

9/19/2019
Flavor is very light. Beer finished crisp. A very drinkable pumpkin which pleases the palate pint after pint. Next time - pale or 2 row malt instead of the sugar pilz. Make sure all pumpkin is pie pumpkin
6%
-
Munich - Light 10L - US
2%
-
Caramel/Crystal 60 - US
Cook pumpkin in the Instant Pot (cut off end, cut in half, remove seeds, cut each half in four slices). Pressure Cook Vegetables for 6 minutes then remove puree from skins. Discard skins. Do in two batches - 20 pounds for mash, 12 for boil.
Mash in grains and 20 pounds of pumpkin at 154. Sparge. See brewers journal for H2O and salts.
Transfer to kettle. Bring to full boil. Add warm pumpkin in a bag and first hops addition..
At 15 minutes, add maple syrup. At 10 - remaining kettle hops and spices.
Chill to 180. Add finish hops. Whirlpool 15. Chill.
Tasting Notes (
0

)
There aren't any tasting notes logged yet
Rising Souls Pumpkin Ale
American Amber Ale
31.00

Gallons

Liters

Batch Size

36.00

Gallons

Liters

Boil Size

60

min

Boil Time

1.048

OG

1.014

FG

31.0

IBU (tinseth)

Bitterness

0.65

BG:GU

9.7

° SRM

Color

72%

Efficiency

4.3

% ABV

Alcohol

160

per 12oz

Calories
Clone This Recipe
Similar Homebrew Recipes
Help support Brewgr and buy your ingredients from MoreBeer
Or consider a donation via PayPal
{"RecipeId":74747,"RecipeTypeId":10,"OriginalRecipeId":null,"UnitType":"s","IbuFormula":"t","CreatedBy":107437,"Name":"Rising Souls Pumpkin Ale","Description":"Flavor is very light. Beer finished crisp. A very drinkable pumpkin which pleases the palate pint after pint. Next time - pale or 2 row malt instead of the sugar pilz. Make sure all pumpkin is pie pumpkin","ImageUrlRoot":null,"StyleId":"19A","StyleName":"American Amber Ale","BatchSize":31,"BoilSize":36,"BoilTime":60,"Efficiency":0.72,"DateCreated":"\/Date(1568950121793)\/","BrewSessionCount":0,"MostRecentBrewSession":null,"Og":1.0479212903225807,"Fg":1.0143763870967741,"Srm":9.660759763499529,"Ibu":30.989206780844384,"BgGu":0.646668872483221,"Abv":4.327292516129031,"Calories":160,"AverageRating":0,"TastingNoteCount":0,"Fermentables":[{"Per":"47","Amt":"40","Ppg":"34","L":"1","Use":"Mash","Id":"397336","IngId":"8773","Name":"NY Pilsner","CustomName":"","Rank":"2"},{"Per":"6","Amt":"5","Ppg":"35","L":"10","Use":"Mash","Id":"397337","IngId":"24","Name":"Munich - Light 10L - US","CustomName":"","Rank":"4"},{"Per":"2","Amt":"2","Ppg":"36","L":"60","Use":"Mash","Id":"397914","IngId":"42","Name":"Caramel/Crystal 60 - US","CustomName":"","Rank":"6"},{"Per":"24","Amt":"20","Ppg":"8","L":"4","Use":"Mash","Id":"397338","IngId":"5379","Name":"Pumpkin","CustomName":"","Rank":"8"},{"Per":"1","Amt":"0.5","Ppg":"37","L":"1","Use":"Mash","Id":"403996","IngId":"152","Name":"Flaked Oats - US","CustomName":"","Rank":"10"},{"Per":"15","Amt":"12.5","Ppg":"8","L":"0","Use":"Steep","Id":"403997","IngId":"5379","Name":"Pumpkin","CustomName":"","Rank":"12"},{"Per":"6","Amt":"5","Ppg":"30","L":"35","Use":"Late","Id":"397339","IngId":"91","Name":"Maple Syrup - US","CustomName":"","Rank":"14"}],"Hops":[{"Amt":"6","Type":"Pellet","Use":"Boil","Min":"60","Day":"0","AA":"7","Ibu":"26.2334527605623","Id":"423300","IngId":"68","Name":"Brewer\u0027s Gold ","CustomName":"","Rank":"2"},{"Amt":"3","Type":"Pellet","Use":"Boil","Min":"10","Day":"0","AA":"7","Ibu":"4.75575402028209","Id":"423301","IngId":"68","Name":"Brewer\u0027s Gold ","CustomName":"","Rank":"4"},{"Amt":"3","Type":"Pellet","Use":"FlameOut","Min":"0","Day":"0","AA":"7","Ibu":"0","Id":"423302","IngId":"68","Name":"Brewer\u0027s Gold ","CustomName":"","Rank":"6"}],"Yeasts":[{"Atten":"0.7","Id":"112719","IngId":"3473","Name":"Lallemand BRY-97","CustomName":"","Rank":"1"}],"Others":[{"Amt":"2","Unit":"tbsp","Use":"Boil","Id":"75654","IngId":"6","Name":"Cinnamon","CustomName":"","Rank":"2"},{"Amt":"1.5","Unit":"tsp","Use":"Boil","Id":"75655","IngId":"1","Name":"Allspice","CustomName":"","Rank":"4"},{"Amt":"1","Unit":"tbsp","Use":"Boil","Id":"75657","IngId":"11","Name":"Ginger","CustomName":"","Rank":"6"},{"Amt":"1","Unit":"tbsp","Use":"Boil","Id":"75656","IngId":"19","Name":"Nutmeg","CustomName":"","Rank":"8"},{"Amt":"2","Unit":"each","Use":"Secondary","Id":"75659","IngId":"37","Name":"Vanilla Bean","CustomName":"","Rank":"10"}],"MashSteps":[{"Heat":"Decoction","Temp":"154","Time":"60","Id":"55057","IngId":"5","Name":"Dextrinization Rest","CustomName":"","Rank":"2"}],"Steps":[{"Id":"128488","Rank":"1","Text":"Cook pumpkin in the Instant Pot (cut off end, cut in half, remove seeds, cut each half in four slices). Pressure Cook Vegetables for 6 minutes then remove puree from skins. Discard skins. Do in two batches - 20 pounds for mash, 12 for boil."},{"Id":"128489","Rank":"2","Text":"Mash in grains and 20 pounds of pumpkin at 154. Sparge. See brewers journal for H2O and salts."},{"Id":"128490","Rank":"3","Text":"Transfer to kettle. Bring to full boil. Add warm pumpkin in a bag and first hops addition.."},{"Id":"128491","Rank":"4","Text":"At 15 minutes, add maple syrup. At 10 - remaining kettle hops and spices."},{"Id":"128492","Rank":"5","Text":"Chill to 180. Add finish hops. Whirlpool 15. Chill."}]}