Blonde Ale Recipe - GF Buckwheat Blonde Ale
Blonde Ale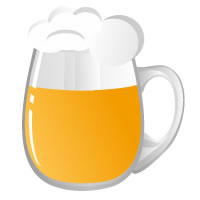 https://brewgr.com/Media/img/mug/5_d.jpg
https://brewgr.com/Media/img/mug/5_t.jpg
GF Buckwheat Blonde Ale
by Brewer 107437 on

5/28/2019

For BUCKWHEAT Brewing: .5 gals H2O per pound of buckwheat. Add 1.5 gallons for area below mash basket in Robobrew. SO... 6 gallons of H2O for mash .75 # of rice hulls (.1 lb per gallon) Step mash per plan below based upon https://onlinelibrary.wiley.com/doi/abs/10.1002/j.2050-0416.2006.tb00708.x (Optimisation of a Mashing Program for 100% Malted Buckwheat) Target OG is 1.046 Final OG is 1.009


This recipe was cloned from Just One More Thing.
23%
-
White Sorghum Syrup- US
6 gallons of H20 in Robobrew. Preheat to 105 deg F
Mash in buckwheat and AMYLASE ENZYME and rest at 95 deg F for 15 minutes
Ramp up to 113 rest for 15 minutes
Ramp up to 149, rest for 40 minutes
Ramp up to 162, rest for 30 minutes
Begin heating 3 gallons of H20 to 170 degrees
Ramp up to 172, rest 10 minutes
Turn off heat to Robobrew. Lift basket and drain, Sparge with 170 degree H20 to 7.5 gallons
Turn on Robobrew and ramp up to boil. Skim hot break.
Add bittering hops (60 minute boil)
After 45 minutes, add sorghum syrup, honey, molasses and Irish moss.
After 60 minutes total, turn off heat, Add water to 8 gallons and let cool to 185. Add flavoring hops. 20 minute rest/whirlpool.
Chill and transfer to fermenting vessel(s). Add yeast.
Ferment 7 days. Remove from yeast to secondary ferment.
Add thawed frozen fruit or dry hops (IN A BAG!) here if desired. Secondary ferment 5 days.
Cold crash in fermenter. Remove fruit/hops bag. Keg.
Tasting Notes (
0

)
There aren't any tasting notes logged yet
GF Buckwheat Blonde Ale
Blonde Ale
7.75

Gallons

Liters

Batch Size

8.50

Gallons

Liters

Boil Size

60

min

Boil Time

1.046

OG

1.009

FG

22.1

IBU (tinseth)

Bitterness

0.48

BG:GU

4.8

° SRM

Color

75%

Efficiency

4.8

% ABV

Alcohol

152

per 12oz

Calories
Clone This Recipe
Similar Homebrew Recipes
Help support Brewgr and buy your ingredients from MoreBeer
Or consider a donation via PayPal
{"RecipeId":70188,"RecipeTypeId":10,"OriginalRecipeId":68695,"UnitType":"s","IbuFormula":"t","CreatedBy":107437,"Name":"GF Buckwheat Blonde Ale","Description":"For BUCKWHEAT Brewing: \n.5 gals H2O per pound of buckwheat. Add 1.5 gallons for area below mash basket in Robobrew. \nSO... 6 gallons of H2O for mash\n.75 # of rice hulls (.1 lb per gallon)\nStep mash per plan below based upon https://onlinelibrary.wiley.com/doi/abs/10.1002/j.2050-0416.2006.tb00708.x (Optimisation of a Mashing Program for 100% Malted Buckwheat)\n\nTarget OG is 1.046\nFinal OG is 1.009\n\n\n\n\n","ImageUrlRoot":null,"StyleId":"18A","StyleName":"Blonde Ale","BatchSize":7.75,"BoilSize":8.5,"BoilTime":60,"Efficiency":0.75,"DateCreated":"\/Date(1559058626773)\/","BrewSessionCount":0,"MostRecentBrewSession":null,"Og":1.0461870967741935,"Fg":1.0087755483870968,"Srm":4.8055483057543658,"Ibu":22.077714950341694,"BgGu":0.47800612058988184,"Abv":4.8260897419354842,"Calories":152,"AverageRating":0,"TastingNoteCount":0,"Fermentables":[{"Per":"23","Amt":"3.3","Ppg":"44","L":"1","Use":"Late","Id":"372999","IngId":"592","Name":"White Sorghum Syrup- US","CustomName":"","Rank":"1"},{"Per":"7","Amt":"1","Ppg":"35","L":"1","Use":"Late","Id":"373000","IngId":"90","Name":"Honey - US","CustomName":"","Rank":"2"},{"Per":"63","Amt":"9","Ppg":"25","L":"2","Use":"Mash","Id":"373001","IngId":"8348","Name":"BUCKWHEAT MALT","CustomName":"","Rank":"3"},{"Per":"5","Amt":"0.75","Ppg":"0","L":"0","Use":"Mash","Id":"389365","IngId":"116","Name":"Rice Hulls - US","CustomName":"","Rank":"4"},{"Per":"2","Amt":"0.25","Ppg":"36","L":"80","Use":"Late","Id":"389366","IngId":"92","Name":"Molasses - US","CustomName":"","Rank":"5"}],"Hops":[{"Amt":"1.5","Type":"Pellet","Use":"Boil","Min":"60","Day":"0","AA":"5.8","Ibu":"22.0777149503417","Id":"399089","IngId":"3","Name":"Cascade ","CustomName":"","Rank":"1"},{"Amt":"2","Type":"Pellet","Use":"FlameOut","Min":"0","Day":"0","AA":"5.8","Ibu":"0","Id":"399090","IngId":"3","Name":"Cascade ","CustomName":"","Rank":"2"}],"Yeasts":[{"Atten":"0.81","Id":"104204","IngId":"3473","Name":"Lallemand BRY-97","CustomName":"","Rank":"1"}],"Others":[{"Amt":"1.5","Unit":"tsp","Use":"Mash","Id":"74340","IngId":"2","Name":"Amylase Enzyme","CustomName":"","Rank":"1"},{"Amt":"0.5","Unit":"tsp","Use":"Boil","Id":"74341","IngId":"14","Name":"Irish Moss","CustomName":"","Rank":"2"}],"MashSteps":[{"Heat":"Direct Heat","Temp":"95","Time":"15","Id":"53439","IngId":"2","Name":"Acid Rest","CustomName":"","Rank":"1"},{"Heat":"Direct Heat","Temp":"113","Time":"15","Id":"53440","IngId":"2","Name":"Acid Rest","CustomName":"","Rank":"2"},{"Heat":"Direct Heat","Temp":"149","Time":"40","Id":"53441","IngId":"9","Name":"Saccharification Rest","CustomName":"","Rank":"3"},{"Heat":"Direct Heat","Temp":"162","Time":"30","Id":"53442","IngId":"9","Name":"Saccharification Rest","CustomName":"","Rank":"4"},{"Heat":"Direct Heat","Temp":"172","Time":"10","Id":"53443","IngId":"7","Name":"Mash-Out","CustomName":"","Rank":"5"}],"Steps":[{"Id":"124338","Rank":"1","Text":"6 gallons of H20 in Robobrew. Preheat to 105 deg F"},{"Id":"124339","Rank":"2","Text":"Mash in buckwheat and AMYLASE ENZYME and rest at 95 deg F for 15 minutes"},{"Id":"124340","Rank":"3","Text":"Ramp up to 113 rest for 15 minutes"},{"Id":"124341","Rank":"4","Text":"Ramp up to 149, rest for 40 minutes"},{"Id":"124342","Rank":"5","Text":"Ramp up to 162, rest for 30 minutes"},{"Id":"124343","Rank":"6","Text":"Begin heating 3 gallons of H20 to 170 degrees"},{"Id":"124344","Rank":"7","Text":"Ramp up to 172, rest 10 minutes"},{"Id":"124345","Rank":"8","Text":"Turn off heat to Robobrew. Lift basket and drain, Sparge with 170 degree H20 to 7.5 gallons"},{"Id":"124346","Rank":"9","Text":"Turn on Robobrew and ramp up to boil. Skim hot break."},{"Id":"124347","Rank":"10","Text":"Add bittering hops (60 minute boil)"},{"Id":"124348","Rank":"11","Text":"After 45 minutes, add sorghum syrup, honey, molasses and Irish moss."},{"Id":"124349","Rank":"12","Text":"After 60 minutes total, turn off heat, Add water to 8 gallons and let cool to 185. Add flavoring hops. 20 minute rest/whirlpool."},{"Id":"124350","Rank":"13","Text":"Chill and transfer to fermenting vessel(s). Add yeast."},{"Id":"124351","Rank":"14","Text":"Ferment 7 days. Remove from yeast to secondary ferment."},{"Id":"124352","Rank":"15","Text":"Add thawed frozen fruit or dry hops (IN A BAG!) here if desired. Secondary ferment 5 days."},{"Id":"124353","Rank":"16","Text":"Cold crash in fermenter. Remove fruit/hops bag. Keg."}]}