American IPA Recipe - Heavy Metal IPA v2.0 - 3 gal
American IPA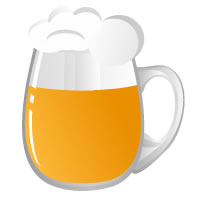 https://brewgr.com/Media/img/mug/6_d.jpg
https://brewgr.com/Media/img/mug/6_t.jpg
Heavy Metal IPA v2.0 - 3 gal
by brewmasterbryan on

5/1/2019

Splitting this batch - one will get a dose of Citra for the final dry hop and the other will get a final dose of Mosaic. Bumped up the bittering addition slightly as well for more pronounced bitterness.


This recipe was cloned from Heavy Metal IPA v2.0.
3%
-
Caramel/Crystal 60 - US
Wyeast Northwest Ale 1332
10 minute hop stand on flame out
Aim for 148F mash temp for more attenuation
Citra on one batch as final dry hop and Mosaic as final on other
Split (in half) dry hop amounts per 1.5 gal batch
Tasting Notes (
0

)
There aren't any tasting notes logged yet
Heavy Metal IPA v2.0 - 3 gal
American IPA
3.00

Gallons

Liters

Batch Size

4.00

Gallons

Liters

Boil Size

60

min

Boil Time

1.070

OG

1.019

FG

71.5

IBU (tinseth)

Bitterness

1.02

BG:GU

6.0

° SRM

Color

75%

Efficiency

6.6

% ABV

Alcohol

240

per 12oz

Calories
Clone This Recipe
Similar Homebrew Recipes
{"RecipeId":68997,"RecipeTypeId":10,"OriginalRecipeId":58230,"UnitType":"s","IbuFormula":"t","CreatedBy":113790,"Name":"Heavy Metal IPA v2.0 - 3 gal","Description":"Splitting this batch - one will get a dose of Citra for the final dry hop and the other will get a final dose of Mosaic. Bumped up the bittering addition slightly as well for more pronounced bitterness.","ImageUrlRoot":null,"StyleId":"21A","StyleName":"American IPA","BatchSize":3,"BoilSize":4,"BoilTime":60,"Efficiency":0.75,"DateCreated":"\/Date(1556718350627)\/","BrewSessionCount":0,"MostRecentBrewSession":null,"Og":1.0703,"Fg":1.018981,"Srm":6.0387582954520633,"Ibu":71.521268052008438,"BgGu":1.0173722340257243,"Abv":6.620151,"Calories":240,"AverageRating":0,"TastingNoteCount":0,"Fermentables":[{"Per":"79","Amt":"6","Ppg":"37","L":"1","Use":"Mash","Id":"366928","IngId":"3","Name":"2-Row - US","CustomName":"","Rank":"1"},{"Per":"13","Amt":"1","Ppg":"36","L":"4","Use":"Mash","Id":"366929","IngId":"17","Name":"Vienna - US","CustomName":"","Rank":"2"},{"Per":"5","Amt":"0.4","Ppg":"40","L":"2","Use":"Mash","Id":"366930","IngId":"10","Name":"White Wheat - US","CustomName":"","Rank":"3"},{"Per":"3","Amt":"0.2","Ppg":"36","L":"60","Use":"Mash","Id":"366931","IngId":"42","Name":"Caramel/Crystal 60 - US","CustomName":"","Rank":"4"}],"Hops":[{"Amt":"0.25","Type":"Pellet","Use":"Boil","Min":"60","Day":"0","AA":"20","Ibu":"26.39188986172","Id":"392227","IngId":"60","Name":"Summit ","CustomName":"","Rank":"1"},{"Amt":"0.5","Type":"Pellet","Use":"Boil","Min":"10","Day":"0","AA":"14.1","Ibu":"13.4922235220964","Id":"392228","IngId":"29","Name":"Simcoe ","CustomName":"","Rank":"2"},{"Amt":"0.5","Type":"Pellet","Use":"Boil","Min":"10","Day":"0","AA":"8.6","Ibu":"8.22929945319353","Id":"392229","IngId":"2","Name":"Amarillo ","CustomName":"","Rank":"3"},{"Amt":"0.4","Type":"Pellet","Use":"Boil","Min":"10","Day":"0","AA":"11.1","Ibu":"8.49723013306495","Id":"392230","IngId":"5","Name":"Centennial ","CustomName":"","Rank":"4"},{"Amt":"0.7","Type":"Pellet","Use":"Boil","Min":"5","Day":"0","AA":"14.1","Ibu":"10.3858764685028","Id":"392231","IngId":"29","Name":"Simcoe ","CustomName":"","Rank":"5"},{"Amt":"0.5","Type":"Pellet","Use":"Boil","Min":"5","Day":"0","AA":"8.6","Ibu":"4.52474861343079","Id":"392232","IngId":"2","Name":"Amarillo ","CustomName":"","Rank":"6"},{"Amt":"0.4","Type":"Pellet","Use":"FlameOut","Min":"0","Day":"0","AA":"14.1","Ibu":"0","Id":"392233","IngId":"29","Name":"Simcoe ","CustomName":"","Rank":"7"},{"Amt":"0.4","Type":"Pellet","Use":"FlameOut","Min":"0","Day":"0","AA":"8.6","Ibu":"0","Id":"392234","IngId":"2","Name":"Amarillo ","CustomName":"","Rank":"8"},{"Amt":"0.4","Type":"Pellet","Use":"FlameOut","Min":"0","Day":"0","AA":"11.1","Ibu":"0","Id":"392235","IngId":"5","Name":"Centennial ","CustomName":"","Rank":"9"},{"Amt":"0.4","Type":"Pellet","Use":"DryHop","Min":"0","Day":"4","AA":"23.8","Ibu":"0","Id":"392236","IngId":"29","Name":"Simcoe ","CustomName":"","Rank":"10"},{"Amt":"0.4","Type":"Pellet","Use":"DryHop","Min":"0","Day":"4","AA":"25","Ibu":"0","Id":"392237","IngId":"2","Name":"Amarillo ","CustomName":"","Rank":"11"},{"Amt":"0.4","Type":"Pellet","Use":"DryHop","Min":"0","Day":"4","AA":"14.1","Ibu":"0","Id":"392238","IngId":"5","Name":"Centennial ","CustomName":"","Rank":"12"},{"Amt":"0.4","Type":"Pellet","Use":"DryHop","Min":"0","Day":"2","AA":"24.4","Ibu":"0","Id":"392239","IngId":"7","Name":"Citra ","CustomName":"","Rank":"13"}],"Yeasts":[{"Atten":"0.73","Id":"102454","IngId":"237","Name":"Wyeast Northwest Ale 1332","CustomName":"","Rank":"1"}],"Others":[{"Amt":"0.5","Unit":"tsp","Use":"Boil","Id":"70453","IngId":"14","Name":"Irish Moss","CustomName":"","Rank":"1"}],"MashSteps":[{"Heat":"Infusion","Temp":"148","Time":"60","Id":"50797","IngId":"3425","Name":"BIAB - Single Step","CustomName":"","Rank":"1"}],"Steps":[{"Id":"116909","Rank":"1","Text":"10 minute hop stand on flame out"},{"Id":"116910","Rank":"2","Text":"Aim for 148F mash temp for more attenuation"},{"Id":"116913","Rank":"3","Text":"Citra on one batch as final dry hop and Mosaic as final on other"},{"Id":"117089","Rank":"4","Text":"Split (in half) dry hop amounts per 1.5 gal batch"}]}