Czech Premium Pale Lager Recipe - Kiwi-As Pils
Czech Premium Pale Lager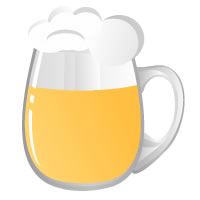 https://brewgr.com/Media/img/mug/3_d.jpg
https://brewgr.com/Media/img/mug/3_t.jpg
Kiwi-As Pils
by joelw85 on

3/7/2019
24.6052 Liter(s)
60 min
58%
Heaps of Kiwi-as hops in this pale crisp pseudo-lager. Chuck 'em in at the end and she'll be right. Perfect for sipping in the sun with your jandals on under a Pohutakawa tree while you wait for your snags to grill on the barbie.
4%
-
Dextrose (Corn Sugar)
No other stuff in this recipe
No mash steps in this recipe
No special instructions in this recipe
Tasting Notes (
1

)
Tasted on 3/6/2020 by joelw85
Notes:
Thought this was heading south at bottling time as after a fairly long primary I got a few wisps of wild yeast looking stuff around the surface and it wasn't quite as fresh tasting as I thought... But after conditioning it's totally fine. Great pale golden colour and nice and clear. Totally tastes like I blended some sauvignon blanc in there, really unique hop profile. Slightly maltier than expected too for mainly Pils malt, maybe I mashed a bit high or it's the kolsch yeast influence, still great though. Happier than before with the bitterness to sweetness balance. Could go a touch hoppier still, may dry hop next time but that'd make it more of a pale ale.
Kiwi-As Pils
Czech Premium Pale Lager
18.93

Gallons

Liters

Batch Size

24.61

Gallons

Liters

Boil Size

60

 min

Boil Time

1.050

OG

1.011

FG

48.6

 IBU (tinseth)

Bitterness

0.97

BG:GU

2.6

° SRM

Color

58%

Efficiency

5.1

% ABV

Alcohol

167

 per 12oz

Calories
Clone This Recipe
Similar Homebrew Recipes
{"RecipeId":66265,"RecipeTypeId":10,"OriginalRecipeId":null,"UnitType":"m","IbuFormula":"t","CreatedBy":117636,"Name":"Kiwi-As Pils","Description":"Heaps of Kiwi-as hops in this pale crisp pseudo-lager. Chuck \u0027em in at the end and she\u0027ll be right. Perfect for sipping in the sun with your jandals on under a Pohutakawa tree while you wait for your snags to grill on the barbie. ","ImageUrlRoot":null,"StyleId":"3B","StyleName":"Czech Premium Pale Lager","BatchSize":18.9271,"BoilSize":24.6052,"BoilTime":60,"Efficiency":0.58,"DateCreated":"\/Date(1552000697147)\/","BrewSessionCount":1,"MostRecentBrewSession":15596,"Og":1.0503185729996976,"Fg":1.0110700860599335,"Srm":2.6062577278032872,"Ibu":48.594704674176953,"BgGu":0.96574091388619143,"Abv":5.0630548152295711,"Calories":167,"AverageRating":4,"TastingNoteCount":1,"Fermentables":[{"Per":"90","Amt":"4.5","Ppg":"38","L":"1","Use":"Mash","Id":"352360","IngId":"575","Name":"Pilsner - DE","CustomName":"","Rank":"1"},{"Per":"6","Amt":"0.3","Ppg":"33","L":"2","Use":"Mash","Id":"352361","IngId":"11","Name":"Carapils - DE","CustomName":"","Rank":"2"},{"Per":"4","Amt":"0.2","Ppg":"46","L":"0","Use":"Late","Id":"419028","IngId":"7931","Name":"Dextrose (Corn Sugar)","CustomName":"","Rank":"3"}],"Hops":[{"Amt":"20","Type":"Pellet","Use":"Boil","Min":"60","Day":"0","AA":"11.3","Ibu":"30.2136520073195","Id":"380636","IngId":"99","Name":"Nelson Sauvin","CustomName":"","Rank":"1"},{"Amt":"14","Type":"Pellet","Use":"Boil","Min":"15","Day":"0","AA":"7","Ibu":"6.50099951769139","Id":"380637","IngId":"86","Name":"Motueka ","CustomName":"","Rank":"2"},{"Amt":"14","Type":"Pellet","Use":"Boil","Min":"15","Day":"0","AA":"5.5","Ibu":"5.10792819247181","Id":"380638","IngId":"141","Name":"Riwaka","CustomName":"","Rank":"3"},{"Amt":"14","Type":"Pellet","Use":"Boil","Min":"5","Day":"0","AA":"5.5","Ibu":"2.05215907778612","Id":"380639","IngId":"141","Name":"Riwaka","CustomName":"","Rank":"4"},{"Amt":"7","Type":"Pellet","Use":"Boil","Min":"5","Day":"0","AA":"11.3","Ibu":"2.10812705263483","Id":"380640","IngId":"99","Name":"Nelson Sauvin","CustomName":"","Rank":"5"},{"Amt":"14","Type":"Pellet","Use":"Boil","Min":"5","Day":"0","AA":"7","Ibu":"2.61183882627324","Id":"380641","IngId":"86","Name":"Motueka ","CustomName":"","Rank":"6"},{"Amt":"21","Type":"Pellet","Use":"FlameOut","Min":"0","Day":"0","AA":"5.5","Ibu":"0","Id":"380642","IngId":"141","Name":"Riwaka","CustomName":"","Rank":"7"},{"Amt":"21","Type":"Pellet","Use":"FlameOut","Min":"0","Day":"0","AA":"7","Ibu":"0","Id":"380643","IngId":"86","Name":"Motueka ","CustomName":"","Rank":"8"},{"Amt":"10","Type":"Pellet","Use":"FlameOut","Min":"0","Day":"0","AA":"11.3","Ibu":"0","Id":"380644","IngId":"99","Name":"Nelson Sauvin","CustomName":"","Rank":"9"},{"Amt":"7","Type":"Pellet","Use":"DryHop","Min":"0","Day":"0","AA":"7","Ibu":"0","Id":"441293","IngId":"86","Name":"Motueka ","CustomName":"","Rank":"10"},{"Amt":"7","Type":"Pellet","Use":"DryHop","Min":"0","Day":"0","AA":"5.5","Ibu":"0","Id":"441294","IngId":"141","Name":"Riwaka","CustomName":"","Rank":"11"},{"Amt":"4","Type":"Pellet","Use":"DryHop","Min":"0","Day":"0","AA":"11.3","Ibu":"0","Id":"441295","IngId":"99","Name":"Nelson Sauvin","CustomName":"","Rank":"12"}],"Yeasts":[{"Atten":"0.78","Id":"98302","IngId":"563","Name":"Fermentis Safale K-97","CustomName":"","Rank":"1"}],"Others":[],"MashSteps":[],"Steps":[]}