Double IPA Recipe - Heady Topper Clone half batch
Double IPA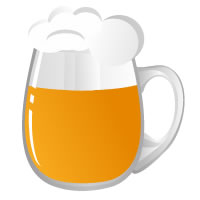 https://brewgr.com/Media/img/mug/7_d.jpg
https://brewgr.com/Media/img/mug/7_t.jpg
Heady Topper Clone half batch
by joelw85 on

3/7/2019

Yeast Bay Vermont 2nd gen slurry used for yeast


This recipe was cloned from Heady Topper Clone.
3%
-
Corn Sugar (Dextrose) - US
GigaYeast Double Pitch Vermont IPA GY054
No other stuff in this recipe
No mash steps in this recipe
No special instructions in this recipe
Tasting Notes (
1

)
Tasted on 4/11/2020 by joelw85
Notes:
Oh wow, this is great, really fruity hop and yeast combo, great full silky mouthfeel. Orangey citrus, peach and a hint of malty sweetness. Looks a little cloudy but that doesn't bother me. First DIPA I've brewed and it's a really good one.
Heady Topper Clone half batch
Double IPA
11.00

Gallons

Liters

Batch Size

15.00

Gallons

Liters

Boil Size

60

 min

Boil Time

1.077

OG

1.015

FG

121.7

 IBU (tinseth)

Bitterness

1.58

BG:GU

6.7

° SRM

Color

65%

Efficiency

8.0

% ABV

Alcohol

264

 per 12oz

Calories
Clone This Recipe
Similar Homebrew Recipes
{"RecipeId":66264,"RecipeTypeId":10,"OriginalRecipeId":36794,"UnitType":"m","IbuFormula":"t","CreatedBy":117636,"Name":"Heady Topper Clone half batch","Description":"Yeast Bay Vermont 2nd gen slurry used for yeast","ImageUrlRoot":null,"StyleId":"22A","StyleName":"Double IPA","BatchSize":11,"BoilSize":15,"BoilTime":60,"Efficiency":0.65,"DateCreated":"\/Date(1552000128253)\/","BrewSessionCount":1,"MostRecentBrewSession":15902,"Og":1.0772036976942019,"Fg":1.0154407395388403,"Srm":6.7096503554235172,"Ibu":121.69253817645146,"BgGu":1.5762527160093625,"Abv":7.9674216020416457,"Calories":264,"AverageRating":5,"TastingNoteCount":1,"Fermentables":[{"Per":"85","Amt":"3.5","Ppg":"37","L":"2","Use":"Mash","Id":"352356","IngId":"573","Name":"Pearl - UK","CustomName":"","Rank":"1"},{"Per":"6","Amt":"0.25","Ppg":"35","L":"17","Use":"Mash","Id":"352357","IngId":"500","Name":"Cara Malt - UK","CustomName":"","Rank":"2"},{"Per":"5","Amt":"0.21","Ppg":"40","L":"2","Use":"Mash","Id":"352358","IngId":"10","Name":"White Wheat - US","CustomName":"","Rank":"3"},{"Per":"3","Amt":"0.14","Ppg":"46","L":"0","Use":"Late","Id":"352359","IngId":"87","Name":"Corn Sugar (Dextrose) - US","CustomName":"","Rank":"4"}],"Hops":[{"Amt":"45","Type":"Pellet","Use":"Boil","Min":"60","Day":"0","AA":"13.3","Ibu":"108.122298363698","Id":"453986","IngId":"29","Name":"Simcoe ","CustomName":"","Rank":"2"},{"Amt":"16","Type":"Pellet","Use":"Boil","Min":"5","Day":"0","AA":"13.3","Ibu":"7.66387216601345","Id":"376257","IngId":"29","Name":"Simcoe ","CustomName":"","Rank":"4"},{"Amt":"8","Type":"Pellet","Use":"Boil","Min":"5","Day":"0","AA":"20.5","Ibu":"5.90636764673969","Id":"376258","IngId":"117","Name":"Apollo","CustomName":"","Rank":"6"},{"Amt":"16","Type":"Pellet","Use":"Boil","Min":"0","Day":"0","AA":"15","Ibu":"0","Id":"376259","IngId":"9","Name":"Columbus ","CustomName":"","Rank":"8"},{"Amt":"32","Type":"Pellet","Use":"Boil","Min":"0","Day":"0","AA":"13","Ibu":"0","Id":"376260","IngId":"29","Name":"Simcoe ","CustomName":"","Rank":"10"},{"Amt":"14","Type":"Pellet","Use":"FlameOut","Min":"0","Day":"0","AA":"10.5","Ibu":"0","Id":"380818","IngId":"5","Name":"Centennial ","CustomName":"","Rank":"12"},{"Amt":"16","Type":"Pellet","Use":"FlameOut","Min":"0","Day":"0","AA":"15","Ibu":"0","Id":"376261","IngId":"9","Name":"Columbus ","CustomName":"","Rank":"14"},{"Amt":"16","Type":"Pellet","Use":"FlameOut","Min":"0","Day":"0","AA":"13","Ibu":"0","Id":"376262","IngId":"29","Name":"Simcoe ","CustomName":"","Rank":"16"},{"Amt":"14","Type":"Pellet","Use":"FlameOut","Min":"0","Day":"0","AA":"9","Ibu":"0","Id":"376263","IngId":"2","Name":"Amarillo ","CustomName":"","Rank":"18"},{"Amt":"10","Type":"Pellet","Use":"FlameOut","Min":"0","Day":"0","AA":"20.5","Ibu":"0","Id":"376265","IngId":"117","Name":"Apollo","CustomName":"","Rank":"20"},{"Amt":"22","Type":"Pellet","Use":"DryHop","Min":"0","Day":"7","AA":"15","Ibu":"0","Id":"376266","IngId":"9","Name":"Columbus ","CustomName":"","Rank":"22"},{"Amt":"32","Type":"Pellet","Use":"DryHop","Min":"0","Day":"7","AA":"13","Ibu":"0","Id":"376267","IngId":"29","Name":"Simcoe ","CustomName":"","Rank":"24"},{"Amt":"14","Type":"Pellet","Use":"DryHop","Min":"0","Day":"7","AA":"9","Ibu":"0","Id":"376268","IngId":"2","Name":"Amarillo ","CustomName":"","Rank":"26"},{"Amt":"10","Type":"Pellet","Use":"DryHop","Min":"0","Day":"7","AA":"20.5","Ibu":"0","Id":"376270","IngId":"117","Name":"Apollo","CustomName":"","Rank":"28"},{"Amt":"10","Type":"Pellet","Use":"DryHop","Min":"0","Day":"7","AA":"10.5","Ibu":"0","Id":"380819","IngId":"5","Name":"Centennial ","CustomName":"","Rank":"30"}],"Yeasts":[{"Atten":"0.8","Id":"98301","IngId":"2012","Name":"GigaYeast Double Pitch Vermont IPA GY054","CustomName":"","Rank":"1"}],"Others":[],"MashSteps":[],"Steps":[]}