English IPA Recipe - Indigo Yard Pale Ale
English IPA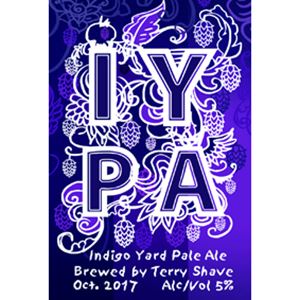 https://brewgr.com/Media/img/r/22/22b281f6-eb0f-4931-a7f0-1e08f7ae8c6d_d.jpg
https://brewgr.com/Media/img/r/22/22b281f6-eb0f-4931-a7f0-1e08f7ae8c6d_t.jpg
58%
-
Maris Otter Pale - UK
4%
-
Dry Malt Extract - Wheat - US
Protafloc Tablet (Use half) last 15mins of boil
No mash steps in this recipe
Mash 3 hours. Grain in @ 55C for 15 mins
Then 15 mins @ 60C then up to 66C for 2 hrs 15 mins
Temp up to 77C then sparge with water at same temp.
Boil for 60 mins before first hops added
Protafloc added for last 15 mins. of boil.
Other hops added as above
Wort chiller inserted for 2 min in boil to sterilize
Other hops added at flame out.
Chilled water passed through wort chiller for 30 mins. (27C)
Made up to 5 gals with cold water.
Yeast added at 24C SG 1.050
20 hrs later fermenting well SG 1.042
Racked and dry hopped 3 days later (Oct.12th) SG 1.014
Racked off hops 4days later (Oct 16th) SG 1.0010
Cold crashed for 30 hrs (25th Oct)
Bottled 17 days after brewing SG 1.008 80gms priming Dext.
Tasting Notes (
0

)
There aren't any tasting notes logged yet
Indigo Yard Pale Ale
English IPA
22.71

Gallons

Liters

Batch Size

24.61

Gallons

Liters

Boil Size

90

 min

Boil Time

1.054

OG

1.013

FG

46.0

 IBU (tinseth)

Bitterness

0.86

BG:GU

7.4

° SRM

Color

70%

Efficiency

5.2

% ABV

Alcohol

180

 per 12oz

Calories
Clone This Recipe
Similar Homebrew Recipes
{"RecipeId":45576,"RecipeTypeId":30,"OriginalRecipeId":44350,"UnitType":"m","IbuFormula":"t","CreatedBy":107281,"Name":"Indigo Yard Pale Ale","Description":"First brewed 9th Oct. 2017","ImageUrlRoot":"/img/r/22/22b281f6-eb0f-4931-a7f0-1e08f7ae8c6d","StyleId":"12C","StyleName":"English IPA","BatchSize":22.7125,"BoilSize":24.6052,"BoilTime":90,"Efficiency":0.7,"DateCreated":"\/Date(1507536687113)\/","BrewSessionCount":0,"MostRecentBrewSession":null,"Og":1.053783164472712,"Fg":1.013445791118178,"Srm":7.3824345784375343,"Ibu":46.041585778899716,"BgGu":0.856059442211881,"Abv":5.2035211627348961,"Calories":180,"AverageRating":0,"TastingNoteCount":0,"Fermentables":[{"Per":"58","Amt":"3.25","Ppg":"38","L":"3","Use":"Mash","Id":"233424","IngId":"15","Name":"Maris Otter Pale - UK","CustomName":"","Rank":"1"},{"Per":"18","Amt":"1","Ppg":"33","L":"2","Use":"Mash","Id":"233426","IngId":"11","Name":"Carapils - DE","CustomName":"","Rank":"2"},{"Per":"9","Amt":"0.5","Ppg":"37","L":"2","Use":"Mash","Id":"233425","IngId":"590","Name":"Wheat Malt - DE","CustomName":"","Rank":"3"},{"Per":"4","Amt":"0.25","Ppg":"38","L":"3","Use":"Mash","Id":"233465","IngId":"581","Name":"Rye - DE","CustomName":"","Rank":"4"},{"Per":"2","Amt":"0.1134","Ppg":"33","L":"90","Use":"Mash","Id":"233427","IngId":"521","Name":"Crystal Rye - UK","CustomName":"","Rank":"5"},{"Per":"2","Amt":"0.1134","Ppg":"32","L":"27","Use":"Mash","Id":"233466","IngId":"29","Name":"Amber - UK","CustomName":"","Rank":"6"},{"Per":"2","Amt":"0.1134","Ppg":"32","L":"2","Use":"Mash","Id":"233467","IngId":"78","Name":"Flaked Barley - US","CustomName":"","Rank":"7"},{"Per":"4","Amt":"0.2268","Ppg":"42","L":"3","Use":"Extract","Id":"233469","IngId":"530","Name":"Dry Malt Extract - Wheat - US","CustomName":"","Rank":"8"}],"Hops":[{"Amt":"28.3495","Type":"Leaf","Use":"Boil","Min":"30","Day":"0","AA":"7","Ibu":"14.9726938140239","Id":"249164","IngId":"3615","Name":"Wild Indigo Yard","CustomName":"","Rank":"1"},{"Amt":"21.2621","Type":"Leaf","Use":"Boil","Min":"30","Day":"0","AA":"10.5","Ibu":"16.844260735277","Id":"249138","IngId":"5","Name":"Centennial ","CustomName":"","Rank":"2"},{"Amt":"7.0874","Type":"Pellet","Use":"Boil","Min":"15","Day":"0","AA":"12","Ibu":"4.55741704738641","Id":"249139","IngId":"7","Name":"Citra ","CustomName":"","Rank":"3"},{"Amt":"28.3495","Type":"Leaf","Use":"Boil","Min":"15","Day":"0","AA":"7","Ibu":"9.66721418221246","Id":"249165","IngId":"3615","Name":"Wild Indigo Yard","CustomName":"","Rank":"4"},{"Amt":"9.9989","Type":"Leaf","Use":"FlameOut","Min":"0","Day":"0","AA":"0","Ibu":"0","Id":"249166","IngId":"3615","Name":"Wild Indigo Yard","CustomName":"","Rank":"5"},{"Amt":"9.9989","Type":"Leaf","Use":"FlameOut","Min":"0","Day":"0","AA":"10.5","Ibu":"0","Id":"249192","IngId":"5","Name":"Centennial ","CustomName":"","Rank":"6"},{"Amt":"9.9989","Type":"Leaf","Use":"FlameOut","Min":"0","Day":"0","AA":"12","Ibu":"0","Id":"249193","IngId":"7","Name":"Citra ","CustomName":"","Rank":"7"},{"Amt":"25","Type":"Pellet","Use":"DryHop","Min":"0","Day":"0","AA":"12","Ibu":"0","Id":"249890","IngId":"7","Name":"Citra ","CustomName":"","Rank":"8"},{"Amt":"25","Type":"Leaf","Use":"DryHop","Min":"0","Day":"0","AA":"10.5","Ibu":"0","Id":"249891","IngId":"5","Name":"Centennial ","CustomName":"","Rank":"9"}],"Yeasts":[{"Atten":"0.75","Id":"65761","IngId":"2362","Name":"Mangrove Jack\u0027s M36","CustomName":"","Rank":"1"}],"Others":[{"Amt":"0.5","Unit":"each","Use":"Boil","Id":"45511","IngId":"7237","Name":"Protafloc Tablet (Use half) last 15mins of boil","CustomName":"","Rank":"1"}],"MashSteps":[],"Steps":[{"Id":"75170","Rank":"1","Text":"Mash 3 hours. Grain in @ 55C for 15 mins"},{"Id":"75171","Rank":"2","Text":"Then 15 mins @ 60C then up to 66C for 2 hrs 15 mins"},{"Id":"75172","Rank":"3","Text":"Then to 70C for 15 mins"},{"Id":"75173","Rank":"4","Text":"Temp up to 77C then sparge with water at same temp."},{"Id":"75174","Rank":"5","Text":"Boil for 60 mins before first hops added"},{"Id":"75175","Rank":"6","Text":"Protafloc added for last 15 mins. of boil."},{"Id":"75176","Rank":"7","Text":"Other hops added as above"},{"Id":"75177","Rank":"8","Text":"Wort chiller inserted for 2 min in boil to sterilize"},{"Id":"75178","Rank":"9","Text":"Other hops added at flame out."},{"Id":"75180","Rank":"10","Text":"Chilled water passed through wort chiller for 30 mins. (27C)"},{"Id":"75181","Rank":"11","Text":"Made up to 5 gals with cold water."},{"Id":"75182","Rank":"12","Text":"Yeast added at 24C SG 1.050"},{"Id":"75183","Rank":"13","Text":"20 hrs later fermenting well SG 1.042"},{"Id":"75184","Rank":"14","Text":"Racked and dry hopped 3 days later (Oct.12th) SG 1.014"},{"Id":"75185","Rank":"15","Text":"Racked off hops 4days later (Oct 16th) SG 1.0010"},{"Id":"76401","Rank":"16","Text":"Cold crashed for 30 hrs (25th Oct)"},{"Id":"75186","Rank":"17","Text":"Bottled 17 days after brewing SG 1.008 80gms priming Dext."}]}