Best Bitter Recipe - Citra Star Bitter
Best Bitter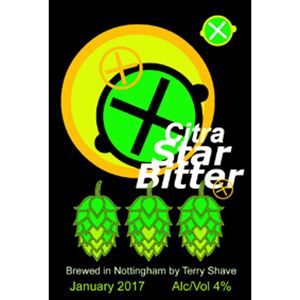 https://brewgr.com/Media/img/r/02/02d1b4f9-5604-4430-9d14-4789431ac7bc_d.jpg
https://brewgr.com/Media/img/r/02/02d1b4f9-5604-4430-9d14-4789431ac7bc_t.jpg
87%
-
Maris Otter Pale - UK
Muntons Muntons Premium Gold
Britewort Kappa Carrageenan tab. Last 10 mins
No mash steps in this recipe
Mash 4 hours. Grain in @ 55C for 1/2 hour
Then 1/2 hr @ 60C then up to 66C for 3 hrs
Temp up to 77C then sparge with water at same temp.
Sugar, and citric acid added just before boiling point
First hops in at boiling. Second for last 10 mins.
Citra pellets in at flame out.
Irish Moss added for last 10 mins. of boil
Wort chiller inserted for 2 min in boil to sterilize
Chilled water passed through wort chiller for 30 mins. (22C)
Made up to 5(UK) gals with cold water.
Yeast added at 20C SG 1.040
40 hrs later fermenting well SG 1.030
3 days later Racked at SG 1.014
11 days after brewing SG1.008
Bottled on 30th Jan (20 days after brewing)
Tasting Notes (
0

)
There aren't any tasting notes logged yet
Citra Star Bitter
Best Bitter
22.71

Gallons

Liters

Batch Size

24.61

Gallons

Liters

Boil Size

90

 min

Boil Time

1.040

OG

1.008

FG

30.7

 IBU (brewgr)

Bitterness

0.76

BG:GU

6.9

° SRM

Color

66%

Efficiency

4.1

% ABV

Alcohol

131

 per 12oz

Calories
Clone This Recipe
Similar Homebrew Recipes
{"RecipeId":34086,"RecipeTypeId":10,"OriginalRecipeId":31554,"UnitType":"m","IbuFormula":"b","CreatedBy":107281,"Name":"Citra Star Bitter","Description":"First brewed 10th Jan 2017 (Ghost Ship attempt)","ImageUrlRoot":"/img/r/02/02d1b4f9-5604-4430-9d14-4789431ac7bc","StyleId":"11B","StyleName":"Best Bitter","BatchSize":22.7125,"BoilSize":24.6052,"BoilTime":90,"Efficiency":0.66,"DateCreated":"\/Date(1484041134460)\/","BrewSessionCount":0,"MostRecentBrewSession":null,"Og":1.0401502195533436,"Fg":1.0080300439106686,"Srm":6.9370129587246749,"Ibu":30.703496121807497,"BgGu":0.76471552243979124,"Abv":4.1435026579050653,"Calories":131,"AverageRating":0,"TastingNoteCount":0,"Fermentables":[{"Per":"87","Amt":"3.8556","Ppg":"38","L":"3","Use":"Mash","Id":"171595","IngId":"15","Name":"Maris Otter Pale - UK","CustomName":"","Rank":"1"},{"Per":"10","Amt":"0.4536","Ppg":"34","L":"30","Use":"Mash","Id":"171596","IngId":"513","Name":"Crystal 30L - UK","CustomName":"","Rank":"2"},{"Per":"3","Amt":"0.1134","Ppg":"32","L":"1","Use":"Mash","Id":"171597","IngId":"94","Name":"Flaked Rice - US","CustomName":"","Rank":"3"}],"Hops":[{"Amt":"20.0006","Type":"Leaf","Use":"Boil","Min":"90","Day":"0","AA":"11","Ibu":"26.8515407626168","Id":"179068","IngId":"47","Name":"Target ","CustomName":"","Rank":"1"},{"Amt":"14.1748","Type":"Leaf","Use":"Boil","Min":"15","Day":"0","AA":"4.8","Ibu":"3.85195535919071","Id":"179069","IngId":"11","Name":"Fuggles","CustomName":"","Rank":"2"},{"Amt":"56.699","Type":"Pellet","Use":"FlameOut","Min":"0","Day":"0","AA":"12","Ibu":"0","Id":"179111","IngId":"7","Name":"Citra ","CustomName":"","Rank":"3"}],"Yeasts":[{"Atten":"0.8","Id":"48505","IngId":"135","Name":"Muntons Muntons Premium Gold","CustomName":"","Rank":"1"}],"Others":[{"Amt":"1","Unit":"ml","Use":"Mash","Id":"32917","IngId":"4360","Name":"Burton water crystals","CustomName":"","Rank":"1"},{"Amt":"1","Unit":"ml","Use":"Boil","Id":"32918","IngId":"3610","Name":"Citric acid","CustomName":"","Rank":"2"},{"Amt":"0","Unit":"each","Use":"Boil","Id":"32945","IngId":"4011","Name":"Britewort Kappa Carrageenan tab. Last 10 mins","CustomName":"","Rank":"3"}],"MashSteps":[],"Steps":[{"Id":"53783","Rank":"1","Text":"Mash 4 hours. Grain in @ 55C for 1/2 hour"},{"Id":"53784","Rank":"2","Text":"Then 1/2 hr @ 60C then up to 66C for 3 hrs"},{"Id":"53785","Rank":"3","Text":"Temp up to 77C then sparge with water at same temp."},{"Id":"53786","Rank":"4","Text":"Sugar, and citric acid added just before boiling point"},{"Id":"53787","Rank":"5","Text":"First hops in at boiling. Second for last 10 mins."},{"Id":"53805","Rank":"6","Text":"Citra pellets in at flame out."},{"Id":"53788","Rank":"7","Text":"Irish Moss added for last 10 mins. of boil"},{"Id":"53789","Rank":"8","Text":"Wort chiller inserted for 2 min in boil to sterilize"},{"Id":"53790","Rank":"9","Text":"Chilled water passed through wort chiller for 30 mins. (22C)"},{"Id":"53791","Rank":"10","Text":"Made up to 5(UK) gals with cold water."},{"Id":"53792","Rank":"11","Text":"Yeast added at 20C SG 1.040"},{"Id":"53793","Rank":"12","Text":"40 hrs later fermenting well SG 1.030"},{"Id":"53794","Rank":"13","Text":"3 days later Racked at SG 1.014"},{"Id":"54748","Rank":"14","Text":"11 days after brewing SG1.008"},{"Id":"53795","Rank":"15","Text":"Bottled on 30th Jan (20 days after brewing)"}]}