Specialty Cider/Perry Recipe - Graff by Brandon O
Specialty Cider/Perry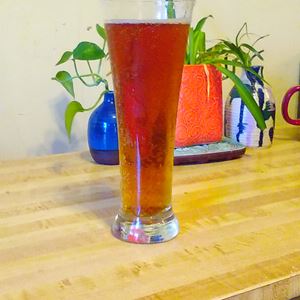 https://brewgr.com/Media/img/r/2d/2de886d9-8ca7-40a8-817e-4c90dbf49128_d.jpg
https://brewgr.com/Media/img/r/2d/2de886d9-8ca7-40a8-817e-4c90dbf49128_t.jpg
Graff by Brandon O
by beardedsphincter on

2/16/2016
Created by user Brandon O at homebrewtalk.com, "graff" is a cider with malts and hops. This recipe is made using apple juice (4 gal), DME, Cascade hops (target 10 IBU's or less - about 0.5oz of 6 AA hops), and US-05 yeast (Nottingham also works). If using "cheap" juice, use 120L Crystal to reduce tartness.
3%
-
Dry Malt Extract - Light - US
3%
-
Dry Malt Extract - Amber
1%
-
Caramel/Crystal 60 - US
93%
-
Apple Juice (8.7 lb / gal)
0%
-
Torrified Wheat - US
No other stuff in this recipe
No mash steps in this recipe
Steep the Crystal and Torrified Wheat in 0.75gal of 155F water for 30 min.
Sparge with 0.25 gal of 170F water. Discard grains.
Bring to boil and add DME (2 lbs) and hops. Boil for 30 min.
Cool wort to pitching temp.
Mix wort and apple juice (4 gal) in fermentor
Ferment for 2 weeks at 64-68F. Keg or bottle.
Tasting Notes (
1

)
Notes:
My wife's favorite homebrew to date. 5 gallons was gone within 2-3 days. My wife likes to drink Angry Orchard, Wyders Reposado, Smith & Forge, Seattle Cider, etc. She prefers "drier" cider. I thought the malt really took some of the bite out of the apple juice without making it too sweet. I used cheap apple juice ($0.99 per 1/2 gallon), so I went with 120L Crystal. I would use a bit more torrified wheat next time for head retention. This could also serve as a good "base" to tinker with. Overall, I enjoyed the taste and was was pleased with how easy it was to make. 10/10 will brew again!
Graff by Brandon O
Specialty Cider/Perry
5.00

Gallons

Liters

Batch Size

1.00

Gallons

Liters

Boil Size

30

min

Boil Time

1.068

OG

1.013

FG

9.4

IBU (tinseth)

Bitterness

0.14

BG:GU

10.3

° SRM

Color

85%

Efficiency

7.1

% ABV

Alcohol

229

per 12oz

Calories
Clone This Recipe
Similar Homebrew Recipes
{"RecipeId":20821,"RecipeTypeId":20,"OriginalRecipeId":null,"UnitType":"s","IbuFormula":"t","CreatedBy":107563,"Name":"Graff by Brandon O","Description":"Created by user Brandon O at homebrewtalk.com, \"graff\" is a cider with malts and hops. This recipe is made using apple juice (4 gal), DME, Cascade hops (target 10 IBU\u0027s or less - about 0.5oz of 6 AA hops), and US-05 yeast (Nottingham also works). If using \"cheap\" juice, use 120L Crystal to reduce tartness.","ImageUrlRoot":"/img/r/2d/2de886d9-8ca7-40a8-817e-4c90dbf49128","StyleId":"C2F","StyleName":"Specialty Cider/Perry","BatchSize":5,"BoilSize":1,"BoilTime":30,"Efficiency":0.85,"DateCreated":"\/Date(1455663284727)\/","BrewSessionCount":1,"MostRecentBrewSession":8044,"Og":1.067945,"Fg":1.01290955,"Srm":10.346416252073642,"Ibu":9.3808352983809424,"BgGu":0.13806513059652592,"Abv":7.09957305,"Calories":229,"AverageRating":4,"TastingNoteCount":5,"Fermentables":[{"Per":"3","Amt":"1","Ppg":"44","L":"8","Use":"Extract","Id":"96315","IngId":"71","Name":"Dry Malt Extract - Light - US","CustomName":"","Rank":"1"},{"Per":"3","Amt":"1","Ppg":"42","L":"10","Use":"Extract","Id":"96328","IngId":"499","Name":"Dry Malt Extract - Amber\r\n","CustomName":"","Rank":"2"},{"Per":"1","Amt":"0.5","Ppg":"36","L":"60","Use":"Steep","Id":"96329","IngId":"42","Name":"Caramel/Crystal 60 - US","CustomName":"","Rank":"3"},{"Per":"93","Amt":"34.8","Ppg":"7","L":"1","Use":"Late","Id":"96331","IngId":"2671","Name":"Apple Juice (8.7 lb / gal)","CustomName":"","Rank":"4"},{"Per":"0","Amt":"0.0625","Ppg":"36","L":"2","Use":"Steep","Id":"96334","IngId":"586","Name":"Torrified Wheat - US","CustomName":"","Rank":"5"}],"Hops":[{"Amt":"0.5","Type":"Pellet","Use":"Boil","Min":"60","Day":"0","AA":"5.8","Ibu":"9.38083529838094","Id":"95224","IngId":"3","Name":"Cascade ","CustomName":"","Rank":"1"}],"Yeasts":[{"Atten":"0.81","Id":"28080","IngId":"253","Name":"Fermentis Safale US-05","CustomName":"","Rank":"1"}],"Others":[],"MashSteps":[],"Steps":[{"Id":"31632","Rank":"1","Text":"Steep the Crystal and Torrified Wheat in 0.75gal of 155F water for 30 min."},{"Id":"31633","Rank":"2","Text":"Sparge with 0.25 gal of 170F water. Discard grains."},{"Id":"31634","Rank":"3","Text":"Bring to boil and add DME (2 lbs) and hops. Boil for 30 min."},{"Id":"31635","Rank":"4","Text":"Cool wort to pitching temp."},{"Id":"31636","Rank":"5","Text":"Mix wort and apple juice (4 gal) in fermentor"},{"Id":"31637","Rank":"6","Text":"Ferment for 2 weeks at 64-68F. Keg or bottle."}]}