Strong Bitter Recipe - Dale the Rail ESB 45
Strong Bitter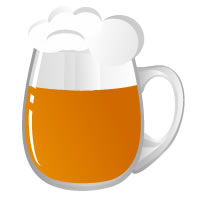 https://brewgr.com/Media/img/mug/10_d.jpg
https://brewgr.com/Media/img/mug/10_t.jpg
Dale the Rail ESB 45
by DaleTheRail on

1/24/2016

The primary grist for the ESB style is typically Pale 2-Row. I substuted Marris Otter for part of the Pale malt for mouth feel. Crystal 60L provides body and color. The Munich malt is for flavor, aroma, and sweetness. I adjusted the ingredients to nail the style 8C. Extra Special Bitter while using even pounds of grain and ounces of hops to avoid waste. I usually use White Labs wlp002 English Ale Yeast, but here it calls for WLP005 British Ale Yeast due to it's slightly higher attenuation needed to hit the FG number. I substituted Willmette hops for Fuggles this time because my local shop was out of Fuggles. There is quite a bit of lattitude with efficiency, you can hit the numbers from 67% to 80%. Batch size is 5.5 gallons to allow for trub loss.


This recipe was cloned from Dale the Rail ESB.
42%
-
Maris Otter Pale - UK
White Labs British Ale WLP005
Use a 10 gallon mash/lauter tun with a clad bottom
Add 4 gallons spring water. I use spring water because our city water tastes bad.
Add grain. Temperature will drop about 7 degrees. Adjust to 122 degrees using heat or cold water as needed.
Sparge about 60 minutes, about 2 minutes per quart. Collect 6.5 gallons.
Tasting Notes (
0

)
There aren't any tasting notes logged yet
Dale the Rail ESB 45
Strong Bitter
5.50

Gallons

Liters

Batch Size

6.50

Gallons

Liters

Boil Size

60

min

Boil Time

1.064

OG

1.017

FG

43.3

IBU (tinseth)

Bitterness

0.68

BG:GU

10.3

° SRM

Color

80%

Efficiency

6.0

% ABV

Alcohol

218

per 12oz

Calories
Clone This Recipe
Similar Homebrew Recipes
Help support Brewgr and buy your ingredients from MoreBeer
Or consider a donation via PayPal
{"RecipeId":18814,"RecipeTypeId":10,"OriginalRecipeId":17983,"UnitType":"s","IbuFormula":"t","CreatedBy":106972,"Name":"Dale the Rail ESB 45","Description":"The primary grist for the ESB style is typically Pale 2-Row. I substuted Marris Otter for part of the Pale malt for mouth feel. Crystal 60L provides body and color. The Munich malt is for flavor, aroma, and sweetness.\nI adjusted the ingredients to nail the style 8C. Extra Special Bitter while using even pounds of grain and ounces of hops to avoid waste.\nI usually use White Labs wlp002 English Ale Yeast, but here it calls for WLP005 British Ale Yeast due to it\u0027s slightly higher attenuation needed to hit the FG number.\nI substituted Willmette hops for Fuggles this time because my local shop was out of Fuggles.\nThere is quite a bit of lattitude with efficiency, you can hit the numbers from 67% to 80%.\nBatch size is 5.5 gallons to allow for trub loss.","ImageUrlRoot":null,"StyleId":"11C","StyleName":"Strong Bitter","BatchSize":5.5,"BoilSize":6.5,"BoilTime":60,"Efficiency":0.8,"DateCreated":"\/Date(1453656434640)\/","BrewSessionCount":0,"MostRecentBrewSession":null,"Og":1.0641454545454545,"Fg":1.0173192727272726,"Srm":10.250931800728498,"Ibu":43.339028810564116,"BgGu":0.67563678701276308,"Abv":6.0405774545454536,"Calories":218,"AverageRating":0,"TastingNoteCount":0,"Fermentables":[{"Per":"42","Amt":"5","Ppg":"36","L":"2","Use":"Mash","Id":"89081","IngId":"126","Name":"Pale 2-Row - UK","CustomName":"","Rank":"1"},{"Per":"42","Amt":"5","Ppg":"38","L":"3","Use":"Mash","Id":"89082","IngId":"15","Name":"Maris Otter Pale - UK","CustomName":"","Rank":"2"},{"Per":"8","Amt":"1","Ppg":"34","L":"60","Use":"Mash","Id":"89083","IngId":"518","Name":"Crystal 60L - UK","CustomName":"","Rank":"3"},{"Per":"8","Amt":"1","Ppg":"37","L":"5","Use":"Mash","Id":"89084","IngId":"20","Name":"Munich - UK","CustomName":"","Rank":"4"}],"Hops":[{"Amt":"2","Type":"Pellet","Use":"Boil","Min":"60","Day":"0","AA":"5","Ibu":"30.4285176438569","Id":"88011","IngId":"64","Name":"Willamette ","CustomName":"","Rank":"1"},{"Amt":"0.5","Type":"Pellet","Use":"Boil","Min":"15","Day":"0","AA":"7.2","Ibu":"5.43553843489315","Id":"88009","IngId":"39","Name":"East Kent Goldings","CustomName":"","Rank":"2"},{"Amt":"0.5","Type":"Pellet","Use":"Boil","Min":"15","Day":"0","AA":"5","Ibu":"3.7746794686758","Id":"88012","IngId":"64","Name":"Willamette ","CustomName":"","Rank":"3"},{"Amt":"0.5","Type":"Pellet","Use":"Boil","Min":"5","Day":"0","AA":"5","Ibu":"1.5165136324337","Id":"88013","IngId":"64","Name":"Willamette ","CustomName":"","Rank":"4"},{"Amt":"0.5","Type":"Pellet","Use":"Boil","Min":"5","Day":"0","AA":"7.2","Ibu":"2.18377963070453","Id":"88010","IngId":"39","Name":"East Kent Goldings","CustomName":"","Rank":"5"}],"Yeasts":[{"Atten":"0.73","Id":"25521","IngId":"159","Name":"White Labs British Ale WLP005","CustomName":"","Rank":"1"}],"Others":[{"Amt":"0","Unit":"each","Use":"Boil","Id":"17013","IngId":"14","Name":"Irish Moss","CustomName":"","Rank":"1"},{"Amt":"6","Unit":"gal","Use":"Mash","Id":"17014","IngId":"3417","Name":"Spring water","CustomName":"","Rank":"2"}],"MashSteps":[{"Heat":"Direct Heat","Temp":"122","Time":"45","Id":"10869","IngId":"8","Name":"Protein Rest","CustomName":"","Rank":"1"},{"Heat":"Direct Heat","Temp":"147","Time":"60","Id":"10870","IngId":"9","Name":"Saccharification Rest","CustomName":"","Rank":"2"},{"Heat":"Direct Heat","Temp":"162","Time":"20","Id":"10871","IngId":"9","Name":"Saccharification Rest","CustomName":"","Rank":"3"},{"Heat":"Direct Heat","Temp":"170","Time":"15","Id":"10872","IngId":"7","Name":"Mash-Out","CustomName":"","Rank":"4"}],"Steps":[{"Id":"28586","Rank":"1","Text":"Use a 10 gallon mash/lauter tun with a clad bottom"},{"Id":"28587","Rank":"2","Text":"Add 4 gallons spring water. I use spring water because our city water tastes bad."},{"Id":"28588","Rank":"3","Text":"Heat to 127 degrees."},{"Id":"28589","Rank":"4","Text":"Add grain. Temperature will drop about 7 degrees. Adjust to 122 degrees using heat or cold water as needed."},{"Id":"28590","Rank":"5","Text":"Follow mash steps"},{"Id":"28591","Rank":"6","Text":"Sparge about 60 minutes, about 2 minutes per quart. Collect 6.5 gallons."}]}