Belgian Tripel Recipe - Duvel Clone - Extract 10L
Belgian Tripel
Recipe Info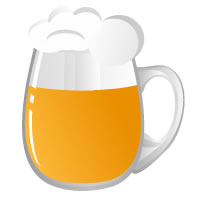 https://brewgr.com/Media/img/mug/6_d.jpg
https://brewgr.com/Media/img/mug/6_t.jpg
Duvel Clone - Extract 10L
by BKKBrewer on

12/29/2015
This recipe is based on Wes Martin's "The Devil's Acquaintance" at http://www.greatfermentations.com/belgian-golden-strong-recipe/ I substituted Willamette instead of Styrian Goldings, because I forgot to buy and that's what I had...
Fermentables
%
kg
fermentable
ppg

L

usage

10%

0.2268

Pale Ale - BE

38
3°
Steep

69%

1.5876

Dry Malt Extract - Light - US

44
5°
Extract

22%

0.5

Belgian Clear Candi Sugar - BE

36
1°
Late
2.3144 kg
Hops
g
variety
type
usage
time
AA

IBU

14

Saaz

Pellet
Boil
30 minutes
3.8
8.1
27

Willamette

Pellet
Boil
60 minutes
5.0
26.7
41 g
IBUs calculated using the Tinseth formula
Hop Summary
g
variety
type
AA
14

Saaz

Pellet
3.8
27

Willamette

Pellet
5.0
41 g
Yeast
name
attenuation

Mangrove Jack's Belgian Ale Yeast M27

85%
Other Stuff
amount
unit
name
usage
0.5
each

Whirlfloc

Flame Out
0
each

Yeast Nutrient

Flame Out
Mash Steps
No Mash Steps in this Recipe
Special Instructions
Steep malt at 150-155F for 30 minutes, then rinse and drain
Dissolve DME and commence 90 minute boil
Add Candi in the last 15 minutes of the boil and dissolve.
Chill to 64F, pitch yeast, and allow to raise to 82F over the course of 5 days.
Ferment at 82F for 2 weeks.
Then cold crash and lager at 32F for 3 weeks before bottling.
Tasting Notes (
1

)
Tasted on 4/16/2016 by BKKBrewer
Notes:
Overall very pleased with this. This is my first Belgian Tripel and it definitely comes close to commercial Belgians I've had in terms of aroma and taste. The alcohol taste is quite heavy (expected at almost 9%!), but I think a little more time conditioning should mellow help this a bit more. I'll be back for another sample in a few weeks...
{"RecipeId":17827,"RecipeTypeId":20,"OriginalRecipeId":17537,"UnitType":"m","IbuFormula":"t","CreatedBy":104375,"Name":"Duvel Clone - Extract 10L","Description":"This recipe is based on Wes Martin\u0027s \"The Devil\u0027s Acquaintance\" at http://www.greatfermentations.com/belgian-golden-strong-recipe/\n\nI substituted Willamette instead of Styrian Goldings, because I forgot to buy and that\u0027s what I had...","ImageUrlRoot":null,"StyleId":"26C","StyleName":"Belgian Tripel","BatchSize":10.2,"BoilSize":15,"BoilTime":90,"Efficiency":0.75,"DateCreated":"\/Date(1451376792937)\/","BrewSessionCount":1,"MostRecentBrewSession":4507,"Og":1.0754053703870294,"Fg":1.0113108055580544,"Srm":5.9619961917032569,"Ibu":34.825129836045235,"BgGu":0.46183885388136153,"Abv":8.2681988629377816,"Calories":255,"AverageRating":4,"TastingNoteCount":1,"Fermentables":[{"Per":"10","Amt":"0.2268","Ppg":"38","L":"3","Use":"Steep","Id":"83816","IngId":"567","Name":"Pale Ale - BE","CustomName":"","Rank":"1"},{"Per":"69","Amt":"1.5876","Ppg":"44","L":"5","Use":"Extract","Id":"83407","IngId":"71","Name":"Dry Malt Extract - Light - US","CustomName":"","Rank":"2"},{"Per":"22","Amt":"0.5","Ppg":"36","L":"1","Use":"Late","Id":"83408","IngId":"85","Name":"Belgian Clear Candi Sugar - BE","CustomName":"","Rank":"3"}],"Hops":[{"Amt":"14","Type":"Pellet","Use":"Boil","Min":"30","Day":"0","AA":"3.8","Ibu":"8.09528551208917","Id":"82038","IngId":"27","Name":"Saaz ","CustomName":"","Rank":"1"},{"Amt":"27","Type":"Pellet","Use":"Boil","Min":"60","Day":"0","AA":"5","Ibu":"26.7298443239561","Id":"83080","IngId":"64","Name":"Willamette ","CustomName":"","Rank":"2"}],"Yeasts":[{"Atten":"0.85","Id":"24067","IngId":"1017","Name":"Mangrove Jack\u0027s Belgian Ale Yeast M27","CustomName":"","Rank":"1"}],"Others":[{"Amt":"0.5","Unit":"each","Use":"FlameOut","Id":"15878","IngId":"1701","Name":"Whirlfloc","CustomName":"","Rank":"1"},{"Amt":"0","Unit":"each","Use":"FlameOut","Id":"15879","IngId":"29","Name":"Yeast Nutrient","CustomName":"","Rank":"2"}],"MashSteps":[],"Steps":[{"Id":"27985","Rank":"1","Text":"Steep malt at 150-155F for 30 minutes, then rinse and drain"},{"Id":"26674","Rank":"2","Text":"Dissolve DME and commence 90 minute boil"},{"Id":"27986","Rank":"3","Text":"Add Candi in the last 15 minutes of the boil and dissolve."},{"Id":"26675","Rank":"4","Text":"Chill to 64F, pitch yeast, and allow to raise to 82F over the course of 5 days."},{"Id":"26676","Rank":"5","Text":"Ferment at 82F for 2 weeks."},{"Id":"26677","Rank":"6","Text":"Then cold crash and lager at 32F for 3 weeks before bottling."}]}