American Brown Ale Recipe - Buddy's Brown
American Brown Ale
Recipe Info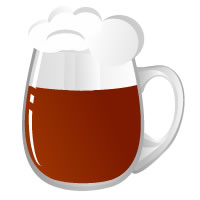 https://brewgr.com/Media/img/mug/22_d.jpg
https://brewgr.com/Media/img/mug/22_t.jpg
Fermentables
%
lb
fermentable
ppg

L

usage

67%

7

2-Row - US

36
2°
Mash

14%

1.5

Briess Munich 10L

34
10°
Mash

5%

0.5

Caramel/Crystal 90 - US

35
90°
Mash

5%

0.5

Caramel/Crystal 120 - US

35
120°
Mash

4%

0.375

Chocolate Malt - US

34
350°
Mash

5%

0.5

Flaked Wheat - US

35
2°
Mash
10.375 lb
Hops
oz
variety
type
usage
time
AA

IBU

1

Mt. Hood

Pellet
Boil
10 minutes
6.0
8.3
0.4

Nugget

Pellet
Boil
60 minutes
13.3
20.2
1.4 oz
IBUs calculated using the Brewgr formula
Hop Summary
oz
variety
type
AA
1

Mt. Hood

Pellet
6.0
0.4

Nugget

Pellet
13.3
1.4 oz
Yeast
name
attenuation

Wyeast American Ale 1056

75%
Other Stuff
amount
unit
name
usage
1
each

Irish Moss

Boil
Mash Steps
No Mash Steps in this Recipe
Special Instructions
Mash in with 3.8 gal of 165 deg strike water for a mash temp of 151-153. Hold for 1 hr.
Vorlauf/recirculate 15 min, then pull first runnings to boil pot.
Begin sparge when water level is 1-2" above grain bed. Boil volume should be ~7.5 gal. Boil for 90 min, cool and add to fermenter.
Tasting Notes (
0

)
There aren't any tasting notes logged yet
{"RecipeId":1161,"RecipeTypeId":10,"OriginalRecipeId":null,"UnitType":"s","IbuFormula":"b","CreatedBy":100499,"Name":"Buddy\u0027s Brown","Description":"American Brown Ale","ImageUrlRoot":null,"StyleId":"19C","StyleName":"American Brown Ale","BatchSize":5.5,"BoilSize":7.5,"BoilTime":90,"Efficiency":0.8,"DateCreated":"\/Date(1372890534053)\/","BrewSessionCount":0,"MostRecentBrewSession":null,"Og":1.0535636363636365,"Fg":1.013390909090909,"Srm":21.7,"Ibu":28.518586051200007,"BgGu":0.53242438316904173,"Abv":5.1822818181818189,"Calories":179,"AverageRating":0,"TastingNoteCount":0,"Fermentables":[{"Per":"67","Amt":"7","Ppg":"36","L":"2","Use":"Mash","Id":"5041","IngId":"3","Name":"2-Row - US","CustomName":"","Rank":"1"},{"Per":"14","Amt":"1.5","Ppg":"34","L":"10","Use":"Mash","Id":"5043","IngId":"171","Name":"Briess Munich 10L","CustomName":"","Rank":"2"},{"Per":"5","Amt":"0.5","Ppg":"35","L":"90","Use":"Mash","Id":"5044","IngId":"45","Name":"Caramel/Crystal 90 - US","CustomName":"","Rank":"3"},{"Per":"5","Amt":"0.5","Ppg":"35","L":"120","Use":"Mash","Id":"5045","IngId":"46","Name":"Caramel/Crystal 120 - US","CustomName":"","Rank":"4"},{"Per":"4","Amt":"0.375","Ppg":"34","L":"350","Use":"Mash","Id":"5046","IngId":"53","Name":"Chocolate Malt - US","CustomName":"","Rank":"5"},{"Per":"5","Amt":"0.5","Ppg":"35","L":"2","Use":"Mash","Id":"5060","IngId":"96","Name":"Flaked Wheat - US","CustomName":"","Rank":"6"}],"Hops":[{"Amt":"1","Type":"Pellet","Use":"Boil","Min":"10","Day":"0","AA":"6","Ibu":"8.3","Id":"4420","IngId":"20","Name":"Mt. Hood ","CustomName":"","Rank":"1"},{"Amt":"0.4","Type":"Pellet","Use":"Boil","Min":"60","Day":"0","AA":"13.3","Ibu":"20.2","Id":"4430","IngId":"24","Name":"Nugget ","CustomName":"","Rank":"2"}],"Yeasts":[{"Atten":"0.75","Id":"1288","IngId":"193","Name":"Wyeast American Ale 1056","CustomName":"","Rank":"1"}],"Others":[{"Amt":"1","Unit":"each","Use":"Boil","Id":"863","IngId":"14","Name":"Irish Moss","CustomName":"","Rank":"1"}],"MashSteps":[],"Steps":[{"Id":"1867","Rank":"1","Text":"Mash in with 3.8 gal of 165 deg strike water for a mash temp of 151-153. Hold for 1 hr."},{"Id":"1868","Rank":"2","Text":"Vorlauf/recirculate 15 min, then pull first runnings to boil pot."},{"Id":"1869","Rank":"3","Text":"Begin sparge when water level is 1-2\" above grain bed. Boil volume should be ~7.5 gal. Boil for 90 min, cool and add to fermenter."}]}