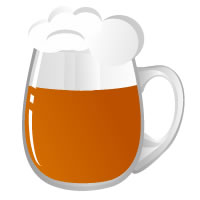 https://brewgr.com/Media/img/mug/13_d.jpg
https://brewgr.com/Media/img/mug/13_t.jpg
Irish Red Ale NB
by Zippy on

5/25/2023
Adapted from Northern Brewer Irish Red Ale kit. First "non-kit" batch trying 0.5 lb Briess Carapils Copper Malt instead of 0.5 Briess Carapils.
5%
-
Briess Carapils Copper Malt
3%
-
Briess Special Roast
1%
-
Thomas Fawcett Pale Chocolate Malt
0%
-
Briess Carapils Malt
21%
-
Dry Malt Extract - Pilsen - US
69%
-
Liquid Malt Extract - Briess Golden Light
LalBrew Nottingham Ale Dry Yeast
No mash steps in this recipe
Add 3 gallons cold water to brew pot and heat to 165 deg.
Remove heat, add steeping grains (in grain bag) and let stand covered 30 minutes.
Remove and drain grain bag and heat to boiling.
Boil 150 ml water (covered with foil) for 5 minutes (for rehydrating yeast). Let cool to 70-80 deg.
At boiling, remove heat and and fully dissolve all DME.
Bring to boil; start :60 timer & follow hops schedule.
At :15 turn off heat, add the Irish Moss and all remaining fermentables. Return heat.
At flame-out, chill wort to about 80 deg. Rehydrate yeast.
Add 2 1/2 gal cold water to primary and rack or pour wort into primary. Add water if needed to achieve final volume.
Mix wort with sanitized spoon, shake to aerate. Take and record OG.
Pitch rehydrated yeast; primary at 68-75 deg until fermentation is complete (1-2 weeks).
Rack to secondary and allow 1 week in secondary.
For bottle carbonation: Add 120 g corn sugar to 500 ml water and boil for 5 min. Chill to room temp.
Bottle and condition at 68-72 deg for 2-3 weeks until carbonated. Once carbonated, store at 58-62.
Tasting Notes (
0

)
There aren't any tasting notes logged yet
5.50

Gallons

Liters

Batch Size

3.00

Gallons

Liters

Boil Size

60

 min

Boil Time

1.069

OG

1.014

FG

26.5

 IBU (tinseth)

Bitterness

0.39

BG:GU

12.8

° SRM

Color

75%

Efficiency

7.1

% ABV

Alcohol

232

 per 12oz

Calories
Clone This Recipe
Similar Homebrew Recipes
{"RecipeId":108671,"RecipeTypeId":20,"OriginalRecipeId":null,"UnitType":"s","IbuFormula":"t","CreatedBy":131042,"Name":"Irish Red Ale NB","Description":"Adapted from Northern Brewer Irish Red Ale kit. \n\nFirst \"non-kit\" batch trying 0.5 lb Briess Carapils Copper Malt instead of 0.5 Briess Carapils. ","ImageUrlRoot":null,"StyleId":null,"StyleName":null,"BatchSize":5.5,"BoilSize":3,"BoilTime":60,"Efficiency":0.75,"DateCreated":"\/Date(1685025237513)\/","BrewSessionCount":1,"MostRecentBrewSession":19123,"Og":1.068740909090909,"Fg":1.0137481818181817,"Srm":12.752232240925874,"Ibu":26.491339274629823,"BgGu":0.38537953054410945,"Abv":7.0940618181818191,"Calories":232,"AverageRating":0,"TastingNoteCount":0,"Fermentables":[{"Per":"5","Amt":"0.5","Ppg":"34","L":"30","Use":"Steep","Id":"589590","IngId":"11488","Name":"Briess Carapils Copper Malt","CustomName":"","Rank":"2"},{"Per":"3","Amt":"0.25","Ppg":"34","L":"50","Use":"Steep","Id":"583994","IngId":"11402","Name":"Briess Special Roast","CustomName":"","Rank":"4"},{"Per":"1","Amt":"0.125","Ppg":"34","L":"28","Use":"Steep","Id":"583995","IngId":"35","Name":"Victory Malt - US","CustomName":"","Rank":"6"},{"Per":"1","Amt":"0.125","Ppg":"32","L":"180","Use":"Steep","Id":"583996","IngId":"11350","Name":"Thomas Fawcett Pale Chocolate Malt","CustomName":"","Rank":"8"},{"Per":"0","Amt":"0","Ppg":"34","L":"2","Use":"Steep","Id":"589591","IngId":"11401","Name":"Briess Carapils Malt","CustomName":"","Rank":"10"},{"Per":"21","Amt":"2","Ppg":"42","L":"2","Use":"Extract","Id":"589592","IngId":"529","Name":"Dry Malt Extract - Pilsen - US","CustomName":"","Rank":"12"},{"Per":"69","Amt":"6.6","Ppg":"42","L":"10","Use":"Extract","Id":"584008","IngId":"11352","Name":"Liquid Malt Extract - Briess Golden Light","CustomName":"","Rank":"14"}],"Hops":[{"Amt":"1","Type":"Pellet","Use":"Boil","Min":"60","Day":"0","AA":"5","Ibu":"14.5987048231984","Id":"601805","IngId":"64","Name":"Willamette ","CustomName":"","Rank":"2"},{"Amt":"1","Type":"Pellet","Use":"Boil","Min":"30","Day":"0","AA":"5.3","Ibu":"11.8926344514315","Id":"601806","IngId":"35","Name":"Styrian Goldings","CustomName":"","Rank":"4"}],"Yeasts":[{"Atten":"0.8","Id":"161669","IngId":"8664","Name":"LalBrew Nottingham Ale Dry Yeast","CustomName":"","Rank":"1"}],"Others":[{"Amt":"1","Unit":"tsp","Use":"Boil","Id":"105813","IngId":"14","Name":"Irish Moss","CustomName":"","Rank":"1"}],"MashSteps":[],"Steps":[{"Id":"182765","Rank":"1","Text":"Add 3 gallons cold water to brew pot and heat to 165 deg."},{"Id":"185731","Rank":"2","Text":"Remove heat, add steeping grains (in grain bag) and let stand covered 30 minutes."},{"Id":"182767","Rank":"3","Text":"Remove and drain grain bag and heat to boiling."},{"Id":"182766","Rank":"4","Text":"Boil 150 ml water (covered with foil) for 5 minutes (for rehydrating yeast). Let cool to 70-80 deg."},{"Id":"182768","Rank":"5","Text":"At boiling, remove heat and and fully dissolve all DME."},{"Id":"182769","Rank":"6","Text":"Bring to boil; start :60 timer \u0026 follow hops schedule."},{"Id":"182772","Rank":"7","Text":"At :15 turn off heat, add the Irish Moss and all remaining fermentables. Return heat."},{"Id":"182773","Rank":"8","Text":"At flame-out, chill wort to about 80 deg. Rehydrate yeast."},{"Id":"182774","Rank":"9","Text":"Add 2 1/2 gal cold water to primary and rack or pour wort into primary. Add water if needed to achieve final volume."},{"Id":"182775","Rank":"10","Text":"Mix wort with sanitized spoon, shake to aerate. Take and record OG."},{"Id":"182776","Rank":"11","Text":"Pitch rehydrated yeast; primary at 68-75 deg until fermentation is complete (1-2 weeks)."},{"Id":"185732","Rank":"12","Text":"Rack to secondary and allow 1 week in secondary."},{"Id":"182778","Rank":"13","Text":"For bottle carbonation: Add 120 g corn sugar to 500 ml water and boil for 5 min. Chill to room temp."},{"Id":"182779","Rank":"14","Text":"Bottle and condition at 68-72 deg for 2-3 weeks until carbonated. Once carbonated, store at 58-62."}]}