Altbier Recipe - In Bloom Alt
Altbier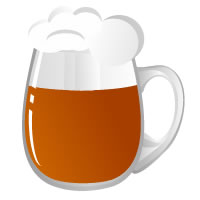 https://brewgr.com/Media/img/mug/15_d.jpg
https://brewgr.com/Media/img/mug/15_t.jpg
In Bloom Alt
by BrewGoblin on

5/6/2015
All Grain Altbier homebrew recipe. This homebrew recipe uses the following ingredients: Pilsner - DE, Vienna - UK, Munich Light - DE, Caramel/Crystal 120 - US, Melanoidin Malt - US, Carapils - DE, Carafa I - DE, Magnum Hops, Tradition Hops, German Spalt Select Hops, Fermentis Safale US-05 Homebrew Yeast.
3%
-
Caramel/Crystal 120 - US
5%
-
Melanoidin Malt - US
No other stuff in this recipe
No mash steps in this recipe
No special instructions in this recipe
Tasting Notes (
1

)
Tasted on 7/2/2015 by BrewGoblin
Notes:
36 days after bottling, it has been in the fridge for about a week or so and in the cellar for 4 days. It's pretty clear and spot on for colour, a dark amber with a really great and lasting head that is off-white. A whiff greets me whiff earthy, floral and spicy Spalt hop goodness along with a sweet toasty and lightly caramel maltiness. I love this beer, the bitterness is there to back up the extra malt flavour from the Melanoidin and everything intermingles extremely well. I got Hogie to try this and he seemed to enjoy it but said it was more malt forward than he is used to. I am happy he reviewed it. All in all this might be my favourite "everyday" beer I have made. Both the hop and malt flavours linger, the Melanoidin really showing through but not sticking out. Malt richness balanced by hop bitterness.
5.50

Gallons

Liters

Batch Size

7.00

Gallons

Liters

Boil Size

90

min

Boil Time

1.051

OG

1.010

FG

45.7

IBU (tinseth)

Bitterness

0.89

BG:GU

14.8

° SRM

Color

70%

Efficiency

5.4

% ABV

Alcohol

169

per 12oz

Calories
Clone This Recipe
Similar Homebrew Recipes
{"RecipeId":9600,"RecipeTypeId":10,"OriginalRecipeId":null,"UnitType":"s","IbuFormula":"t","CreatedBy":101865,"Name":"In Bloom Alt","Description":"","ImageUrlRoot":null,"StyleId":"7B","StyleName":"Altbier","BatchSize":5.5,"BoilSize":7,"BoilTime":90,"Efficiency":0.7,"DateCreated":"\/Date(1430944232237)\/","BrewSessionCount":0,"MostRecentBrewSession":null,"Og":1.0512781818181818,"Fg":1.0097428545454545,"Srm":14.800021492073091,"Ibu":45.706097777940457,"BgGu":0.89133616203479316,"Abv":5.3580572181818171,"Calories":169,"AverageRating":5,"TastingNoteCount":1,"Fermentables":[{"Per":"55","Amt":"6","Ppg":"38","L":"1","Use":"Mash","Id":"41795","IngId":"575","Name":"Pilsner - DE","CustomName":"","Rank":"1"},{"Per":"20","Amt":"2.2","Ppg":"35","L":"4","Use":"Mash","Id":"41796","IngId":"589","Name":"Vienna - UK","CustomName":"","Rank":"2"},{"Per":"11","Amt":"1.2","Ppg":"37","L":"6","Use":"Mash","Id":"41797","IngId":"560","Name":"Munich Light - DE","CustomName":"","Rank":"3"},{"Per":"3","Amt":"0.3","Ppg":"35","L":"120","Use":"Mash","Id":"41799","IngId":"46","Name":"Caramel/Crystal 120 - US","CustomName":"","Rank":"4"},{"Per":"5","Amt":"0.5","Ppg":"37","L":"20","Use":"Mash","Id":"41800","IngId":"28","Name":"Melanoidin Malt - US","CustomName":"","Rank":"5"},{"Per":"5","Amt":"0.5","Ppg":"33","L":"2","Use":"Mash","Id":"41871","IngId":"11","Name":"Carapils - DE","CustomName":"","Rank":"6"},{"Per":"2","Amt":"0.25","Ppg":"32","L":"337","Use":"Mash","Id":"42167","IngId":"52","Name":"Carafa I - DE","CustomName":"","Rank":"7"}],"Hops":[{"Amt":"0.5","Type":"Pellet","Use":"Boil","Min":"60","Day":"0","AA":"13.8","Ibu":"23.569589020235","Id":"40807","IngId":"18","Name":"Magnum ","CustomName":"","Rank":"1"},{"Amt":"0.5","Type":"Pellet","Use":"Boil","Min":"30","Day":"0","AA":"6.7","Ibu":"8.79438761615052","Id":"40808","IngId":"83","Name":"Tradition ","CustomName":"","Rank":"2"},{"Amt":"0.25","Type":"Pellet","Use":"Boil","Min":"20","Day":"0","AA":"6.7","Ibu":"3.46506470116117","Id":"40809","IngId":"83","Name":"Tradition ","CustomName":"","Rank":"3"},{"Amt":"0.25","Type":"Pellet","Use":"Boil","Min":"10","Day":"0","AA":"6.7","Ibu":"2.07449147807644","Id":"40810","IngId":"83","Name":"Tradition ","CustomName":"","Rank":"4"},{"Amt":"1","Type":"Pellet","Use":"Boil","Min":"10","Day":"0","AA":"6.3","Ibu":"7.80256496231734","Id":"41277","IngId":"282","Name":"German Spalt Select","CustomName":"","Rank":"5"},{"Amt":"1","Type":"Pellet","Use":"Boil","Min":"0","Day":"0","AA":"6.3","Ibu":"0","Id":"41278","IngId":"282","Name":"German Spalt Select","CustomName":"","Rank":"6"}],"Yeasts":[{"Atten":"0.81","Id":"12427","IngId":"253","Name":"Fermentis Safale US-05","CustomName":"","Rank":"1"}],"Others":[],"MashSteps":[],"Steps":[]}