American Pale Ale Recipe - Every hop NE PA
American Pale Ale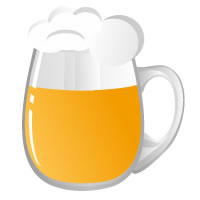 https://brewgr.com/Media/img/mug/5_d.jpg
https://brewgr.com/Media/img/mug/5_t.jpg
Every hop NE PA
by joelw85 on

4/1/2020

All Grain American Pale Ale homebrew recipe. This homebrew recipe uses the following ingredients: Wheat Malt - DE, Pilsner - BE, Carapils - DE, Pale 2-Row - UK, Hallertauer Aroma (NZ) Hops, Columbus Hops, Cascade Hops, Centennial Hops, Motueka Hops, Moutere Hops, Taiheke Hops, Riwaka Hops, Mosaic Hops, Nelson Sauvin Hops, Wyeast American Wheat 1010 Homebrew Yeast.


This recipe was cloned from Kiwi Wheat DDH.
Wyeast American Wheat 1010
No other stuff in this recipe
No mash steps in this recipe
No special instructions in this recipe
Tasting Notes (
1

)
Tasted on 6/20/2020 by joelw85
Notes:
This came out well, nice and hoppy but not totally saturated. Not juicy but a little dank, more bitter than the ibus suggest. A good blend of NZ and US hop flavours. The wheat keeps this refreshing but not a heatwave beer. The yeast combo adds a touch of clove and a bready character which is good for a summer ale but might be better all around beer with 1318 or conan, or maybe liberty bell.
Every hop NE PA
American Pale Ale
15.00

Gallons

Liters

Batch Size

17.00

Gallons

Liters

Boil Size

60

 min

Boil Time

1.058

OG

1.013

FG

31.1

 IBU (tinseth)

Bitterness

0.54

BG:GU

5.1

° SRM

Color

62%

Efficiency

5.8

% ABV

Alcohol

194

 per 12oz

Calories
Clone This Recipe
Similar Homebrew Recipes
{"RecipeId":81770,"RecipeTypeId":10,"OriginalRecipeId":73753,"UnitType":"m","IbuFormula":"t","CreatedBy":117636,"Name":"Every hop NE PA","Description":"","ImageUrlRoot":null,"StyleId":"18B","StyleName":"American Pale Ale","BatchSize":15,"BoilSize":17,"BoilTime":60,"Efficiency":0.62,"DateCreated":"\/Date(1585739771753)\/","BrewSessionCount":1,"MostRecentBrewSession":16262,"Og":1.058105128325485,"Fg":1.0127831282316067,"Srm":5.1350109495521972,"Ibu":31.118399969150115,"BgGu":0.53555341612594887,"Abv":5.8465380121102912,"Calories":194,"AverageRating":4,"TastingNoteCount":1,"Fermentables":[{"Per":"32","Amt":"1.5","Ppg":"37","L":"2","Use":"Mash","Id":"435512","IngId":"590","Name":"Wheat Malt - DE","CustomName":"","Rank":"2"},{"Per":"32","Amt":"1.5","Ppg":"36","L":"2","Use":"Mash","Id":"435513","IngId":"5","Name":"Pilsner - BE","CustomName":"","Rank":"4"},{"Per":"3","Amt":"0.15","Ppg":"33","L":"2","Use":"Mash","Id":"447364","IngId":"11","Name":"Carapils - DE","CustomName":"","Rank":"4"},{"Per":"32","Amt":"1.5","Ppg":"36","L":"3","Use":"Mash","Id":"445712","IngId":"126","Name":"Pale 2-Row - UK","CustomName":"","Rank":"6"}],"Hops":[{"Amt":"15","Type":"Pellet","Use":"FirstWort","Min":"60","Day":"0","AA":"9.1","Ibu":"21.4698310328464","Id":"460720","IngId":"9226","Name":"Hallertauer Aroma (NZ)","CustomName":"","Rank":"2"},{"Amt":"7","Type":"Pellet","Use":"Boil","Min":"10","Day":"0","AA":"15","Ibu":"5.9879642508465","Id":"460721","IngId":"9","Name":"Columbus ","CustomName":"","Rank":"4"},{"Amt":"14","Type":"Pellet","Use":"Boil","Min":"1","Day":"0","AA":"5.8","Ibu":"0.550752455918339","Id":"460722","IngId":"3","Name":"Cascade ","CustomName":"","Rank":"6"},{"Amt":"14","Type":"Pellet","Use":"Boil","Min":"1","Day":"0","AA":"10.5","Ibu":"0.997051859852166","Id":"460723","IngId":"5","Name":"Centennial ","CustomName":"","Rank":"8"},{"Amt":"7","Type":"Pellet","Use":"Boil","Min":"1","Day":"0","AA":"7","Ibu":"0.332350619950722","Id":"471451","IngId":"86","Name":"Motueka ","CustomName":"","Rank":"10"},{"Amt":"7","Type":"Pellet","Use":"Boil","Min":"1","Day":"0","AA":"17","Ibu":"0.807137219880325","Id":"460724","IngId":"7980","Name":"Moutere","CustomName":"","Rank":"12"},{"Amt":"15","Type":"Pellet","Use":"Boil","Min":"1","Day":"0","AA":"7","Ibu":"0.712179899894405","Id":"471453","IngId":"9211","Name":"Taiheke","CustomName":"","Rank":"14"},{"Amt":"7","Type":"Pellet","Use":"Boil","Min":"1","Day":"0","AA":"5.5","Ibu":"0.261132629961282","Id":"471454","IngId":"141","Name":"Riwaka","CustomName":"","Rank":"16"},{"Amt":"14","Type":"Pellet","Use":"DryHop","Min":"0","Day":"7","AA":"10.5","Ibu":"0","Id":"460725","IngId":"5","Name":"Centennial ","CustomName":"","Rank":"18"},{"Amt":"20","Type":"Pellet","Use":"DryHop","Min":"0","Day":"2","AA":"0","Ibu":"0","Id":"473586","IngId":"9211","Name":"Taiheke","CustomName":"","Rank":"19"},{"Amt":"14","Type":"Pellet","Use":"DryHop","Min":"0","Day":"7","AA":"5.8","Ibu":"0","Id":"460726","IngId":"3","Name":"Cascade ","CustomName":"","Rank":"20"},{"Amt":"7","Type":"Pellet","Use":"DryHop","Min":"0","Day":"7","AA":"17","Ibu":"0","Id":"460727","IngId":"7980","Name":"Moutere","CustomName":"","Rank":"22"},{"Amt":"7","Type":"Pellet","Use":"DryHop","Min":"0","Day":"7","AA":"12.7","Ibu":"0","Id":"460728","IngId":"167","Name":"Mosaic","CustomName":"","Rank":"24"},{"Amt":"7","Type":"Pellet","Use":"DryHop","Min":"0","Day":"7","AA":"11.3","Ibu":"0","Id":"471455","IngId":"99","Name":"Nelson Sauvin","CustomName":"","Rank":"26"},{"Amt":"14","Type":"Pellet","Use":"DryHop","Min":"0","Day":"7","AA":"5.5","Ibu":"0","Id":"471456","IngId":"141","Name":"Riwaka","CustomName":"","Rank":"28"},{"Amt":"15","Type":"Pellet","Use":"DryHop","Min":"0","Day":"7","AA":"0","Ibu":"0","Id":"471457","IngId":"9211","Name":"Taiheke","CustomName":"","Rank":"30"},{"Amt":"14","Type":"Pellet","Use":"DryHop","Min":"0","Day":"2","AA":"5.8","Ibu":"0","Id":"460729","IngId":"3","Name":"Cascade ","CustomName":"","Rank":"32"},{"Amt":"7","Type":"Pellet","Use":"DryHop","Min":"0","Day":"2","AA":"12.7","Ibu":"0","Id":"460730","IngId":"167","Name":"Mosaic","CustomName":"","Rank":"34"},{"Amt":"14","Type":"Pellet","Use":"DryHop","Min":"0","Day":"2","AA":"17","Ibu":"0","Id":"460731","IngId":"7980","Name":"Moutere","CustomName":"","Rank":"36"}],"Yeasts":[{"Atten":"0.78","Id":"120961","IngId":"196","Name":"Wyeast American Wheat 1010","CustomName":"","Rank":"1"}],"Others":[],"MashSteps":[],"Steps":[]}