English IPA Recipe - One Eye - IPA
English IPA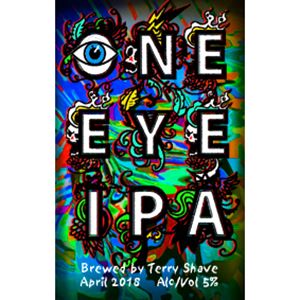 https://brewgr.com/Media/img/r/bc/bc114f9c-0623-4198-9df7-12330e643fa5_d.jpg
https://brewgr.com/Media/img/r/bc/bc114f9c-0623-4198-9df7-12330e643fa5_t.jpg
62%
-
Maris Otter Pale - UK
12%
-
Floor-Malted Bohemian Pilsner - DE
1%
-
Chocolate Rye Malt - DE
Britewort Kappa Carrageenan tab. Last 10 mins
No mash steps in this recipe
Mash 1.25 hours. Grain in @ 66C for 1 hour
Then 1/4 hour @ 70C then up to 77C
Wort recirculated through the grain bed x3 then run off
Bring to boil then hops in as above
Britewort added for last 10 mins. of boil.
Wort chiller inserted for 2 min in boil to sterilize
Final hops in at flame out (At 80C)
Chilled water passed through wort chiller for 25 mins. (26C)
Yeast added at 24C SG 1.052
(Yeast collected from Four Hops Amber Ale brew and saved)
First dry hops added at High Krausen 2 days after brewing.
Racked 3 days after brewing. 2nd Dry hopping SG1.008
Racked again after 3 days and 3rd dry hopping in bag.
Dry hopped with 4th dry hop batch (loose)
Primed with 65 gms dextrose. Bottled
Tasting Notes (
0

)
There aren't any tasting notes logged yet
One Eye - IPA
English IPA
22.00

Gallons

Liters

Batch Size

25.00

Gallons

Liters

Boil Size

60

min

Boil Time

1.052

OG

1.013

FG

35.5

IBU (brewgr)

Bitterness

0.68

BG:GU

9.6

° SRM

Color

65%

Efficiency

5.0

% ABV

Alcohol

173

per 12oz

Calories
Clone This Recipe
Similar Homebrew Recipes
{"RecipeId":52242,"RecipeTypeId":10,"OriginalRecipeId":50187,"UnitType":"m","IbuFormula":"b","CreatedBy":107281,"Name":"One Eye - IPA","Description":"First Brewed 3rd April 2018","ImageUrlRoot":"/img/r/bc/bc114f9c-0623-4198-9df7-12330e643fa5","StyleId":"12C","StyleName":"English IPA","BatchSize":22.0001,"BoilSize":25,"BoilTime":60,"Efficiency":0.65,"DateCreated":"\/Date(1522749943093)\/","BrewSessionCount":0,"MostRecentBrewSession":null,"Og":1.0518773109163557,"Fg":1.012969327729089,"Srm":9.6294466779478,"Ibu":35.488459273712493,"BgGu":0.68408440312051322,"Abv":5.0191298311574251,"Calories":173,"AverageRating":0,"TastingNoteCount":0,"Fermentables":[{"Per":"62","Amt":"3.5","Ppg":"38","L":"3","Use":"Mash","Id":"273088","IngId":"15","Name":"Maris Otter Pale - UK","CustomName":"","Rank":"1"},{"Per":"12","Amt":"0.7","Ppg":"37","L":"4","Use":"Mash","Id":"273089","IngId":"588","Name":"Vienna - DE","CustomName":"","Rank":"2"},{"Per":"12","Amt":"0.7","Ppg":"38","L":"1","Use":"Mash","Id":"273090","IngId":"535","Name":"Floor-Malted Bohemian Pilsner - DE","CustomName":"","Rank":"3"},{"Per":"7","Amt":"0.4","Ppg":"37","L":"2","Use":"Mash","Id":"273091","IngId":"590","Name":"Wheat Malt - DE","CustomName":"","Rank":"4"},{"Per":"4","Amt":"0.2","Ppg":"34","L":"60","Use":"Mash","Id":"273092","IngId":"518","Name":"Crystal 60L - UK","CustomName":"","Rank":"5"},{"Per":"1","Amt":"0.05","Ppg":"32","L":"2","Use":"Mash","Id":"273093","IngId":"78","Name":"Flaked Barley - US","CustomName":"","Rank":"6"},{"Per":"1","Amt":"0.05","Ppg":"34","L":"250","Use":"Mash","Id":"273094","IngId":"50","Name":"Chocolate Rye Malt - DE","CustomName":"","Rank":"7"}],"Hops":[{"Amt":"10","Type":"Pellet","Use":"Boil","Min":"40","Day":"0","AA":"15","Ibu":"15.7913466454538","Id":"292448","IngId":"3799","Name":"Ekaunot","CustomName":"","Rank":"1"},{"Amt":"10","Type":"Pellet","Use":"Boil","Min":"30","Day":"0","AA":"4.8","Ibu":"4.42452275880486","Id":"292473","IngId":"11","Name":"Fuggles","CustomName":"","Rank":"2"},{"Amt":"10","Type":"Pellet","Use":"Boil","Min":"30","Day":"0","AA":"8","Ibu":"7.3742045980081","Id":"292474","IngId":"4386","Name":"Wakatu","CustomName":"","Rank":"3"},{"Amt":"10","Type":"Pellet","Use":"Boil","Min":"20","Day":"0","AA":"8","Ibu":"5.81100064426838","Id":"292475","IngId":"4386","Name":"Wakatu","CustomName":"","Rank":"4"},{"Amt":"10","Type":"Pellet","Use":"Boil","Min":"10","Day":"0","AA":"4.8","Ibu":"2.08738462717739","Id":"292476","IngId":"11","Name":"Fuggles","CustomName":"","Rank":"5"},{"Amt":"15","Type":"Pellet","Use":"FlameOut","Min":"0","Day":"0","AA":"8","Ibu":"0","Id":"292997","IngId":"4386","Name":"Wakatu","CustomName":"","Rank":"6"},{"Amt":"15","Type":"Pellet","Use":"FlameOut","Min":"0","Day":"0","AA":"5.8","Ibu":"0","Id":"292998","IngId":"3","Name":"Cascade ","CustomName":"","Rank":"7"},{"Amt":"15","Type":"Pellet","Use":"DryHop","Min":"0","Day":"3","AA":"8","Ibu":"0","Id":"293011","IngId":"4386","Name":"Wakatu","CustomName":"","Rank":"8"},{"Amt":"15","Type":"Pellet","Use":"DryHop","Min":"0","Day":"3","AA":"5.8","Ibu":"0","Id":"293012","IngId":"3","Name":"Cascade ","CustomName":"","Rank":"9"},{"Amt":"30","Type":"Pellet","Use":"DryHop","Min":"0","Day":"4","AA":"8","Ibu":"0","Id":"293435","IngId":"4386","Name":"Wakatu","CustomName":"","Rank":"10"},{"Amt":"30","Type":"Pellet","Use":"DryHop","Min":"0","Day":"5","AA":"8","Ibu":"0","Id":"294252","IngId":"4386","Name":"Wakatu","CustomName":"","Rank":"11"},{"Amt":"30","Type":"Pellet","Use":"DryHop","Min":"0","Day":"5","AA":"12.7","Ibu":"0","Id":"294253","IngId":"167","Name":"Mosaic","CustomName":"","Rank":"12"},{"Amt":"40","Type":"Pellet","Use":"DryHop","Min":"0","Day":"3","AA":"12.7","Ibu":"0","Id":"295402","IngId":"167","Name":"Mosaic","CustomName":"","Rank":"13"}],"Yeasts":[{"Atten":"0.75","Id":"76318","IngId":"2362","Name":"Mangrove Jack\u0027s M36","CustomName":"","Rank":"1"}],"Others":[{"Amt":"1","Unit":"each","Use":"Mash","Id":"52968","IngId":"4011","Name":"Britewort Kappa Carrageenan tab. Last 10 mins","CustomName":"","Rank":"1"}],"MashSteps":[],"Steps":[{"Id":"87787","Rank":"1","Text":"Mash 1.25 hours. Grain in @ 66C for 1 hour"},{"Id":"87788","Rank":"2","Text":"Then 1/4 hour @ 70C then up to 77C"},{"Id":"87791","Rank":"3","Text":"Wort recirculated through the grain bed x3 then run off"},{"Id":"87792","Rank":"4","Text":"Sparged at 77C."},{"Id":"87793","Rank":"5","Text":"Bring to boil then hops in as above"},{"Id":"87794","Rank":"6","Text":"Britewort added for last 10 mins. of boil."},{"Id":"87795","Rank":"7","Text":"Wort chiller inserted for 2 min in boil to sterilize"},{"Id":"87796","Rank":"8","Text":"Final hops in at flame out (At 80C)"},{"Id":"87797","Rank":"9","Text":"Chilled water passed through wort chiller for 25 mins. (26C)"},{"Id":"87798","Rank":"10","Text":"22lts collected"},{"Id":"87799","Rank":"11","Text":"Yeast added at 24C SG 1.052"},{"Id":"87900","Rank":"12","Text":"(Yeast collected from Four Hops Amber Ale brew and saved)"},{"Id":"87903","Rank":"13","Text":"First dry hops added at High Krausen 2 days after brewing."},{"Id":"87801","Rank":"14","Text":"Racked 3 days after brewing. 2nd Dry hopping SG1.008"},{"Id":"88346","Rank":"15","Text":"Racked again after 3 days and 3rd dry hopping in bag."},{"Id":"88765","Rank":"16","Text":"Dry hopped with 4th dry hop batch (loose)"},{"Id":"87802","Rank":"17","Text":"Cold crashed for 3 days"},{"Id":"87803","Rank":"18","Text":"Primed with 65 gms dextrose. Bottled"}]}