Best Bitter Recipe - Phantom Pale Ale
Best Bitter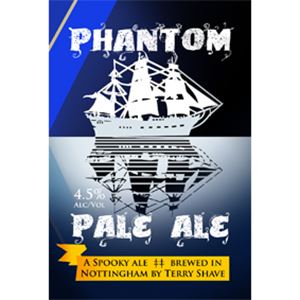 https://brewgr.com/Media/img/r/2b/2bfb94c2-2b54-4464-a601-105da291c9e7_d.jpg
https://brewgr.com/Media/img/r/2b/2bfb94c2-2b54-4464-a601-105da291c9e7_t.jpg
Phantom Pale Ale
by RadfordBrewer on

3/1/2017

6.6043 Gallon(s)

90 min

75%

First brewed 1st March 2017 - My attempt at an Adnam's Ghost Ship


This recipe was cloned from Wild One Ale.
81%
-
Maris Otter Pale - UK
Muntons Muntons Premium Gold
Britewort Kappa Carrageenan tab. Last 10 mins
No mash steps in this recipe
Mash 3 hours. Grain in @ 55C for 1/2 hour
Then 45mins @ 60C then up to 66C for 1.5 hrs
Temp up to 77C for 15 mins then sparge at same temp.
Sugar, salts and citric acid added just before boiling point
Cascade hops in at boiling
Irish Moss (Britewort) added last 10 mins
Wort chiller inserted for 2 min in boil to sterilize
Chilled water passed through wort chiller for 30 mins. (22C)
Made up to 5 gals with cold water.
Yeast added at 20C SG1.044
5 days later. Racked. Dry Hopped with Citra hops. SG1.014
Left for 5 days. Then bottled 100gms sugar used.
Tasting Notes (
1

)
Notes:
Good hop aroma with a malty, fruity clean taste. Good head. Well carbonated.
Phantom Pale Ale
Best Bitter
6.00

Gallons

Liters

Batch Size

6.60

Gallons

Liters

Boil Size

90

min

Boil Time

1.045

OG

1.011

FG

28.2

IBU (tinseth)

Bitterness

0.62

BG:GU

7.0

° SRM

Color

75%

Efficiency

4.4

% ABV

Alcohol

150

per 12oz

Calories
Clone This Recipe
Similar Homebrew Recipes
{"RecipeId":36575,"RecipeTypeId":10,"OriginalRecipeId":35742,"UnitType":"s","IbuFormula":"t","CreatedBy":107281,"Name":"Phantom Pale Ale","Description":"First brewed 1st March 2017 - My attempt at an Adnam\u0027s Ghost Ship","ImageUrlRoot":"/img/r/2b/2bfb94c2-2b54-4464-a601-105da291c9e7","StyleId":"11B","StyleName":"Best Bitter","BatchSize":6,"BoilSize":6.6043,"BoilTime":90,"Efficiency":0.75,"DateCreated":"\/Date(1488358998990)\/","BrewSessionCount":0,"MostRecentBrewSession":null,"Og":1.045215025,"Fg":1.01130375625,"Srm":6.9743751601252395,"Ibu":28.222274433993665,"BgGu":0.62417911820227057,"Abv":4.3745536687500008,"Calories":150,"AverageRating":4,"TastingNoteCount":1,"Fermentables":[{"Per":"81","Amt":"8.0001","Ppg":"38","L":"3","Use":"Mash","Id":"185891","IngId":"15","Name":"Maris Otter Pale - UK","CustomName":"","Rank":"1"},{"Per":"11","Amt":"1.1023","Ppg":"28","L":"2","Use":"Mash","Id":"185918","IngId":"3840","Name":"Pale Rye Malt","CustomName":"","Rank":"2"},{"Per":"6","Amt":"0.6173","Ppg":"35","L":"17","Use":"Mash","Id":"185919","IngId":"500","Name":"Cara Malt - UK","CustomName":"","Rank":"3"},{"Per":"2","Amt":"0.1499","Ppg":"35","L":"130","Use":"Mash","Id":"185920","IngId":"47","Name":"CaraAroma - DE","CustomName":"","Rank":"4"}],"Hops":[{"Amt":"0.5","Type":"Leaf","Use":"Boil","Min":"90","Day":"0","AA":"5.8","Ibu":"9.32511991888012","Id":"194708","IngId":"3","Name":"Cascade ","CustomName":"","Rank":"1"},{"Amt":"0.5","Type":"Leaf","Use":"Boil","Min":"30","Day":"0","AA":"11","Ibu":"12.7059542276386","Id":"194709","IngId":"44","Name":"Pilgrim ","CustomName":"","Rank":"2"},{"Amt":"0.3205","Type":"Pellet","Use":"Boil","Min":"10","Day":"0","AA":"12","Ibu":"4.6108671506868","Id":"194710","IngId":"7","Name":"Citra ","CustomName":"","Rank":"3"},{"Amt":"0.25","Type":"Leaf","Use":"Boil","Min":"10","Day":"0","AA":"5.8","Ibu":"1.58033313678813","Id":"194711","IngId":"3","Name":"Cascade ","CustomName":"","Rank":"4"},{"Amt":"0.9877","Type":"Pellet","Use":"FlameOut","Min":"0","Day":"0","AA":"12","Ibu":"0","Id":"194840","IngId":"7","Name":"Citra ","CustomName":"","Rank":"5"},{"Amt":"1","Type":"Leaf","Use":"FlameOut","Min":"0","Day":"0","AA":"5.8","Ibu":"0","Id":"194712","IngId":"3","Name":"Cascade ","CustomName":"","Rank":"6"},{"Amt":"2","Type":"Leaf","Use":"DryHop","Min":"0","Day":"4","AA":"12","Ibu":"0","Id":"194691","IngId":"7","Name":"Citra ","CustomName":"","Rank":"7"}],"Yeasts":[{"Atten":"0.75","Id":"52227","IngId":"135","Name":"Muntons Muntons Premium Gold","CustomName":"","Rank":"1"}],"Others":[{"Amt":"1","Unit":"tsp","Use":"Boil","Id":"35670","IngId":"12","Name":"Gypsum","CustomName":"","Rank":"1"},{"Amt":"1","Unit":"tsp","Use":"Boil","Id":"35671","IngId":"4360","Name":"Burton water crystals","CustomName":"","Rank":"2"},{"Amt":"1","Unit":"tsp","Use":"Boil","Id":"35672","IngId":"3610","Name":"Citric acid","CustomName":"","Rank":"3"},{"Amt":"1","Unit":"each","Use":"Boil","Id":"35673","IngId":"4012","Name":"Britewort Kappa Carrageenan tab. Last 10 mins","CustomName":"","Rank":"4"}],"MashSteps":[],"Steps":[{"Id":"58243","Rank":"1","Text":"Mash 3 hours. Grain in @ 55C for 1/2 hour"},{"Id":"58244","Rank":"2","Text":"Then 45mins @ 60C then up to 66C for 1.5 hrs"},{"Id":"58245","Rank":"3","Text":"Temp up to 77C for 15 mins then sparge at same temp."},{"Id":"58246","Rank":"4","Text":"Sugar, salts and citric acid added just before boiling point"},{"Id":"58247","Rank":"5","Text":"Cascade hops in at boiling"},{"Id":"58248","Rank":"6","Text":"Other hops in as above"},{"Id":"58249","Rank":"7","Text":"Irish Moss (Britewort) added last 10 mins"},{"Id":"58250","Rank":"8","Text":"Wort chiller inserted for 2 min in boil to sterilize"},{"Id":"58251","Rank":"9","Text":"Chilled water passed through wort chiller for 30 mins. (22C)"},{"Id":"58252","Rank":"10","Text":"Made up to 5 gals with cold water."},{"Id":"58253","Rank":"11","Text":"Yeast added at 20C SG1.044"},{"Id":"58254","Rank":"12","Text":"48hrs later SG 1.032"},{"Id":"58255","Rank":"13","Text":"5 days later. Racked. Dry Hopped with Citra hops. SG1.014"},{"Id":"58597","Rank":"14","Text":"Left for 5 days. Then bottled 100gms sugar used."}]}